Fruity and easy dessert recipe!
The time for fruity desserts has come. What's better than something little, refreshing and creamy? Right, nothing! Have fun preparing this little heaven for your favorite humans (or just for yourself #nojudge!).
Before we start: what is Panna Cotta?
Panna Cotta actually means 'cooked cream' in Italian. It includes very few ingredients and is basically a simple mixture of cream and sugar. Gelatin is added to set the mixture and create a custard-like consistency. Everyone that prefers a slightly lighter Panna Cotta uses low-fat cream or milk.
We love to dress-up our Panna Cotta. This time and in general in our Bar+Bistro, we love to serve the Orange Panna Cotta with local honey and fresh rosemary.
Ingredients for 4 people
For the Orange Panna Cotta:
-zest of 1 fresh and organic orange
-250 g cream
-125 g sugar
-5 g gelatin
-nuts, preferably walnuts but you can use any kind you want
For the top:
-honey
-fresh rosemary for decoration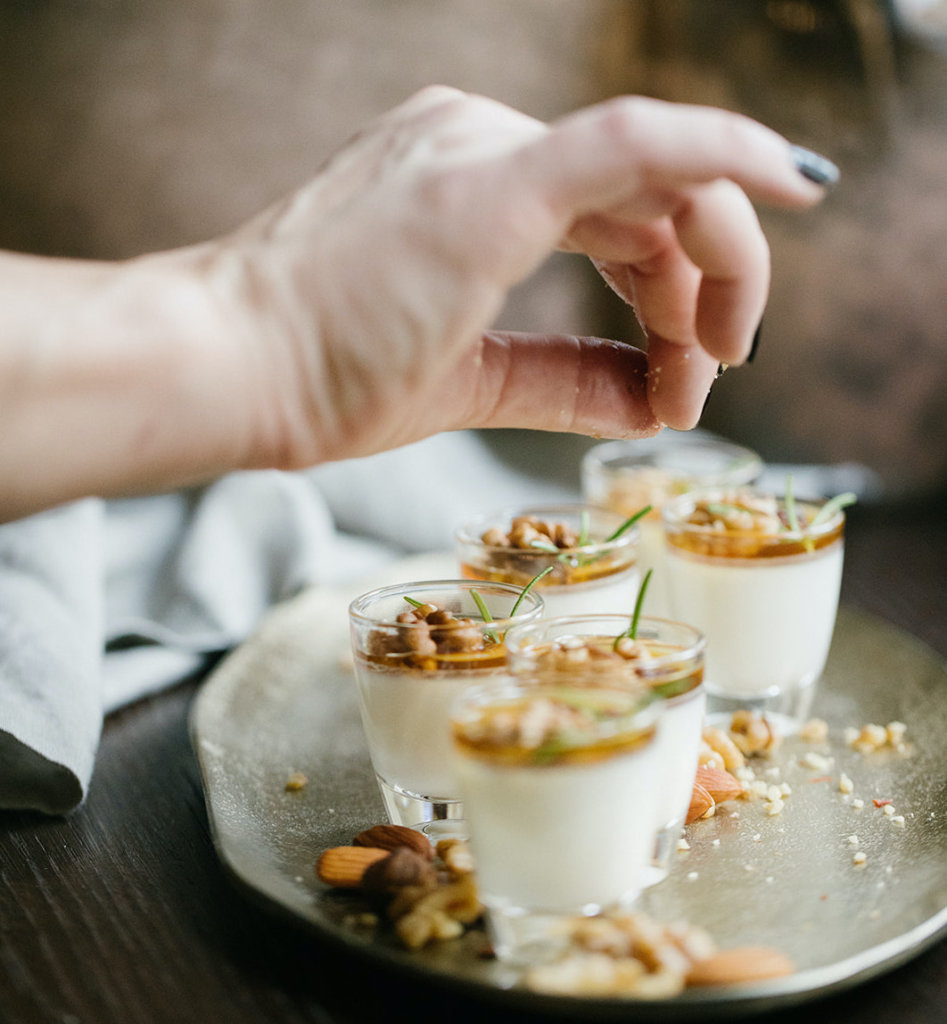 This is how you do it
1. Place cream in a small bowl and add the orange zest. Under very low fire, we let the fruity mixture rest for an hour in order to bring this wonderful refreshing orange taste into the cream.
2. Now you add gelatin and sugar and whisk it until smooth and dissolved. Make sure not to pile the sugar to prevent the crystals from dissolving properly. Let it stand for further 5-10 minutes to soften. If the gelatin hasn't fully dissolved, return the bowl to the stove and heat gently over low heat. Stir constantly and don't let the mixture boil.
3. Now it's time to pour it! Use 4 glasses of the same size and fill them up with the cream. Refrigerate for 6 hours.
4. Before serving, put your local honey on top as well as the nuts. Finish the decoration with some rosemary leaves. ET VOILÀ!
Your Panna Cotta can be covered with plastic wrap and refrigerated for up to 3 days.
Can I freeze Panna Cotta?
Yep, you surely can! It keeps perfectly well in the freezer. That way, you'll always be ready and prepared!
What are you waiting for? Enjoy!

Check out the Eating & Drinking section of our blog for more inspirations!