Okay, we admit it. We are crazy about gelato. Obviously, we can give you some recommendations on where to get the best ice cream in town!
Eisgrotte – oldie but goldie
This ice cream parlor evokes childhood memories in every Salzburger since it has been a fixed point in Getreidegasse for decades. The traditional menu has never disappointed, and with its central location, Eisgrotte is always worth a visit and perfectly located if you're around the oldtown and Getreidegasse or close to Mirabell.
Where? Getreidegasse 40 or Rainerstrasse 3, 5020 Salzburg
Eisl Eis – the organic one based on sheep's milk
In case you get tired of walking in the busy Getreidegasse, allow yourself to escape in a little side street where "Eisl Eis" is hidden. Or simply just go there cause you are eager to find the best, locally produced, organic gelato based on sheep's milk. And for all chocolate-lovers: You can add a little extra chocolate to your ice cream by holding it under the chocolate fountain- yummy!!
Get it: Enter side street at Getreidegasse 22, 5020 Salzburg
The healthy alternative to ice cream – frozen yogurt! But it is still healthy if you add caramel sauce, marshmallows and bits of cookies? Who cares if it tastes delicious! Be prepared to queue on a sunny day, though. However, definitely worth a try if you're strolling around the old town.
Find it: Universitätsplatz 14, 5020 Salzburg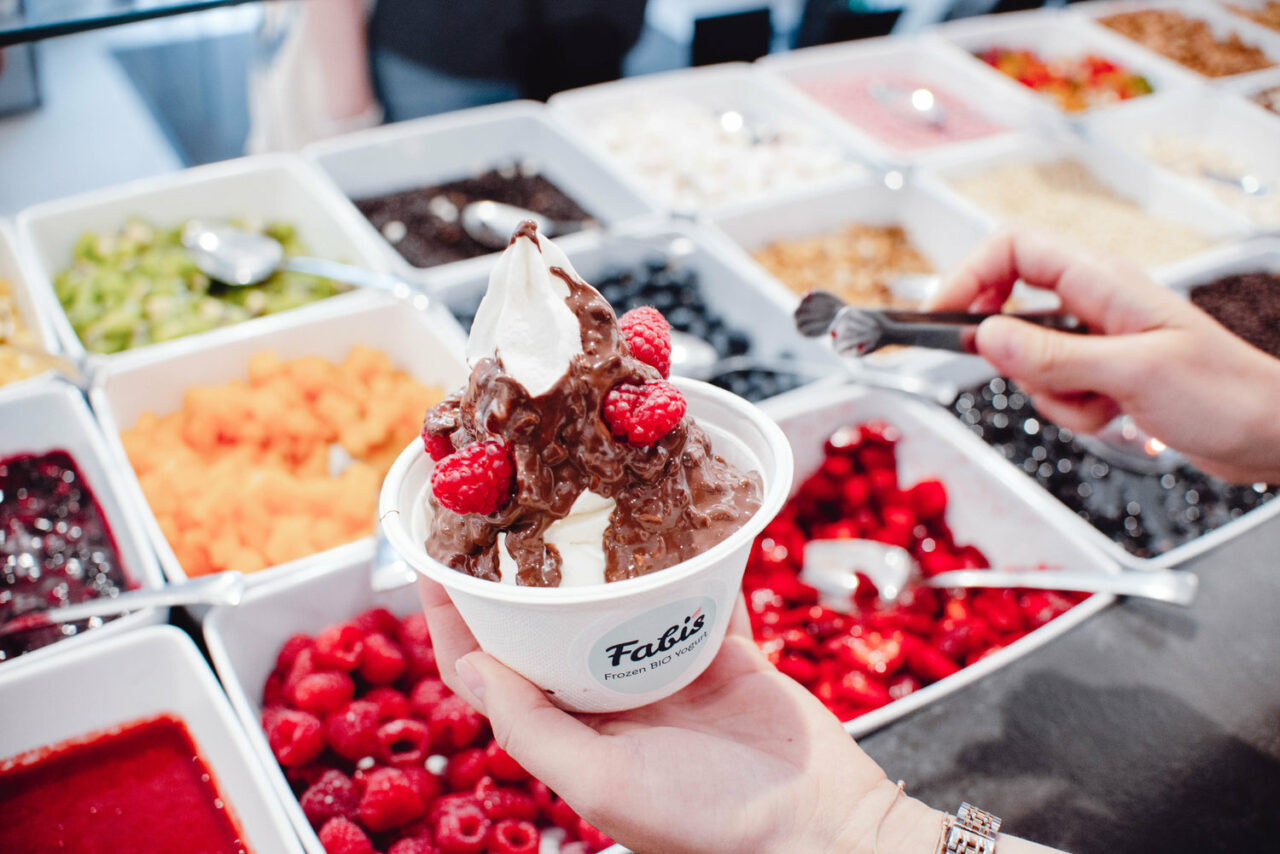 Rialto – perfect for warm evenings with Aperitivo and Gelato
If it happens that you step out of Haus der Natur or you're simply around that area, make sure you stop by at Rialto. It's an ice cream parlor by day and a bar by night. Perfect for everyone who loves to combine their ice-cream with an Aperol Sprizz on a warm evening.
Where to find? Anton-Neumayr-Platz 5, 5020 Salzburg
This summer a new gelateria opened its doors in the old town of Salzburg. And not just any gelateria, the Alpz Café has been voted the 26th best gelateria worldwide! They offer more than 50 different ice sundaes (yes, we counted them on the menu!!) – perfect afternoon activity.
The ultimate and very best: Eis-Greissler
Last and our personal favorite is the Eis-Greissler. The word itself actually means "small store" and so is the ice cream store. No worries, you won't miss it even if it's not big. But you might see a long line in front of it as it is not only us that think it's the best! However, the ice cream is definitely worth the wait. The offer couldn't be more diverse. Besides traditional flavors like chocolate and vanilla, the menu also spans flamboyant types of ice cream like pumpkin seed oil or apple carrot.
There it is: Linzergasse 35, 5020 Salzburg