Townhouse Nora
Townhouse Nora
An urban stay with friends
Welcome to Townhouse Nora. This recently renovated Art Nouveau villa offers the perfect setting for friends that come to Salzburg for a unique city trip. The Heym Family has set great value upon the interior concept to be perfect for a group of friends to stay over: spacious living rooms, big dining tables and well-equipped kitchens with full amenities. Being located in the lively Andräviertel, you will love the townhouse due to the abundance of sightseeing spots, restaurants, cafés and charming shops nearby.
About Townhouse Nora
Nora's kitchens are all fully equipped: a refrigerator, a microwave, a dishwasher, 2 ceramic hobs, an electric kettle. Nora 4 features a storage room with a washing machine inside the apartment, too. The other 4 apartments have a common laundry room on the ground floor, equipped with a coin-based washing machine and dryer. No worries, we have also prepared a Nespresso machine to make sure you are having your perfect morning coffee.
Are you traveling as a family with children? Townhouse Nora is just perfect for families as well. Babies and toddlers up to 3 years sleep free of charge in a baby cot.
Losing your keys is generally not a cool thing to happen. Therefore, we offer state-of-the-art access via smartphone. Thus, you do not run the risk of losing your keys and can enjoy maximum flexibility during check-in. All information regarding the smart access will be given to you before your arrival.
To make sure that Salzburg welcomes you just like a local, we have prepared a welcome pack as our gift. It includes an ethically produced cotton bag with an info-folder, a city-guide, a notebook, a pencil and two postcards. Also, there is a 24-hour-reception service for you in The Mozart, a hotel which is also a part of the Heym family. You might wonder how far it is from Townhouse Nora to The Mozart? Only a 5 minutes walking distance.
Do you wish for any tailored extras during your stay? We cannot wait to provide you with all our services and activities.
Amenities
24/7 reception service in The Mozart Hotel in 6 minutes walking distance
Washing machine (Nora 4) or coin-operated laundry room
Kitchen with refrigerator, ceramic hobs, microwave, dishwasher, water boiler and Nespresso machine
Free WiFi
Cable TV
Hairdryer
Fresh bed linen & towels
Welcome Surprise Bag
Vegan Soap & Shampoo
Smart access to the apartment via code panel
Set of Coffee Capsules
Sparkling Water
Home Truths
Townhouse Nora is a rather old city building. Therefore, there is no elevator installed. Nora 1, 2 and 3 do not have any air conditioning, whilst Nora 4 and 5 do have one. If you wish to have additional fans, just let us know. You are coming by car? There are no private parking options at the townhouse. Let us know and we will book you a parking lot close by.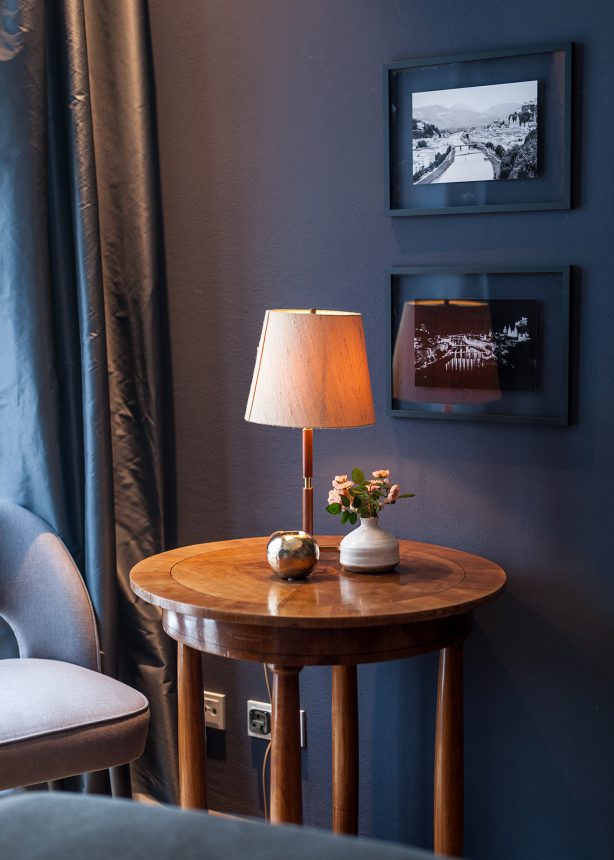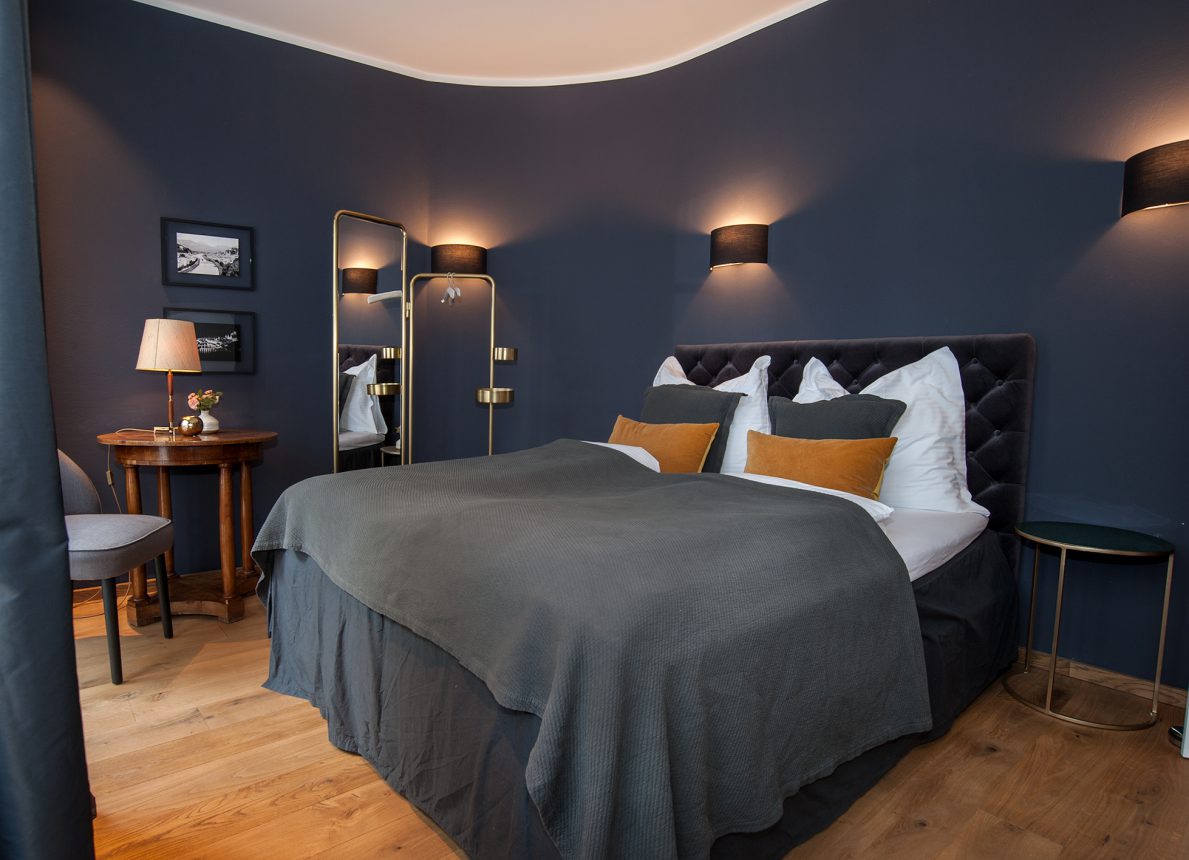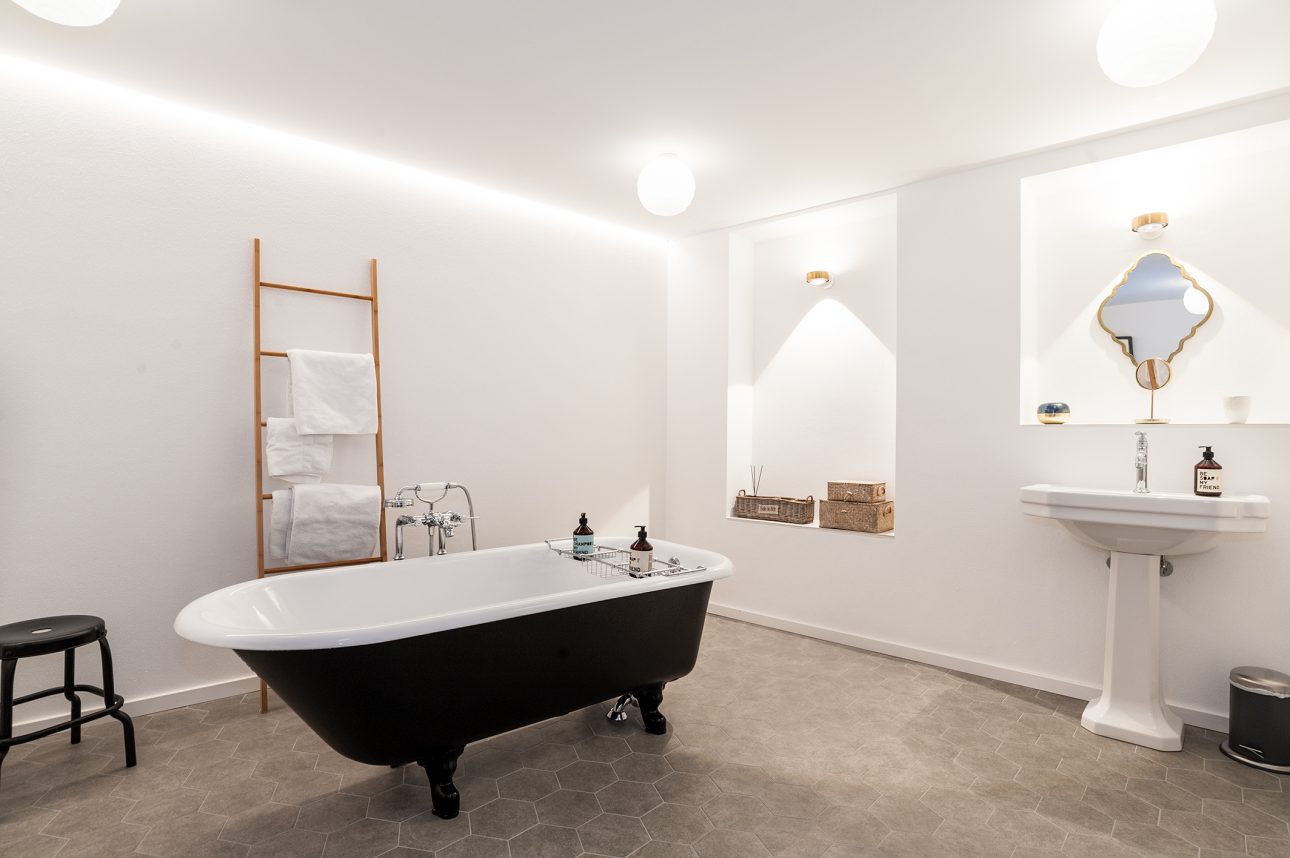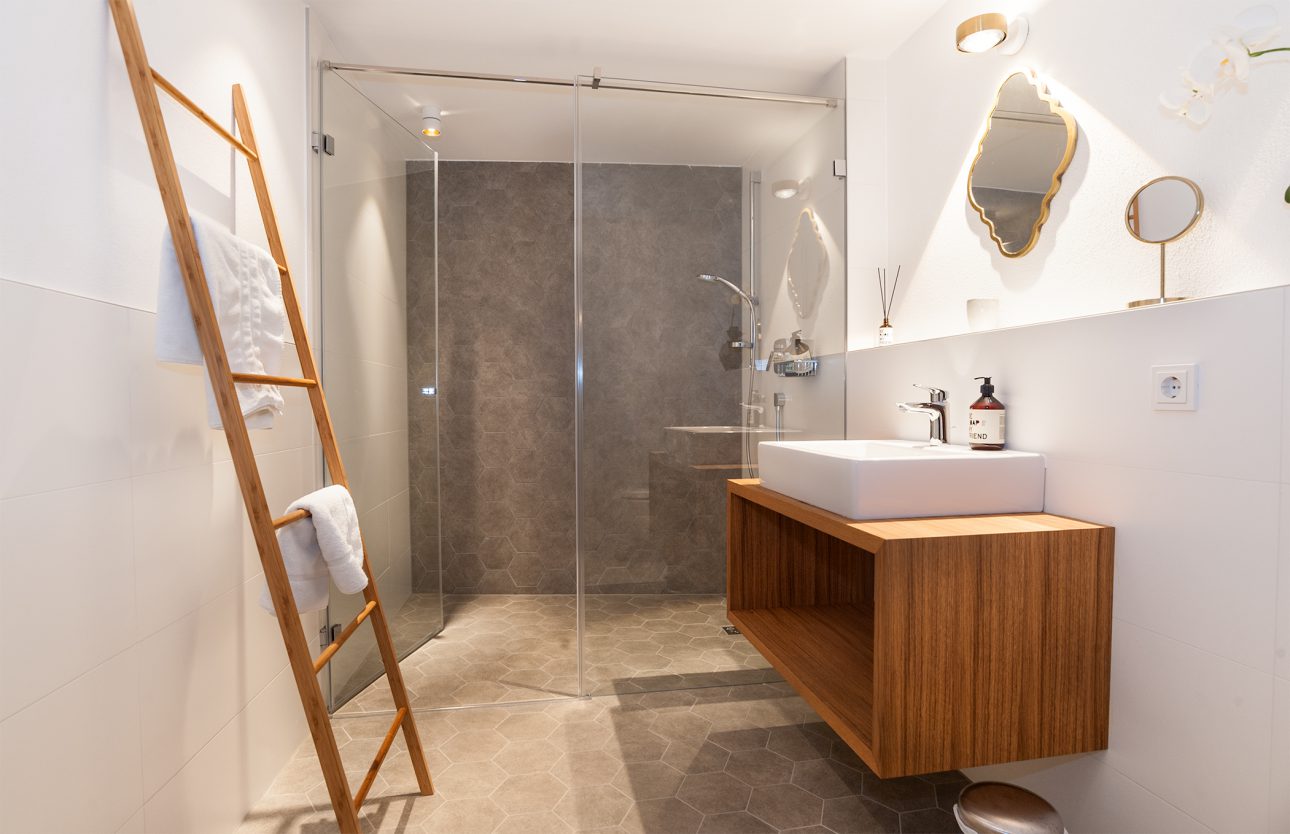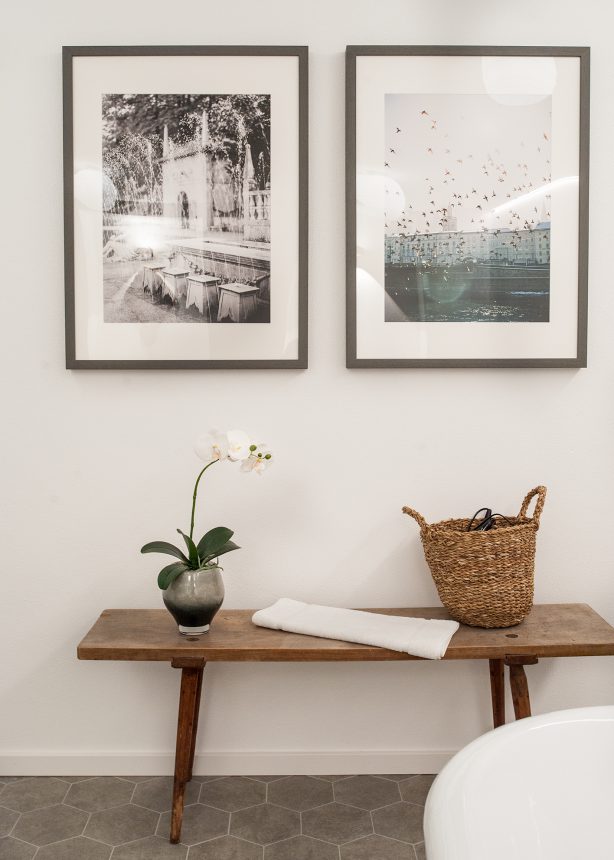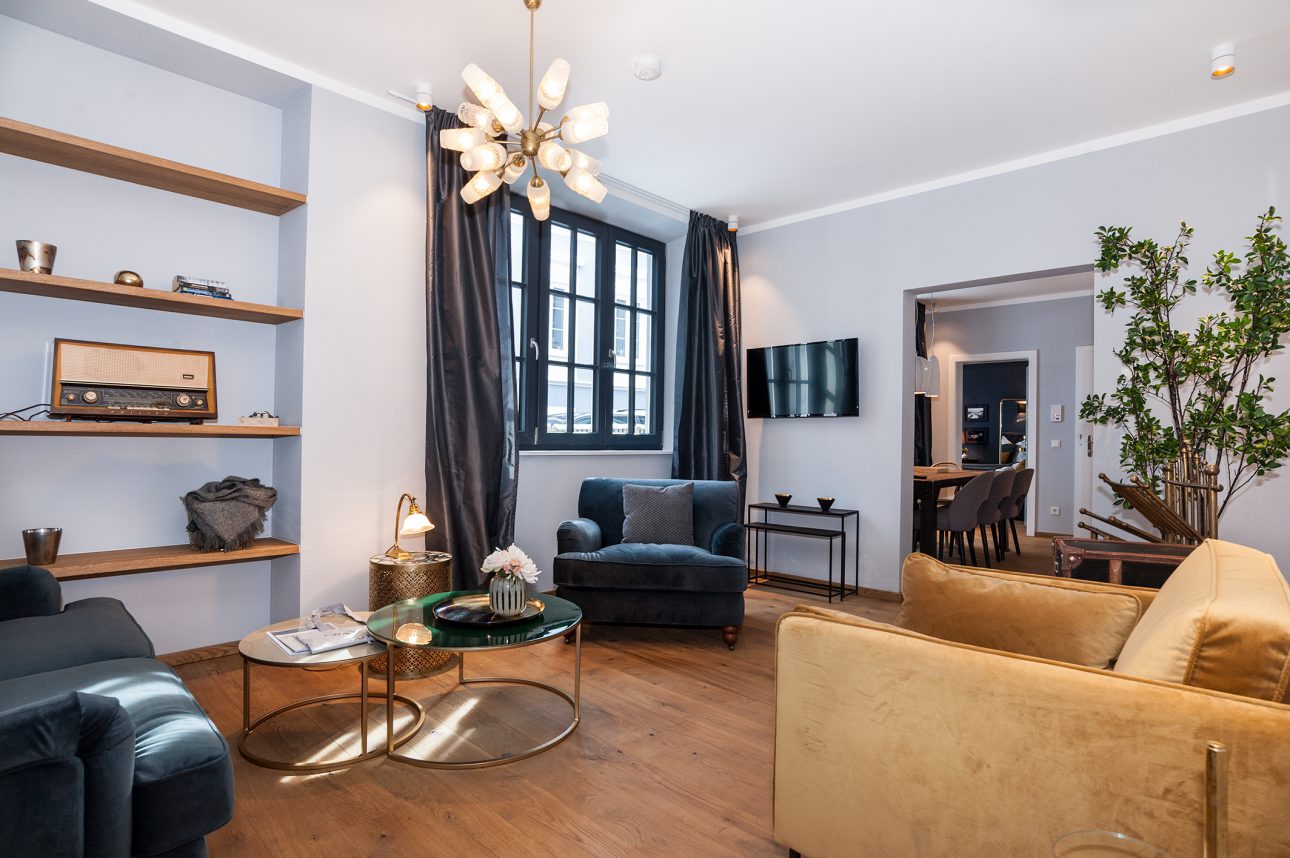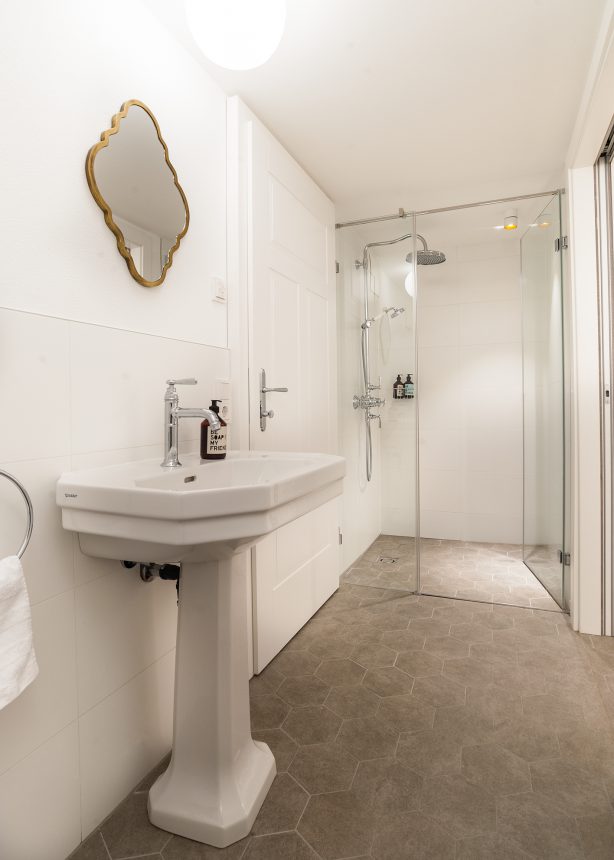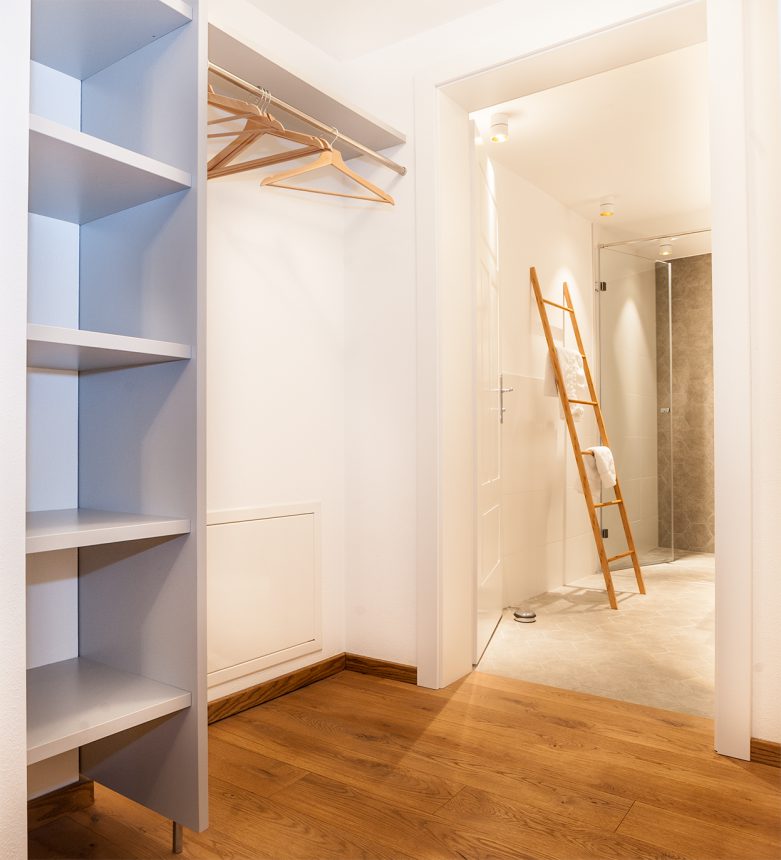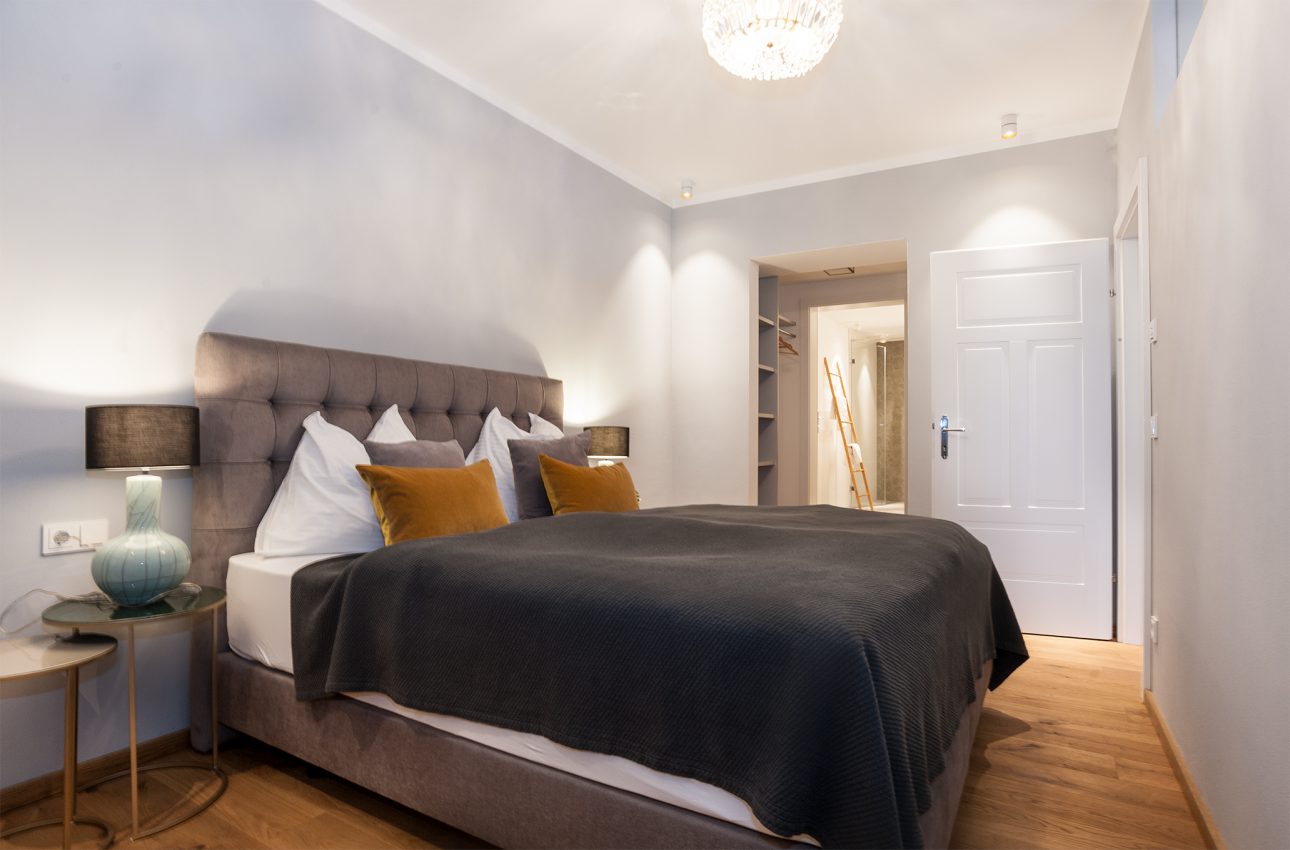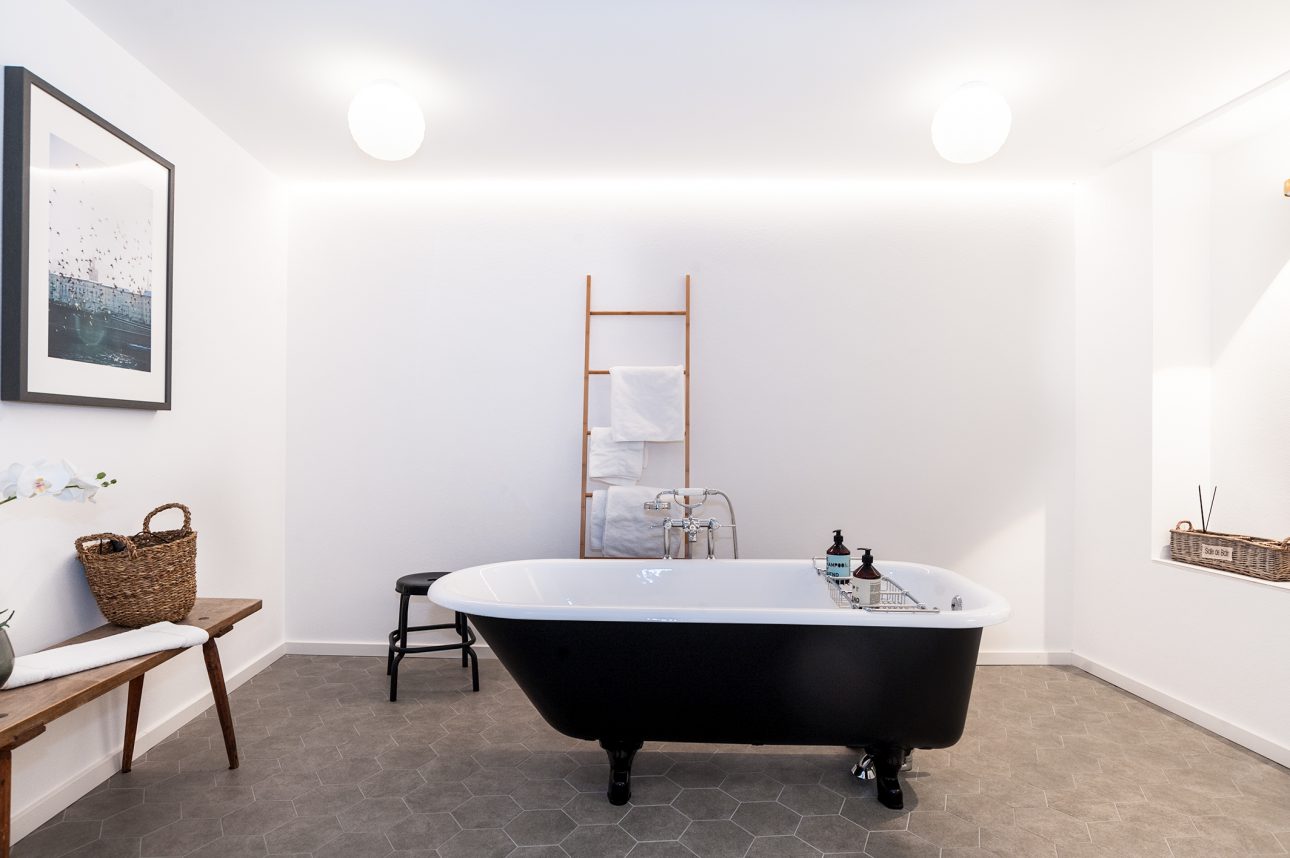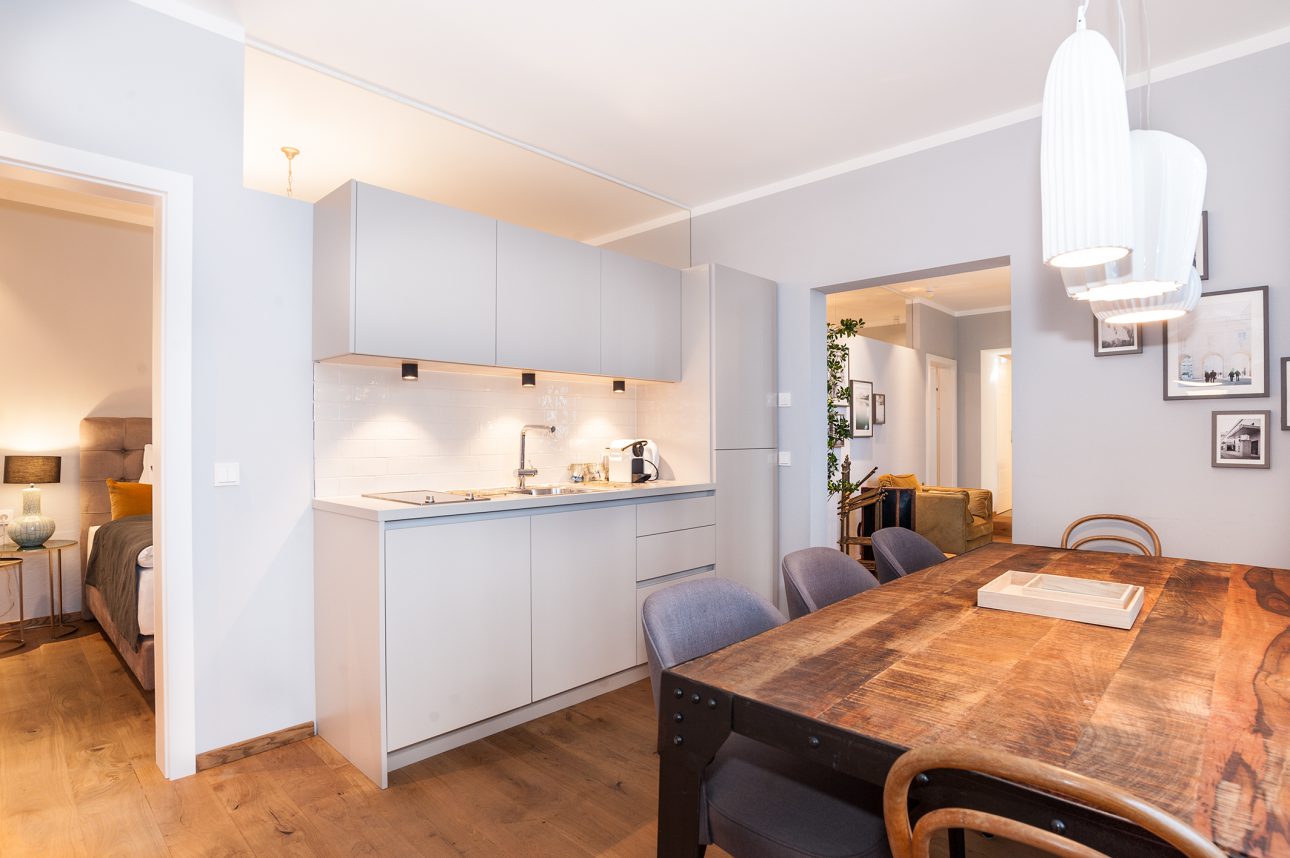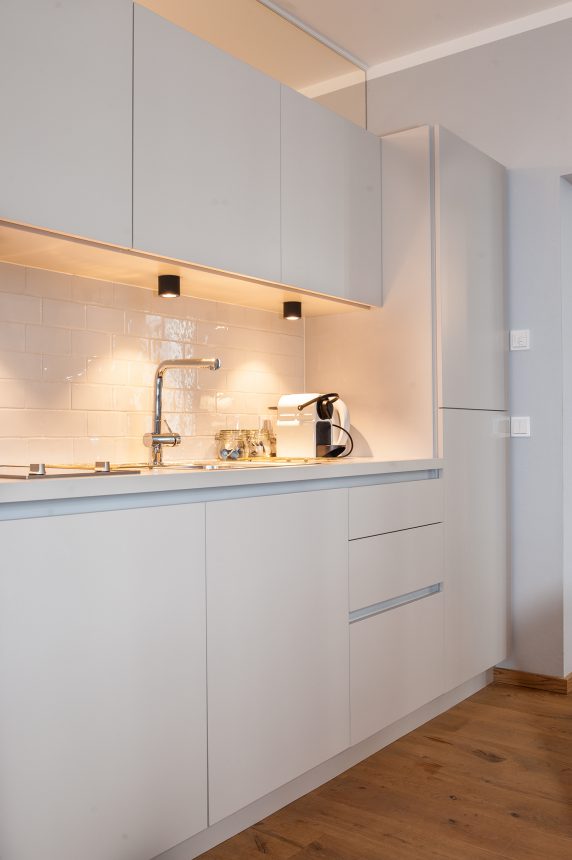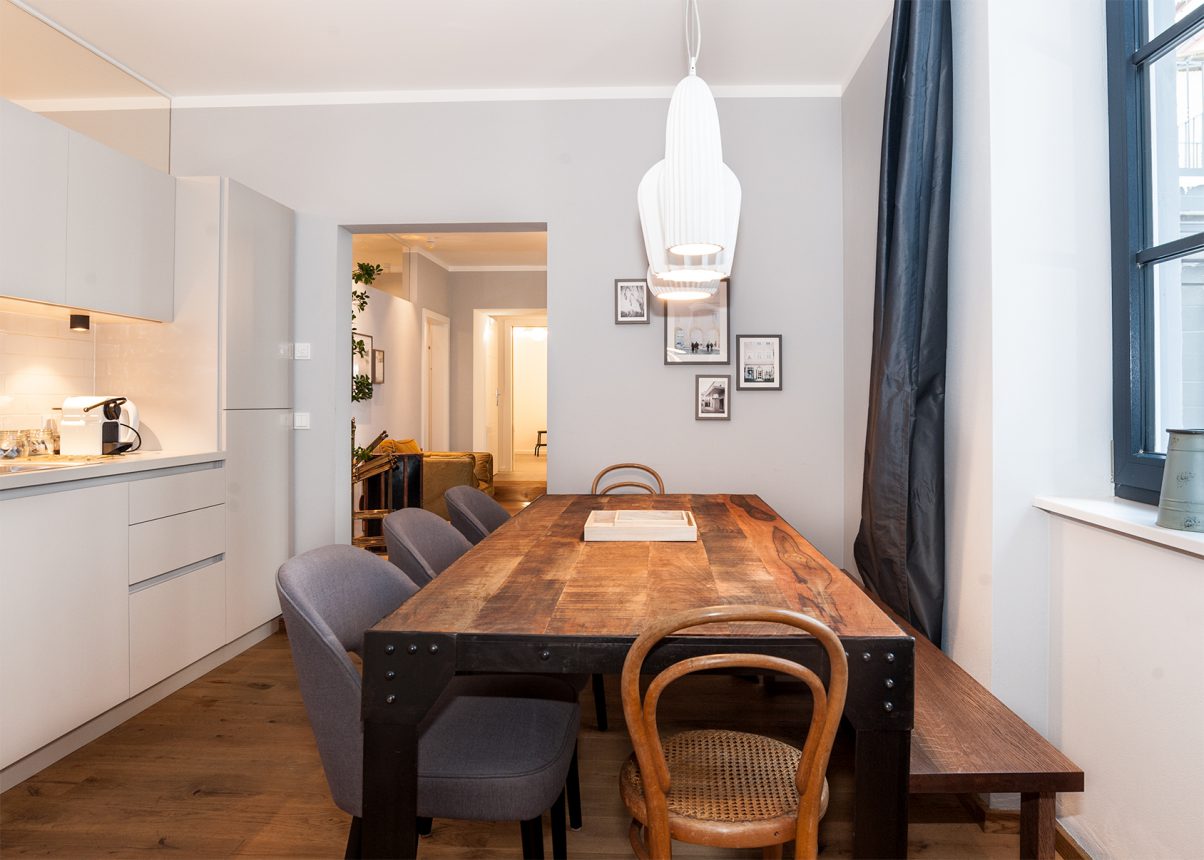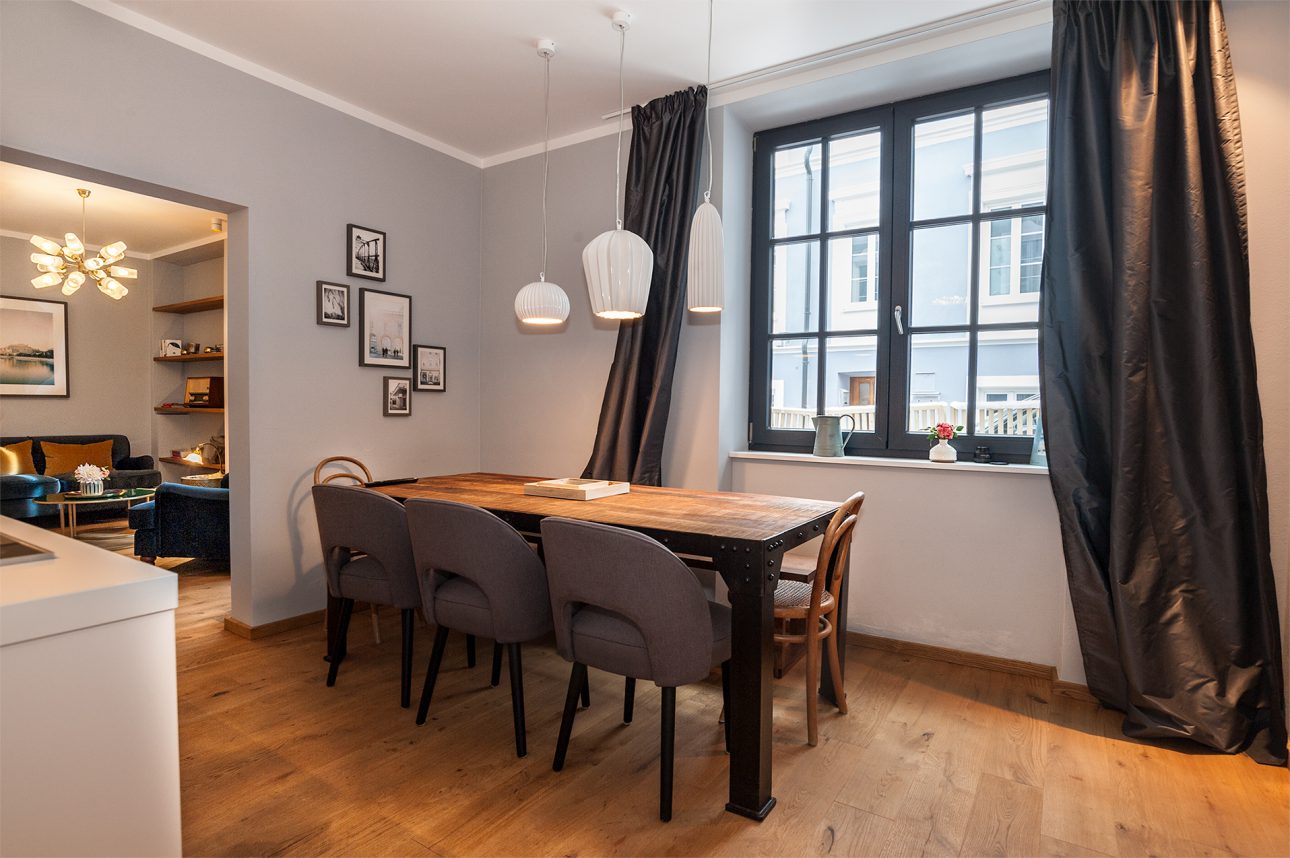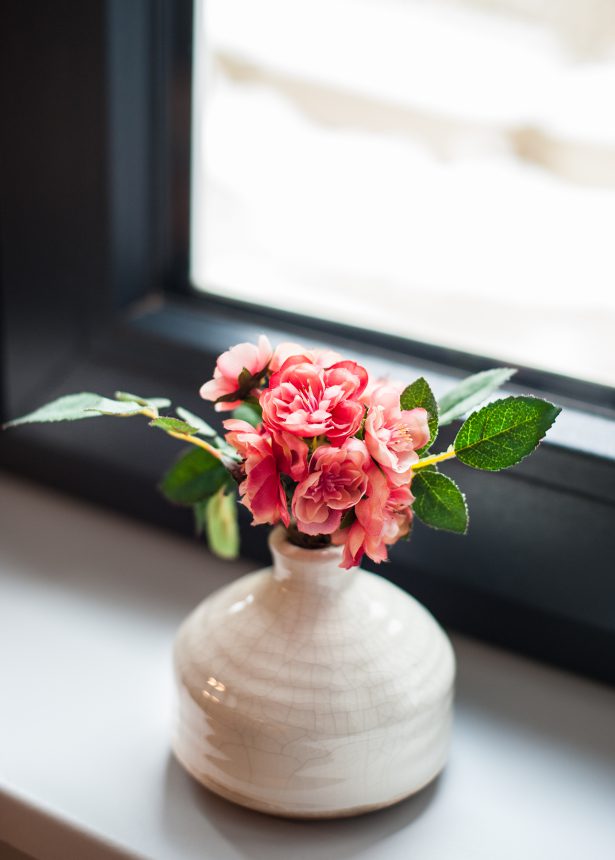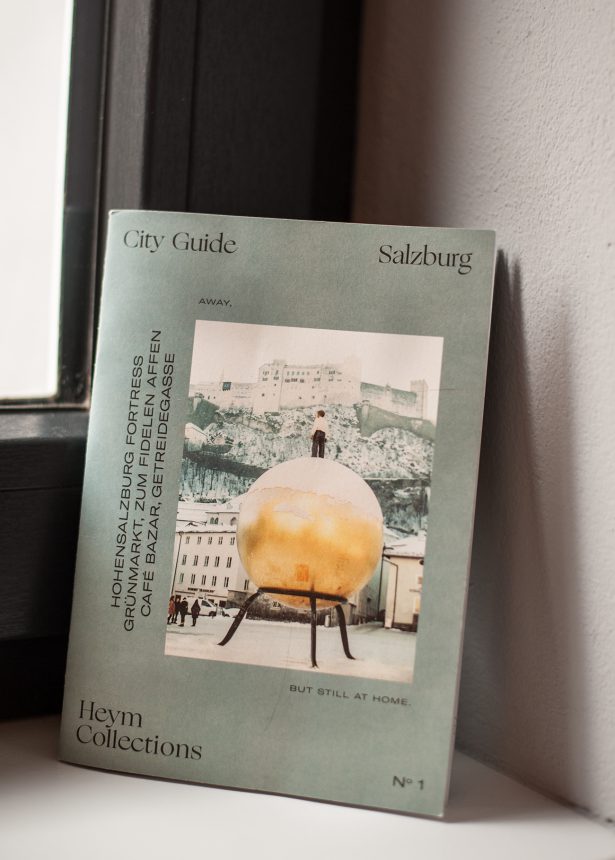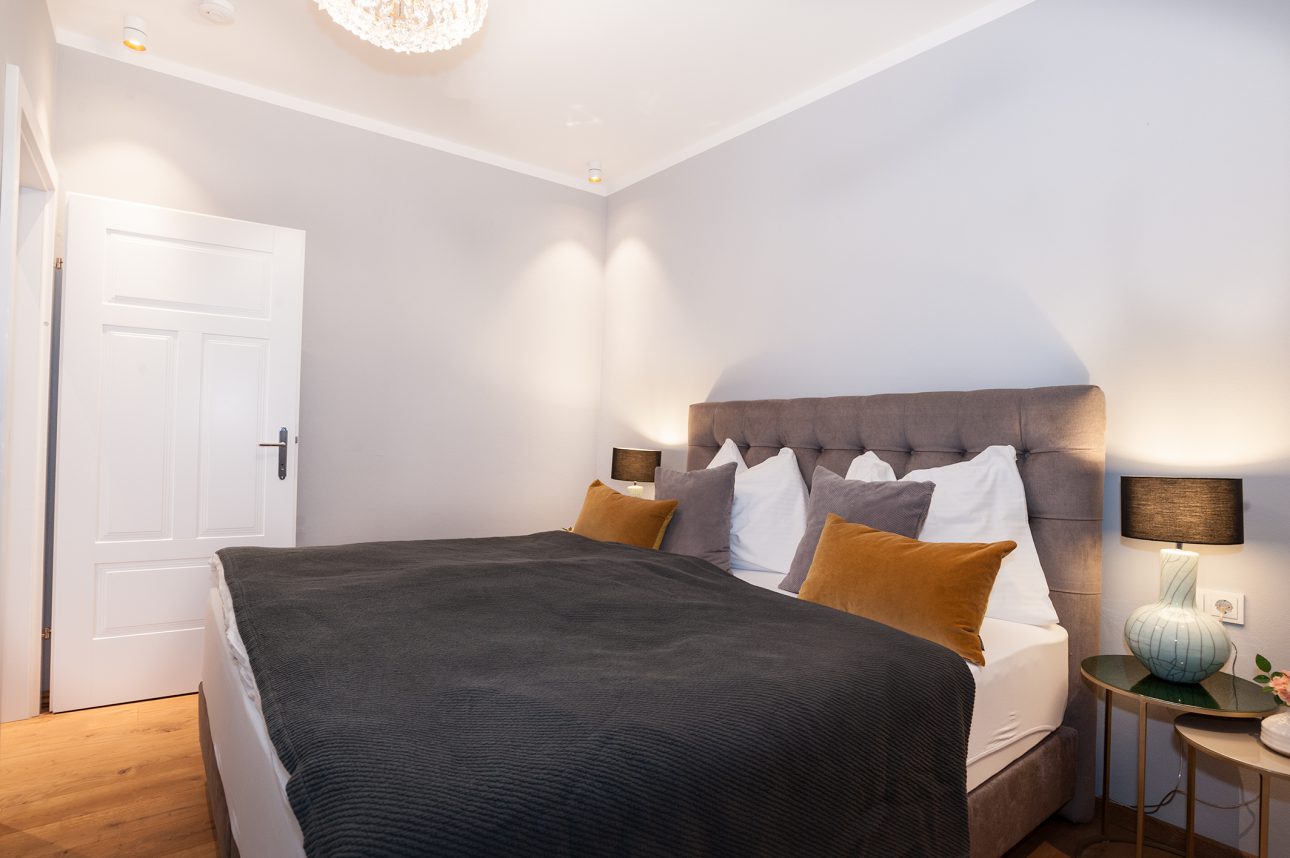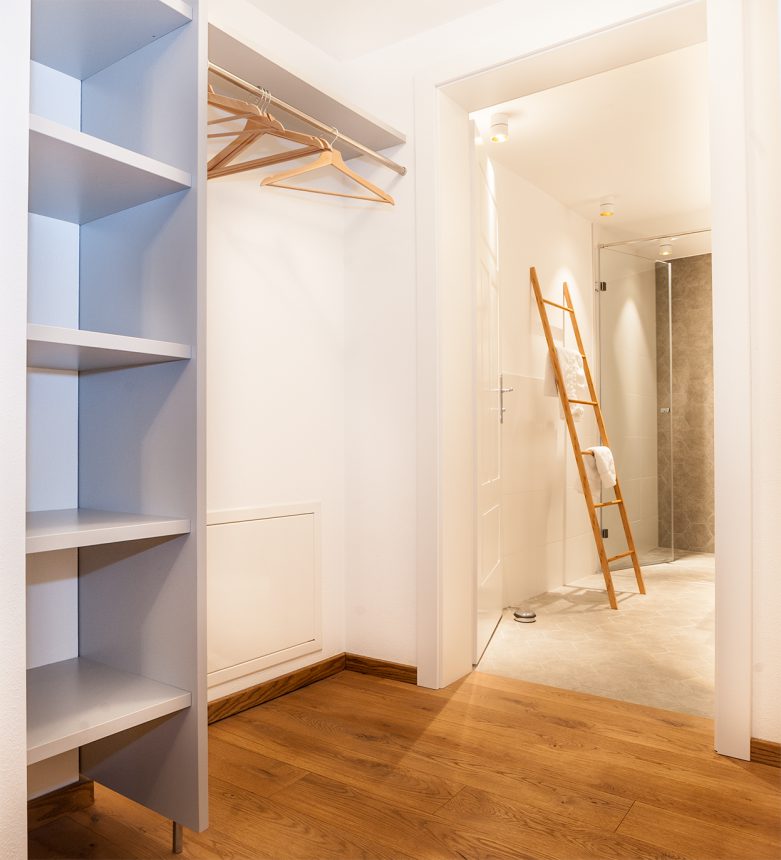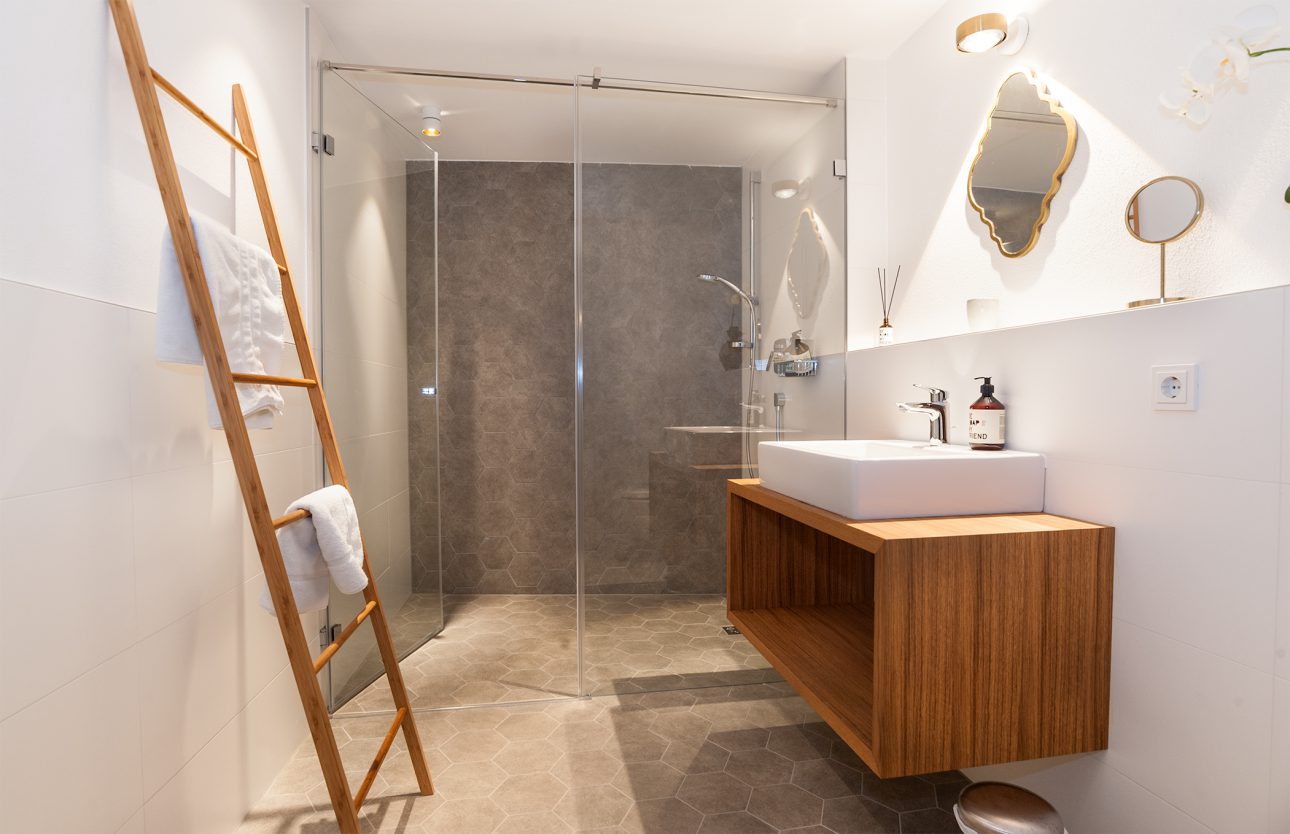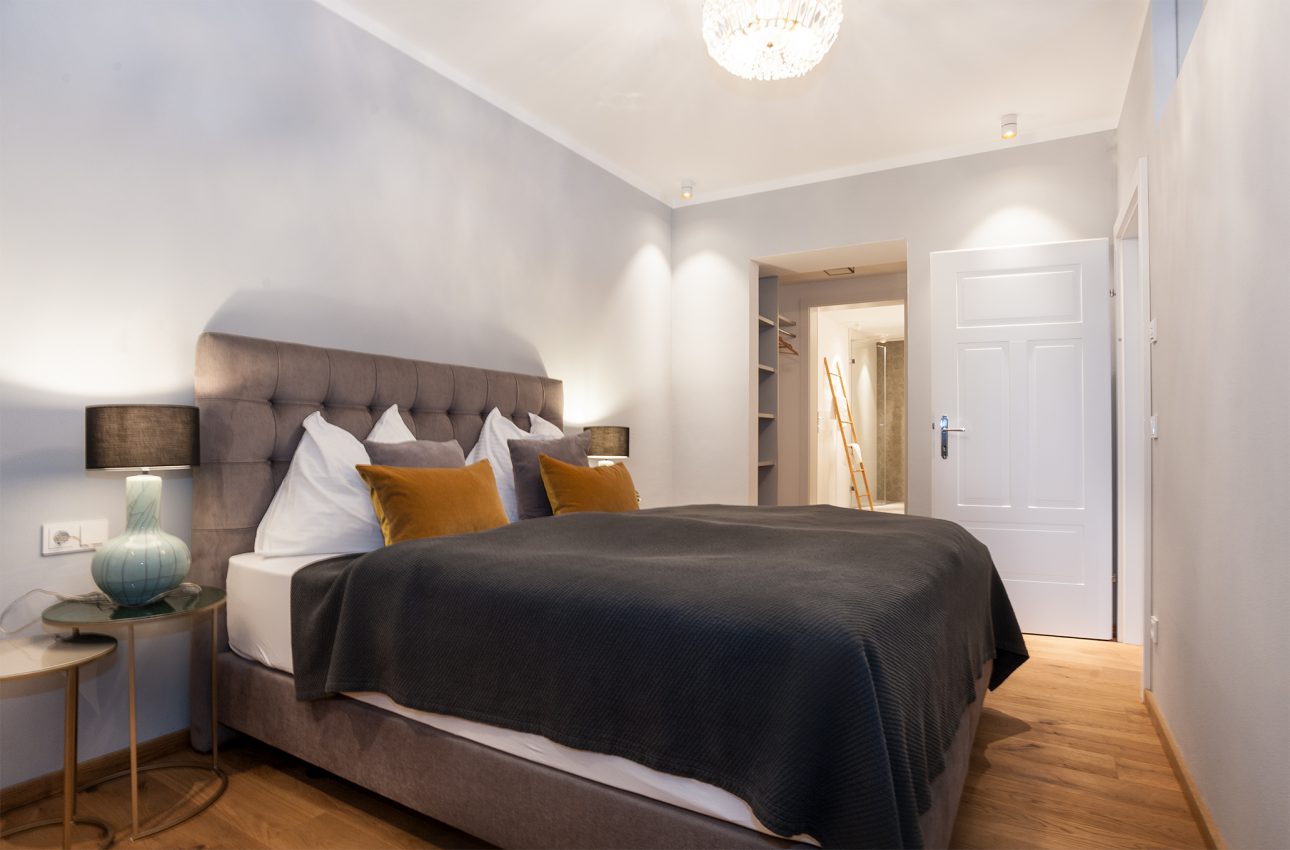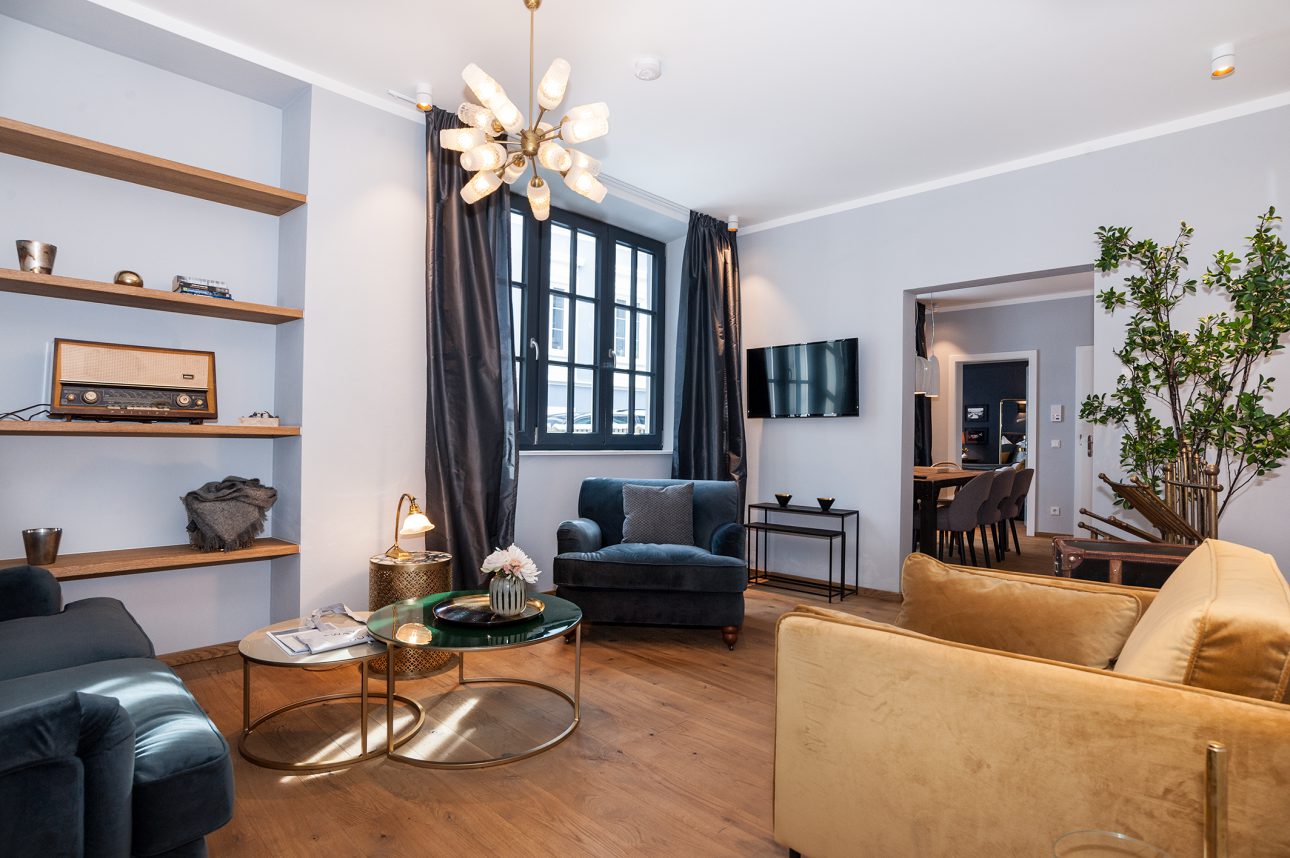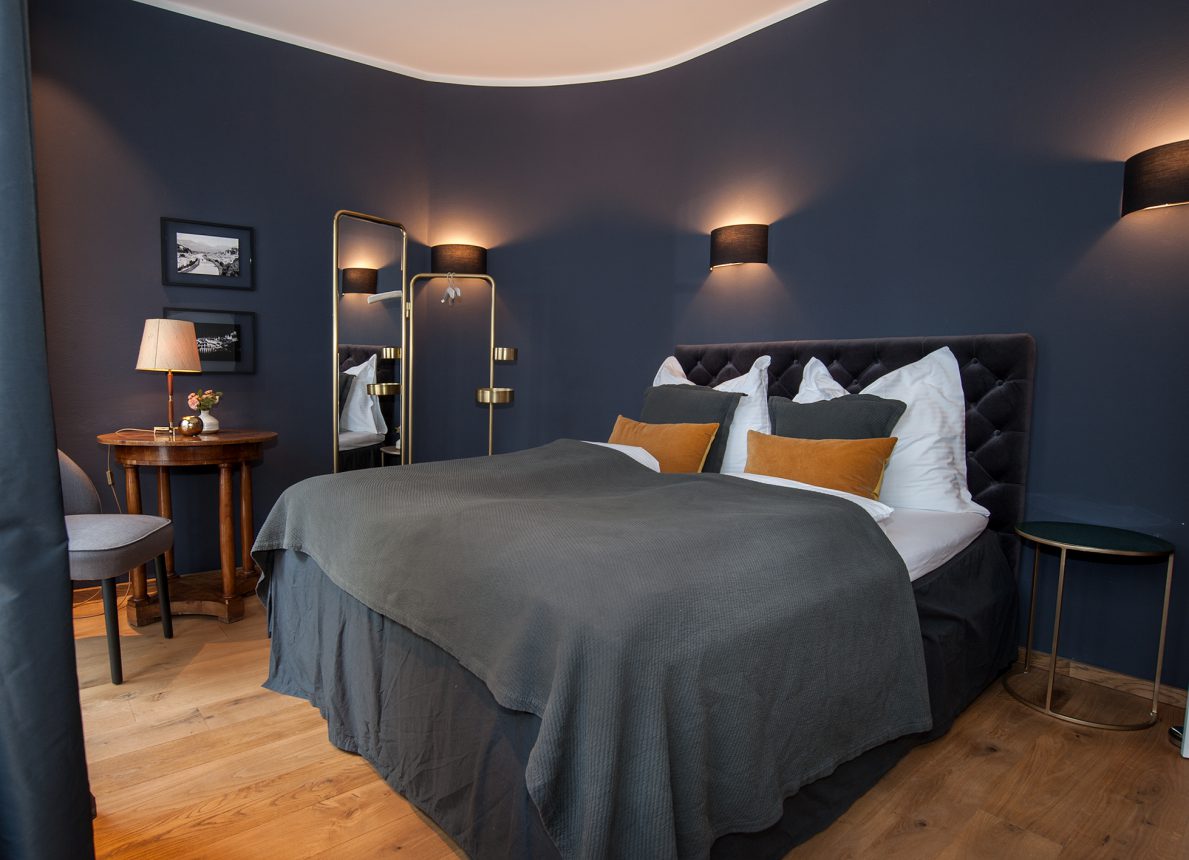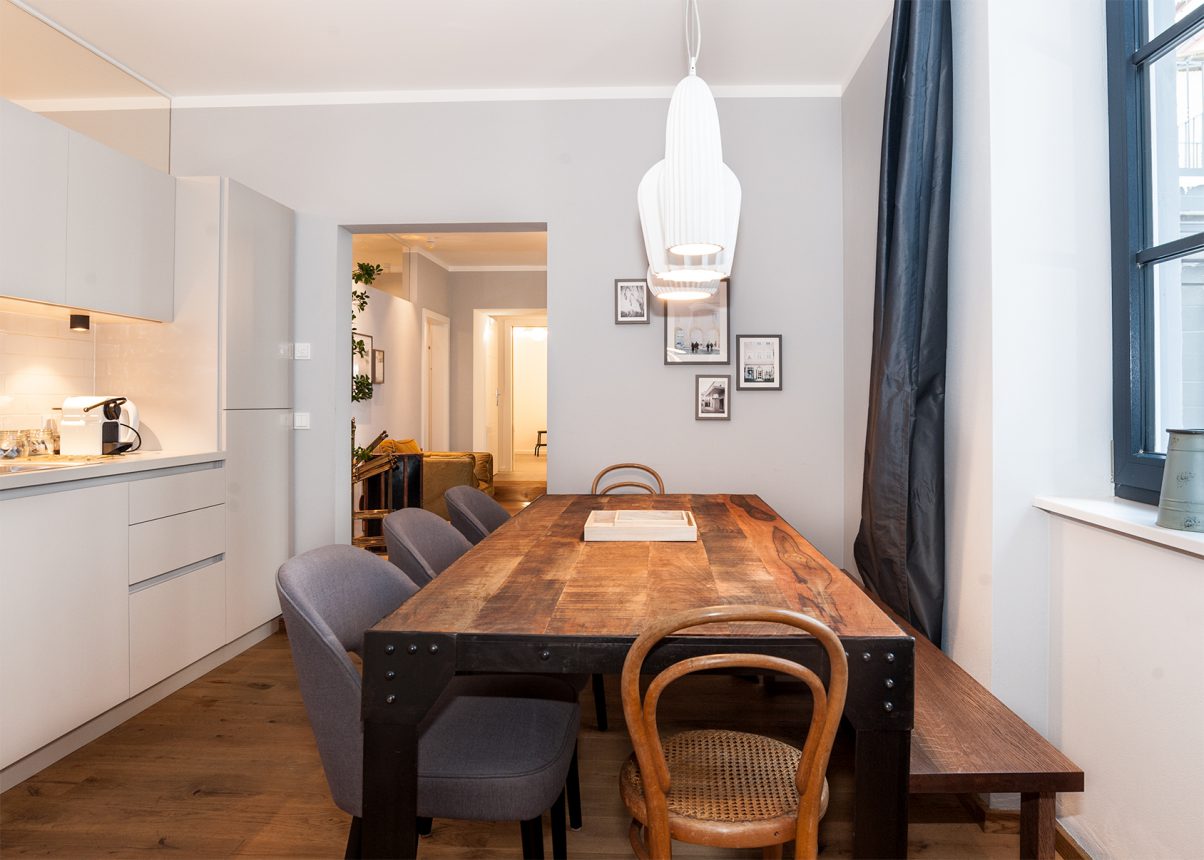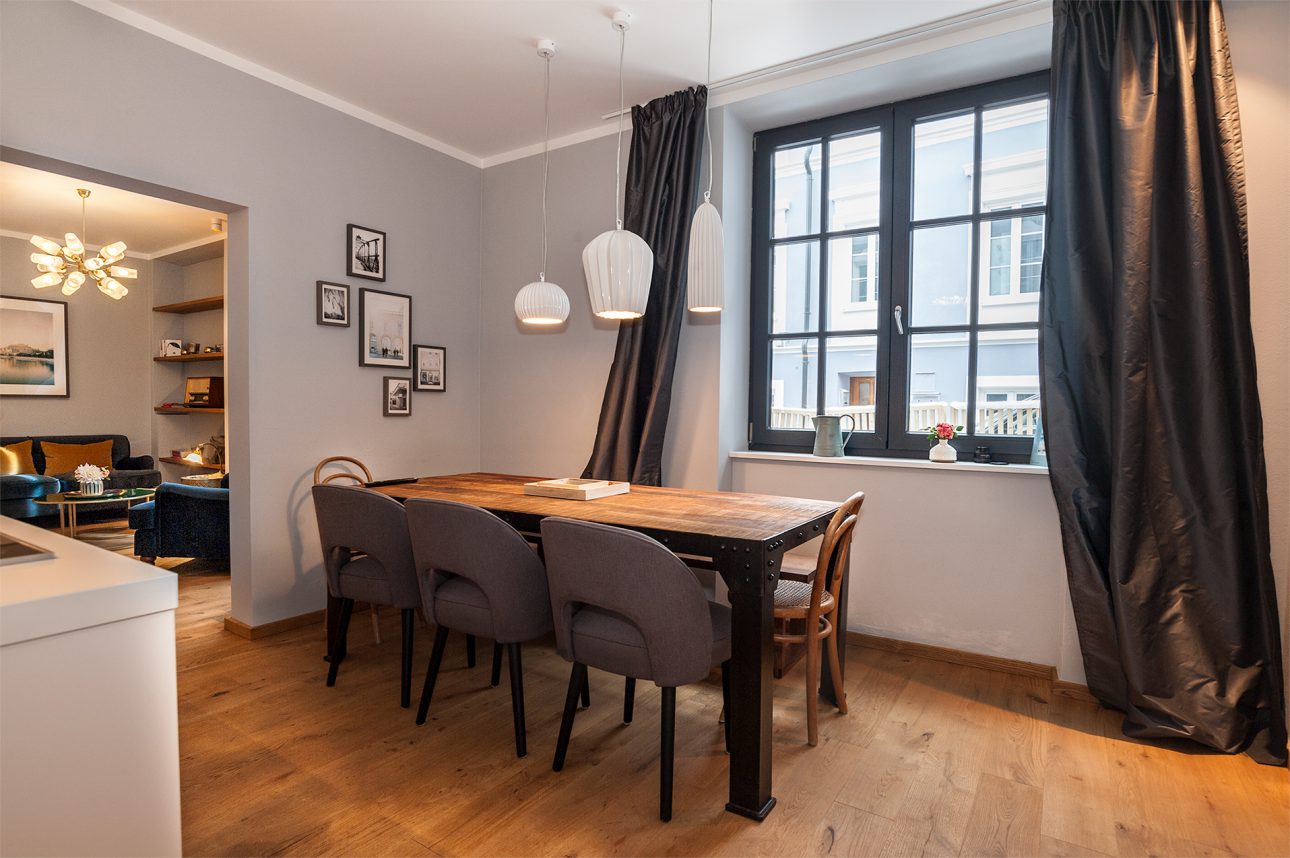 6 people
from 180 €
3 Bedrooms
3 Bathrooms
More about Nora 1
About Nora 1 for Six
With a passion for outstanding interior design, Nora 1, with its 100m3, is the perfect dwelling for six guests to feel at home. Altogether three spacious bedrooms and three bathrooms – one even equipped with a free-standing bathtub - will provide you with all the amenities that you need to start your Salzburg adventure.

Nora 1 is located on the ground floor (US 1st floor) of the townhouse. Inside the apartment, you will find a fully equipped kitchen as well as one spacious living room with a comfortable sofa that welcomes you for a cozy get-together.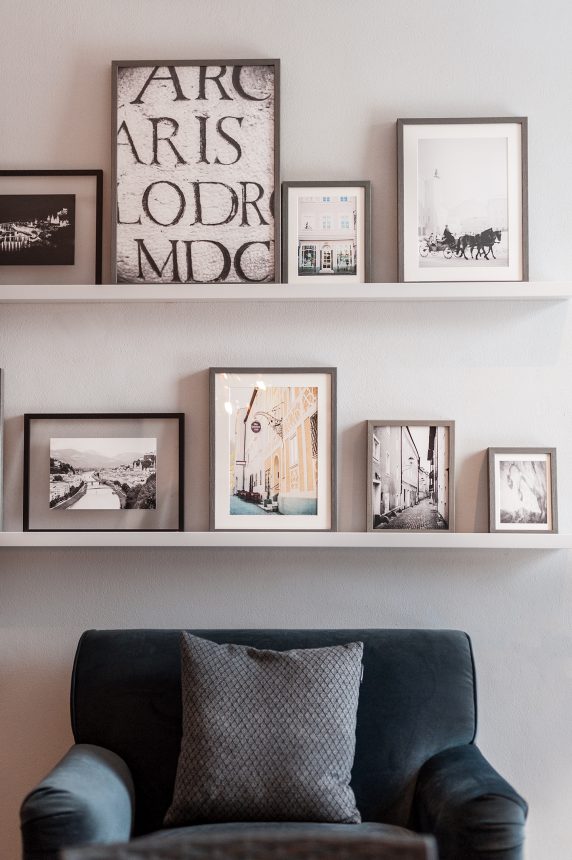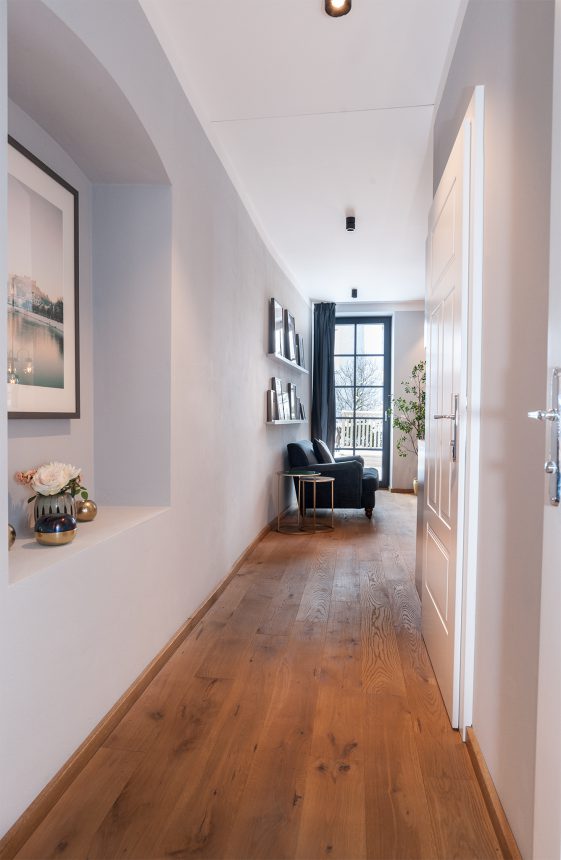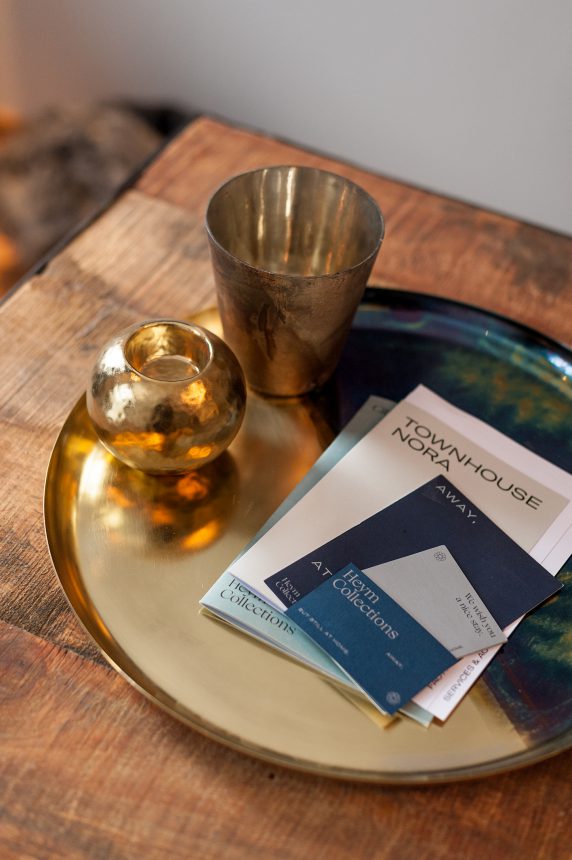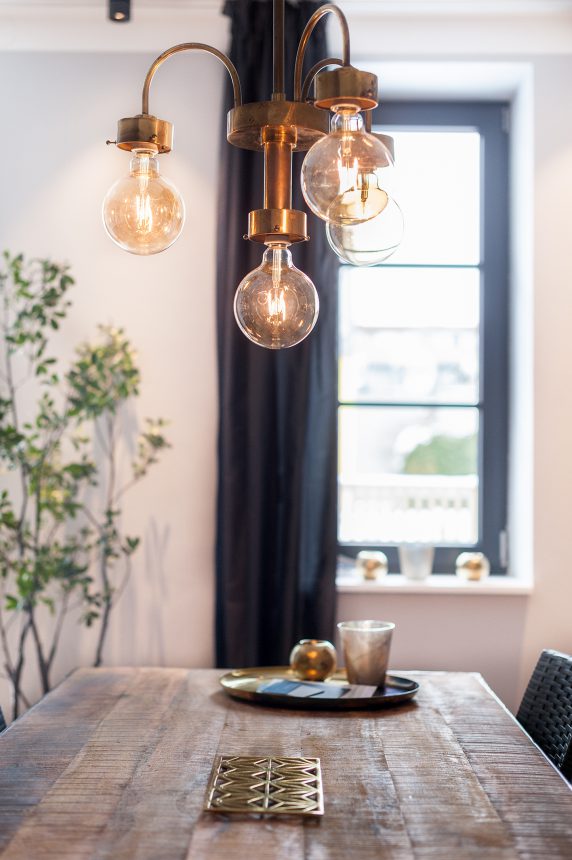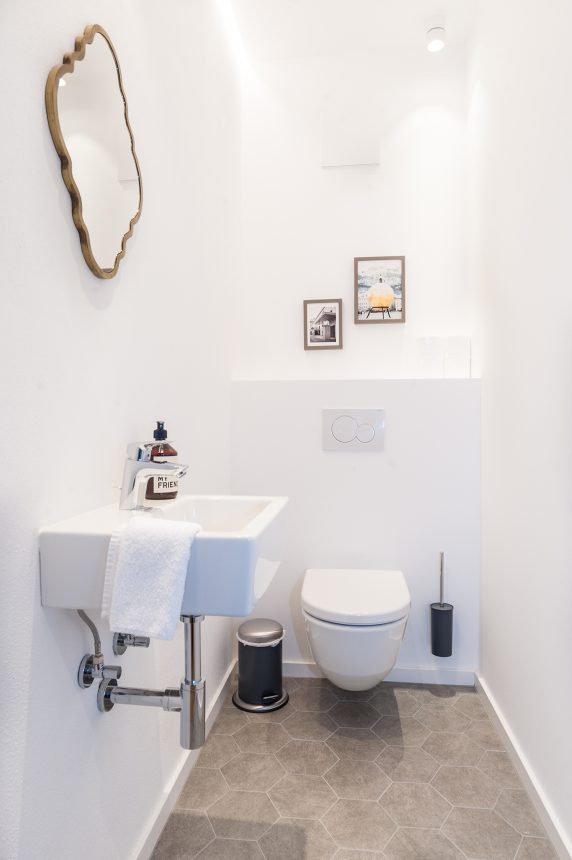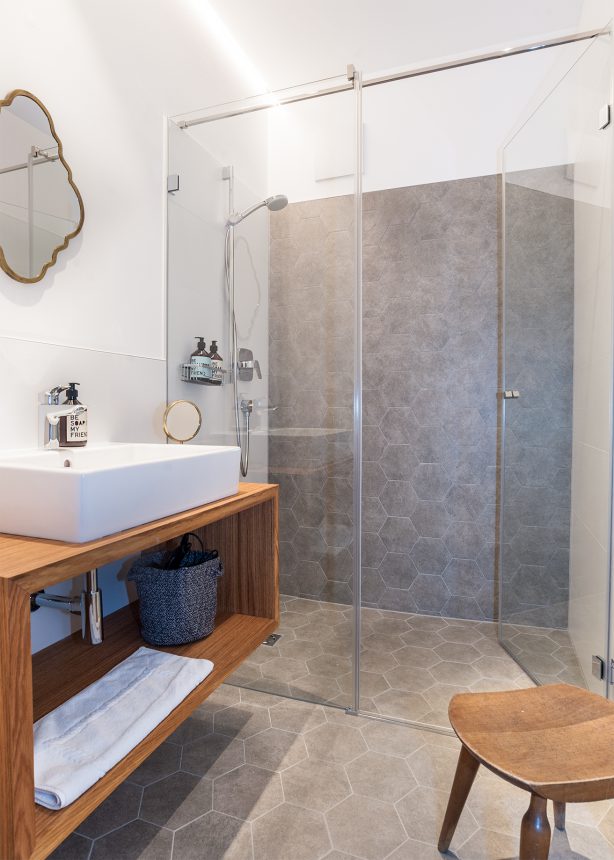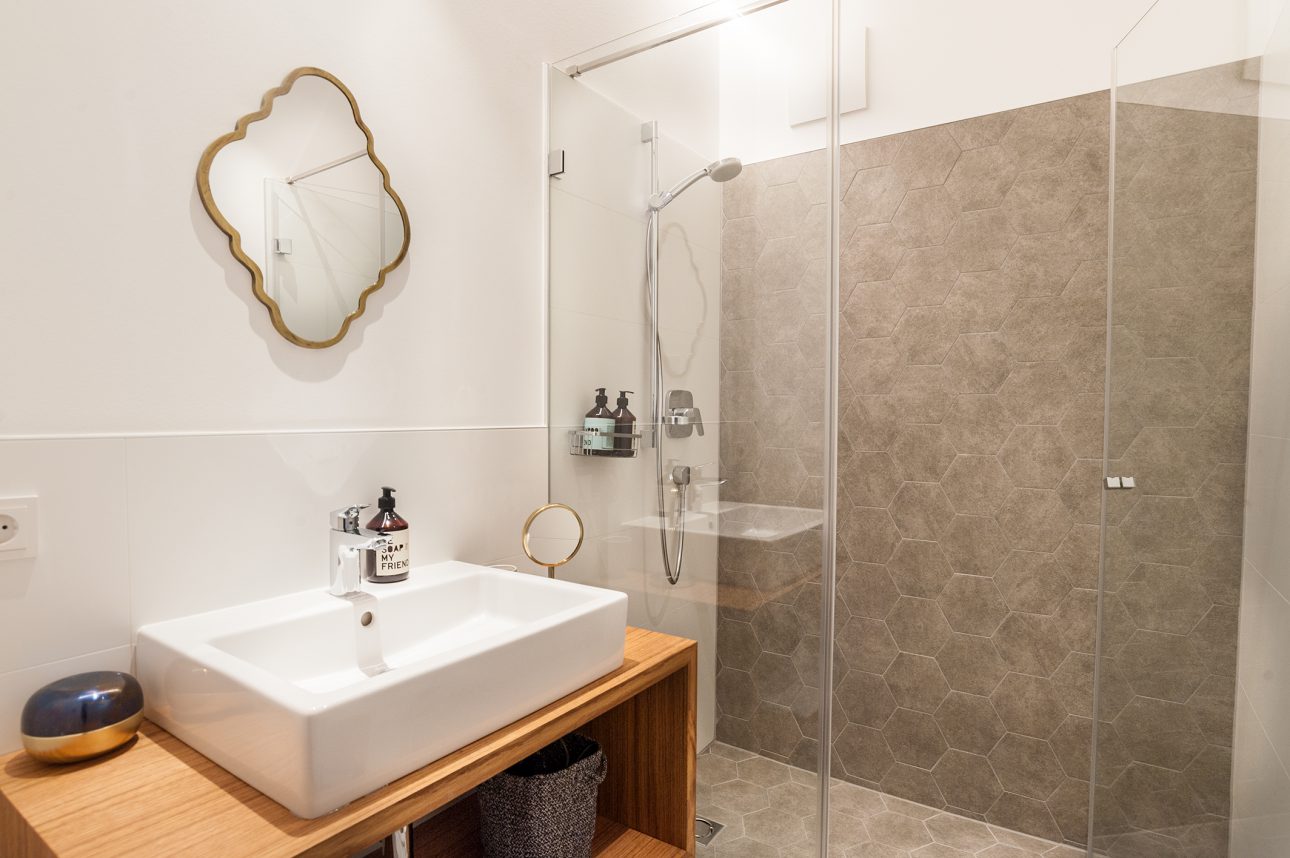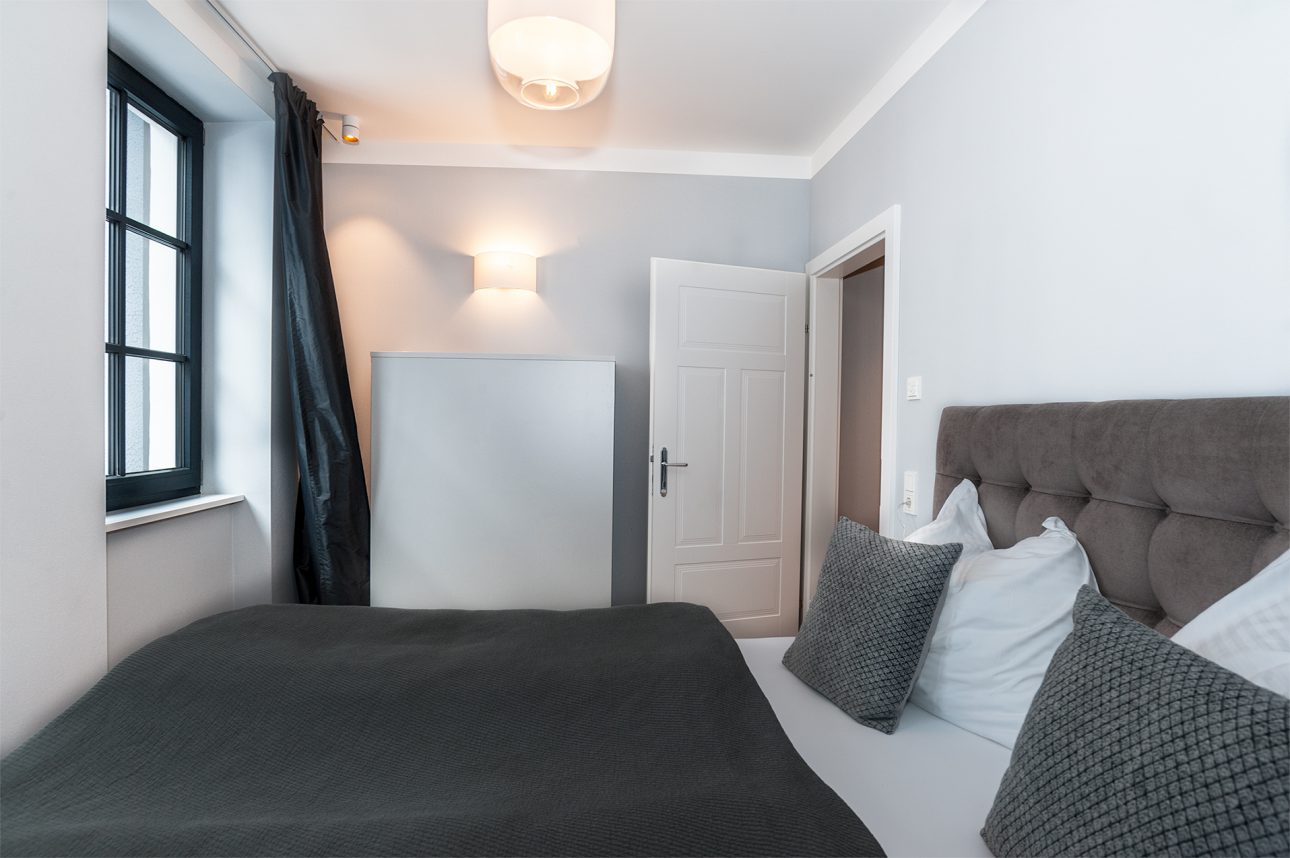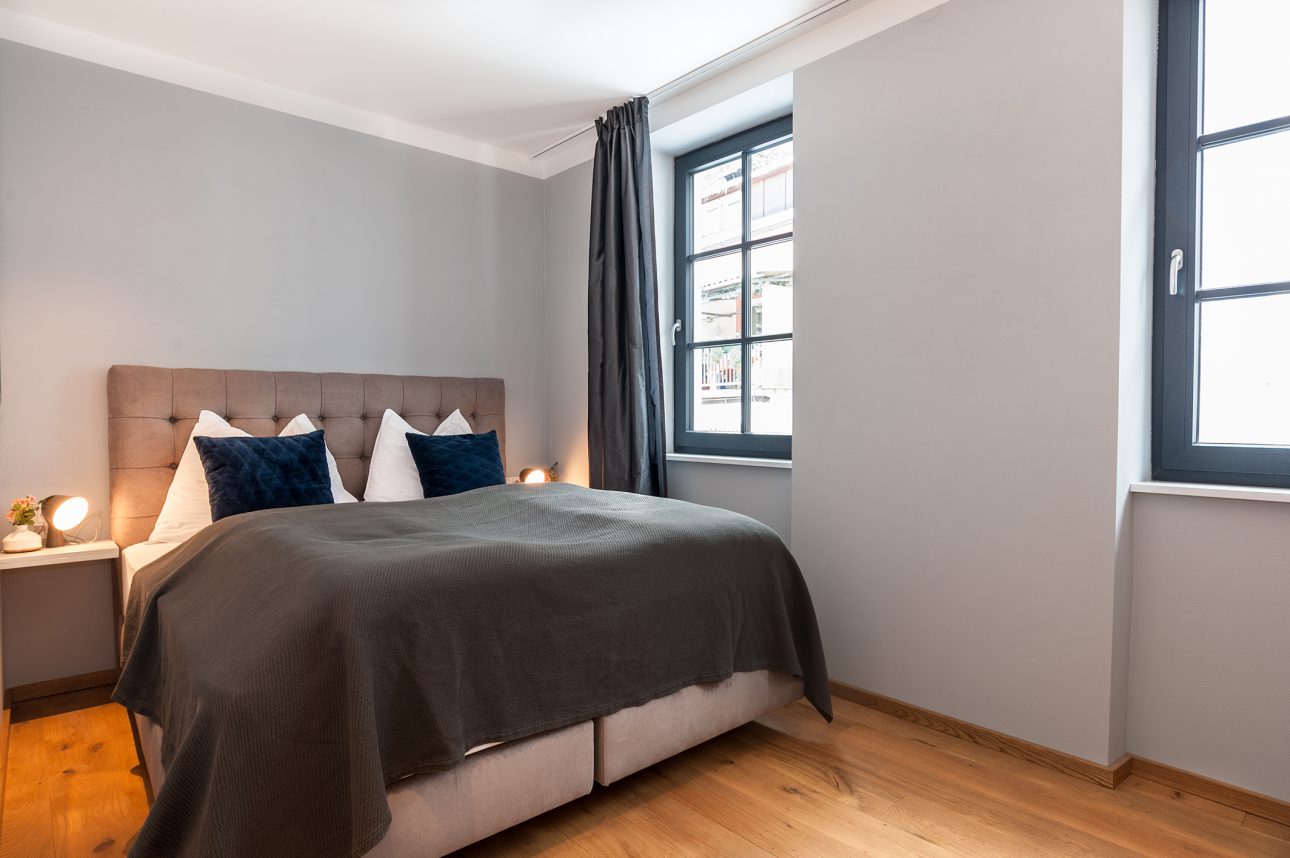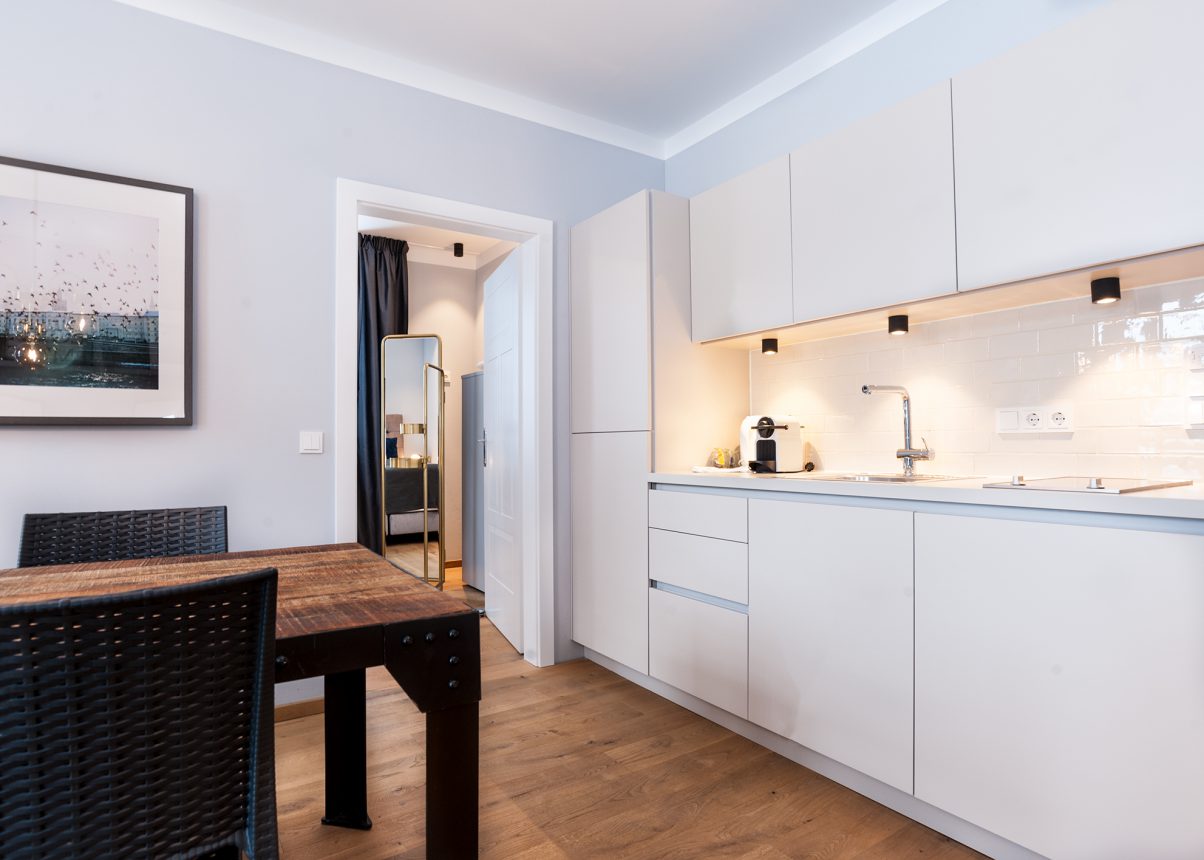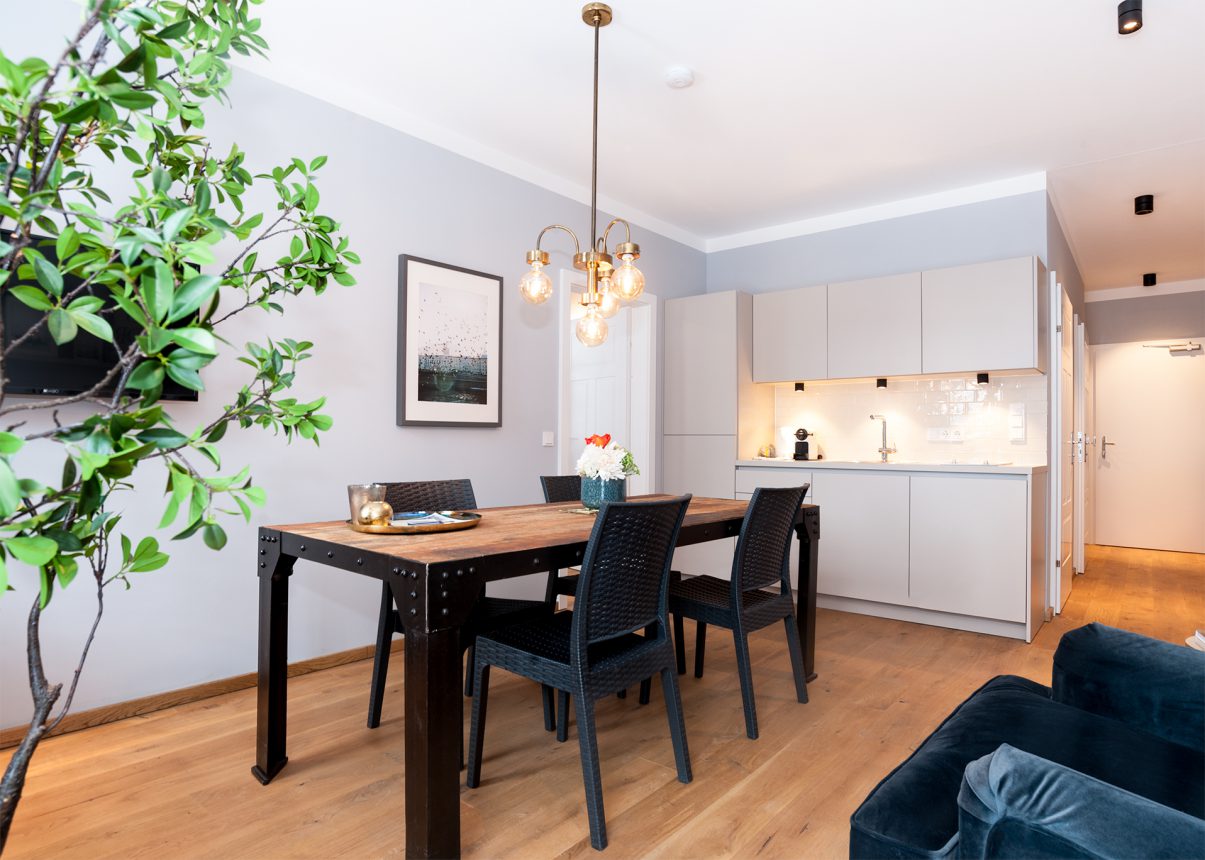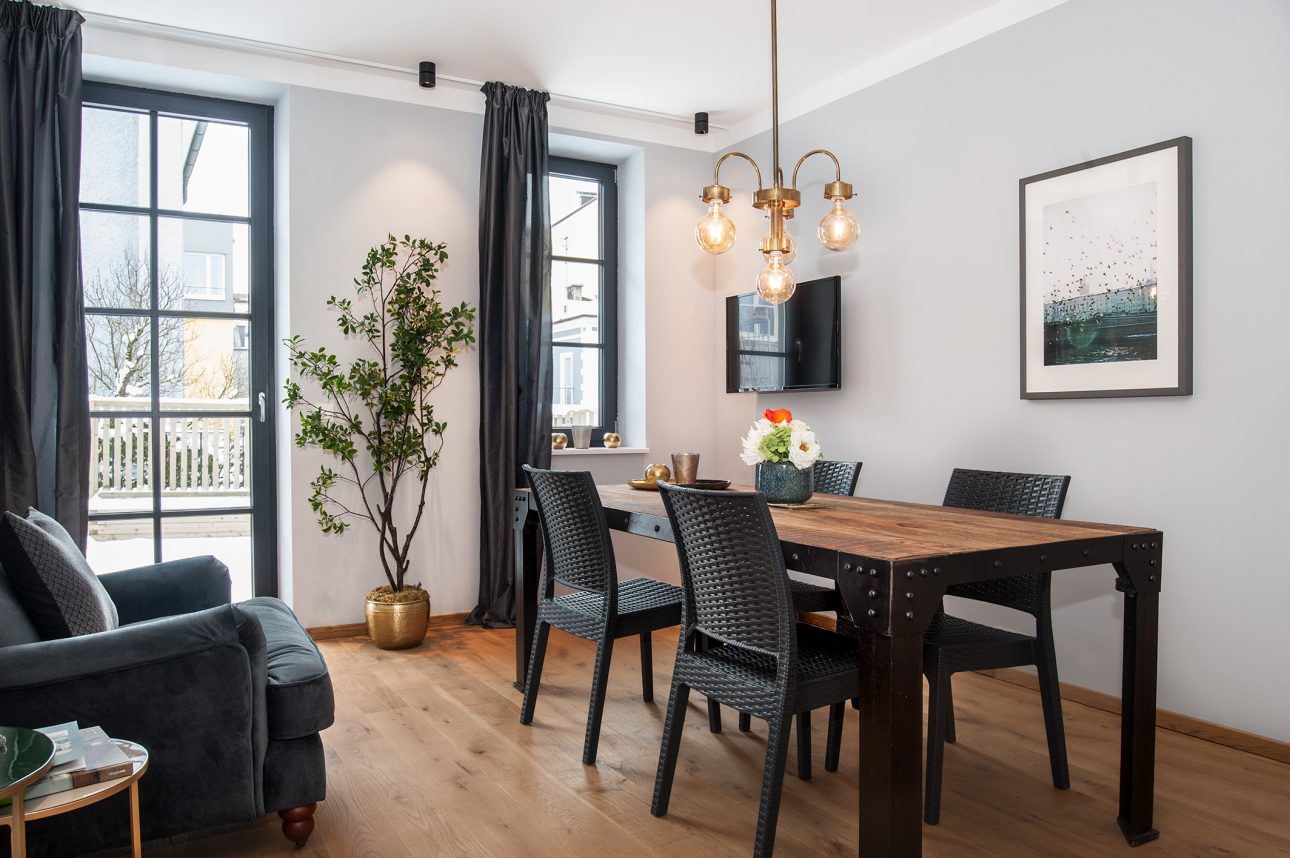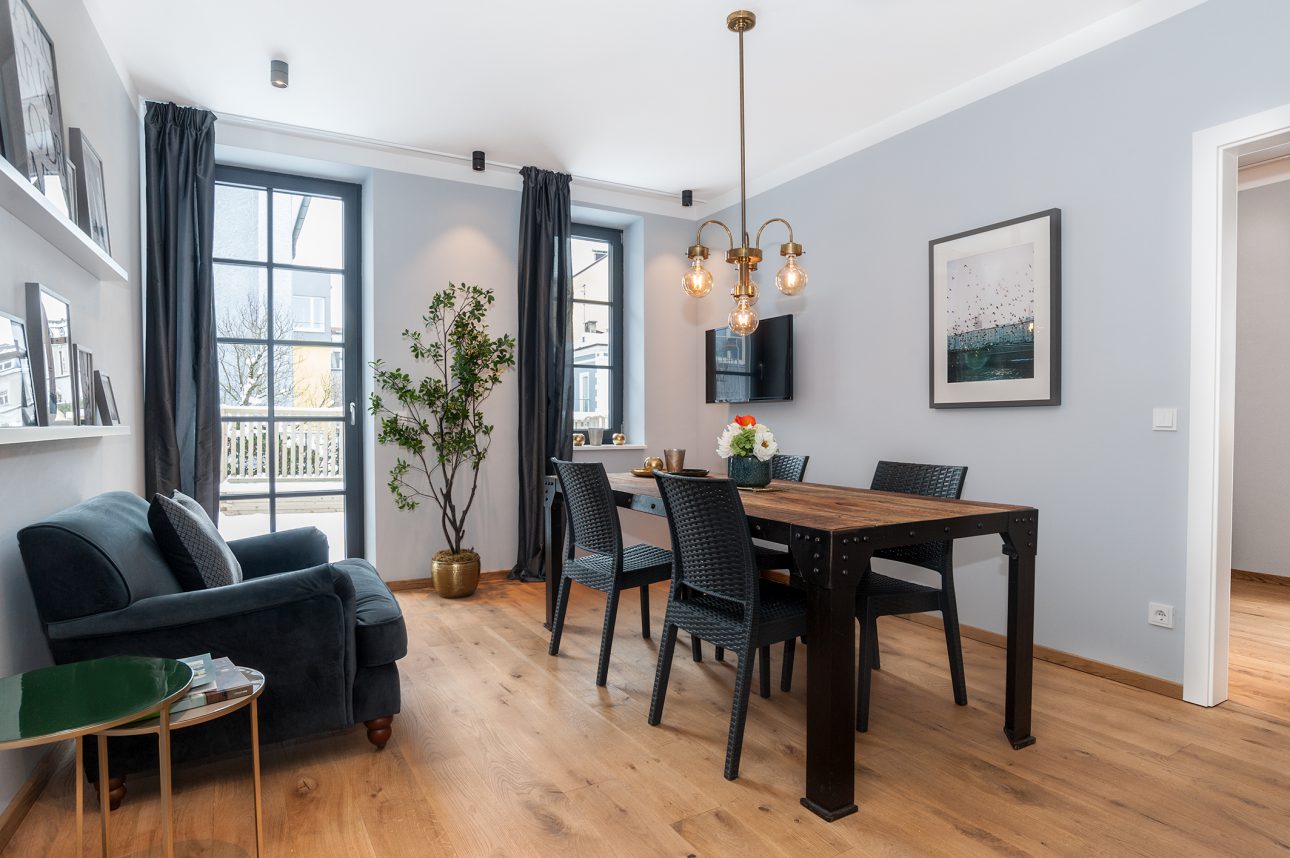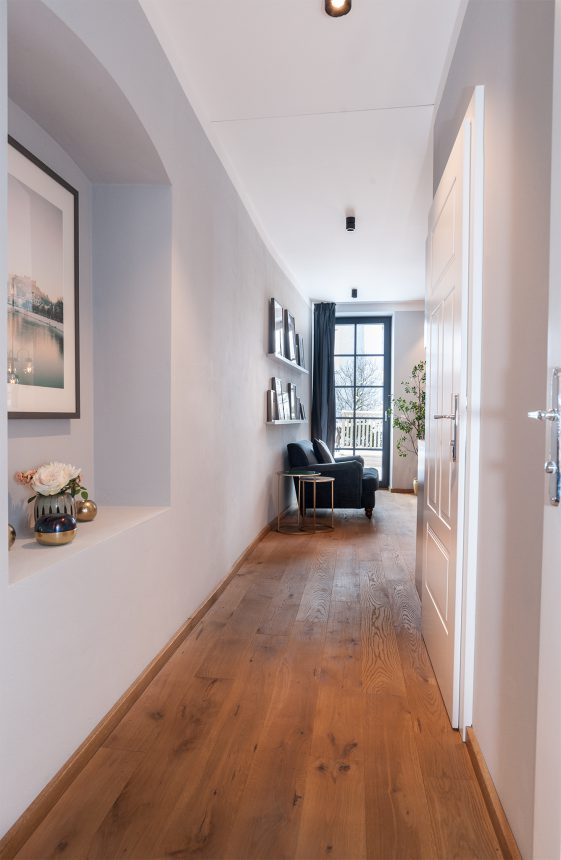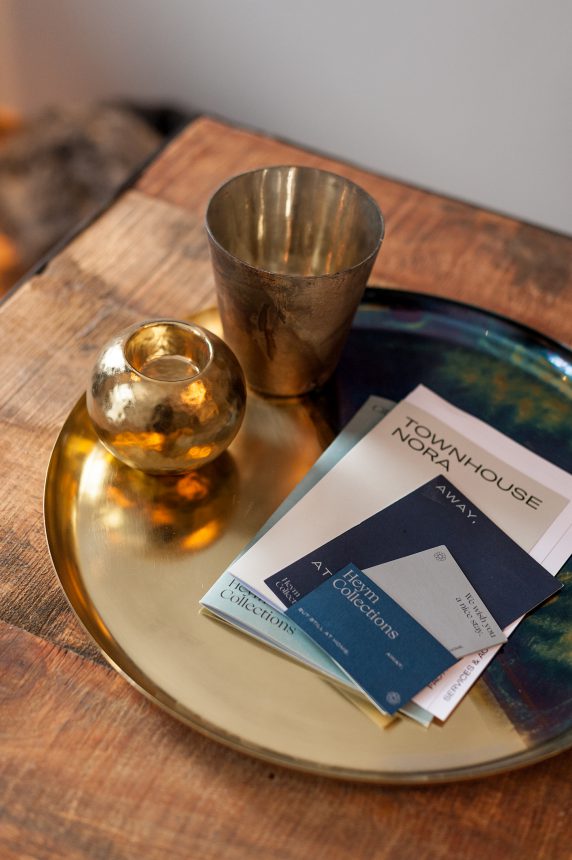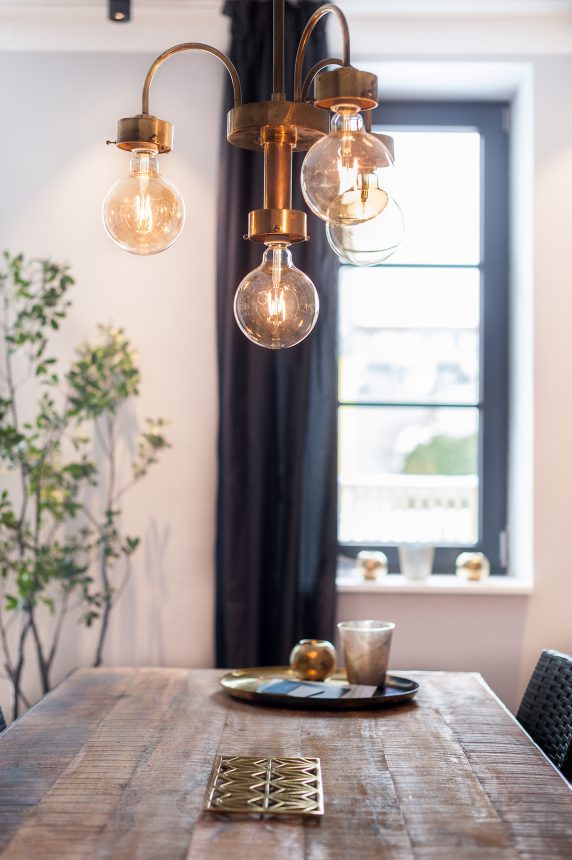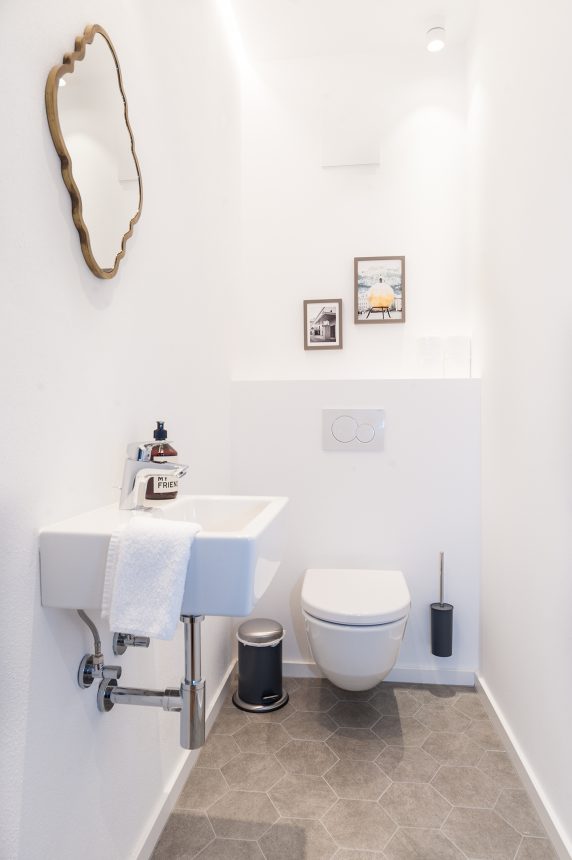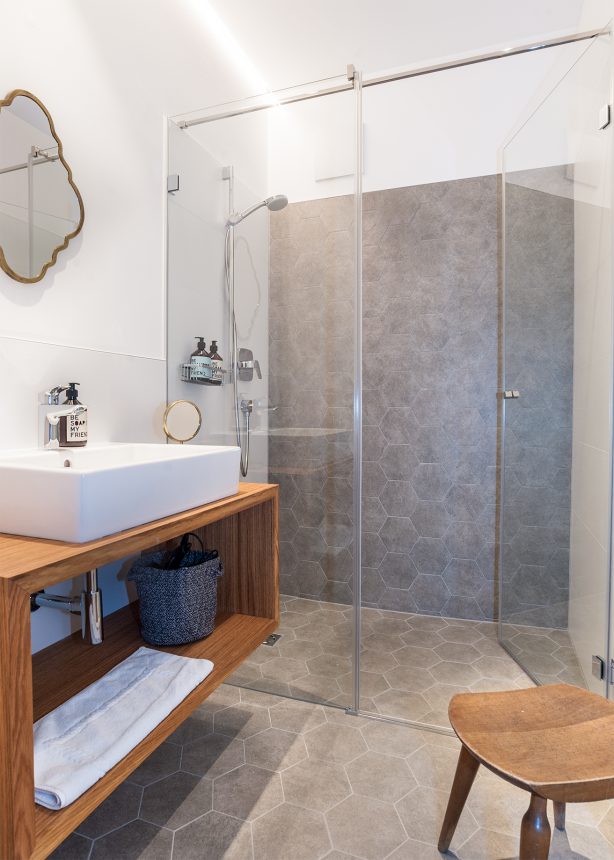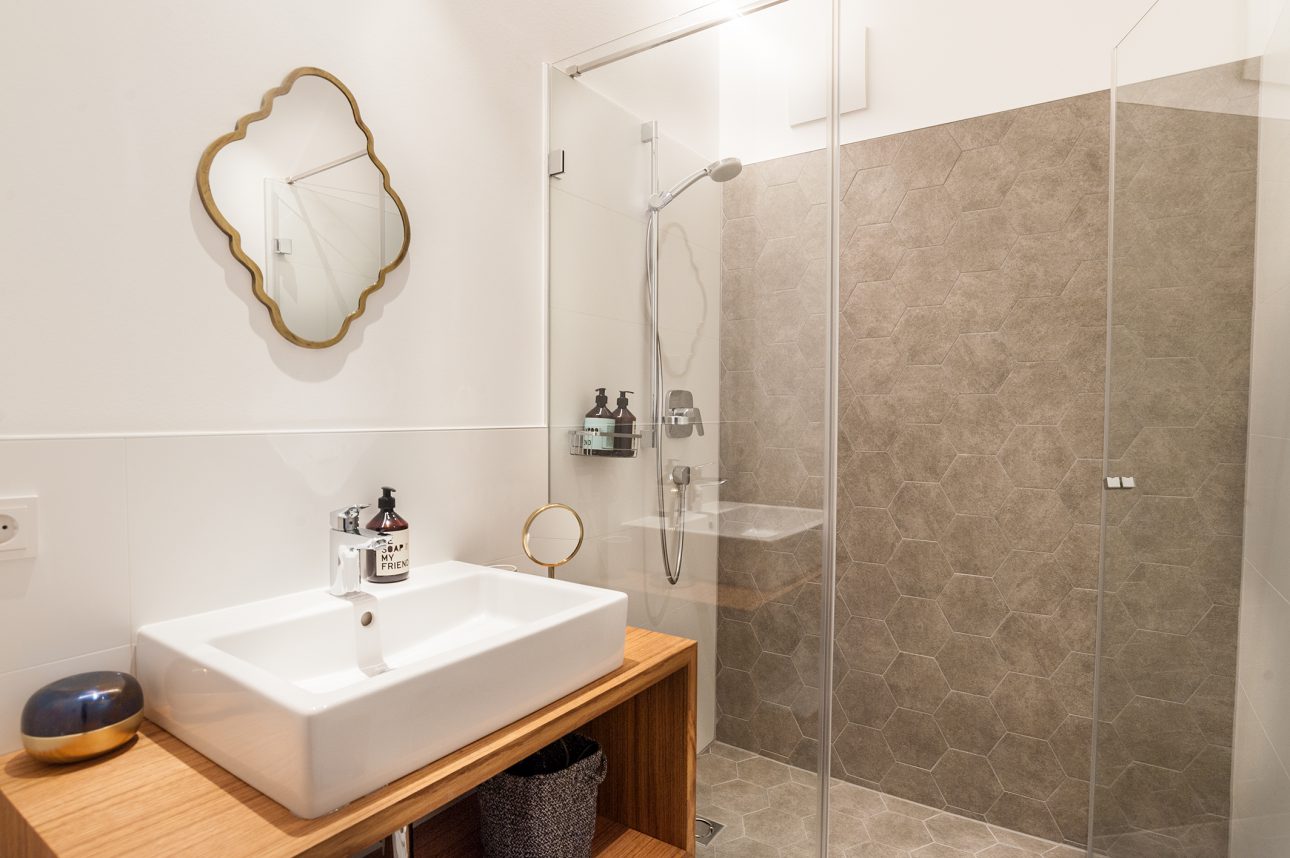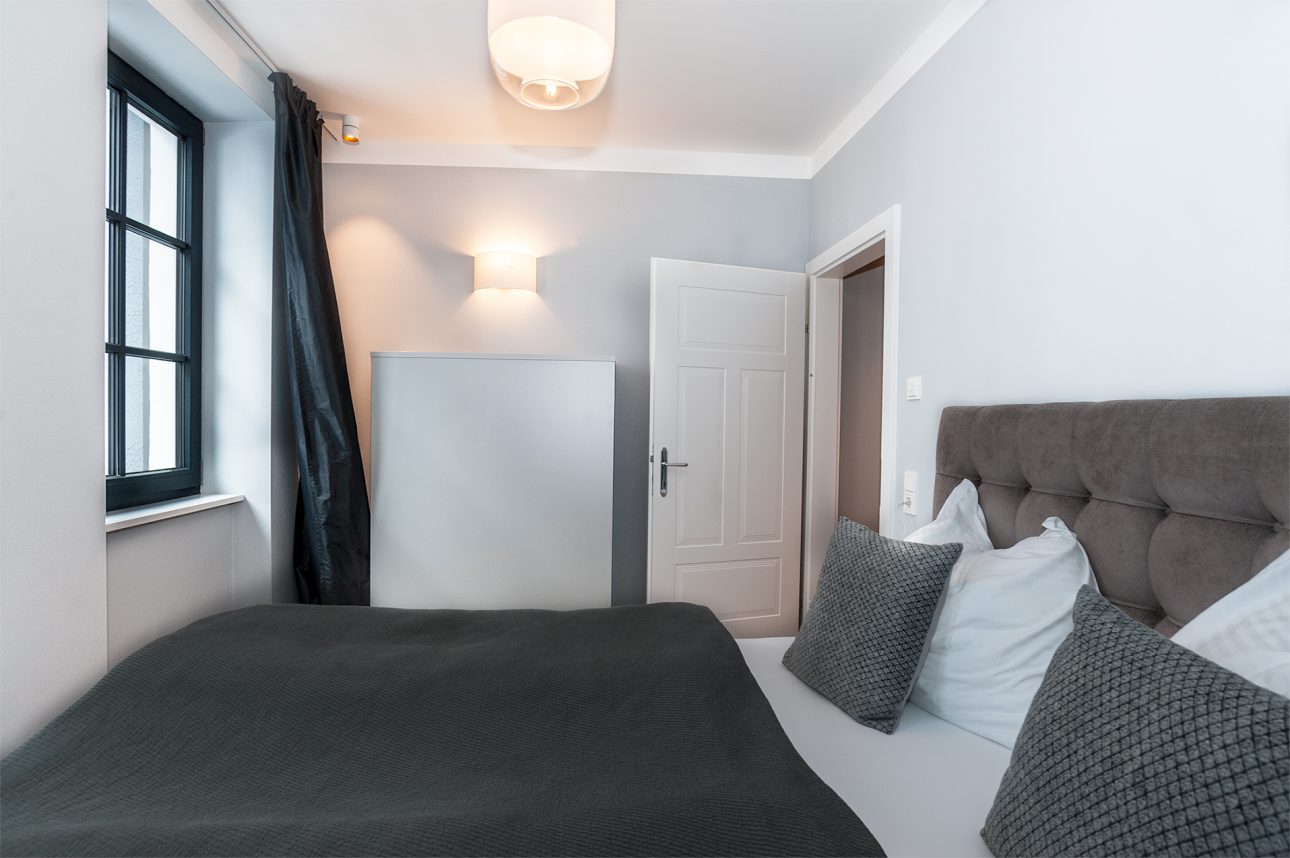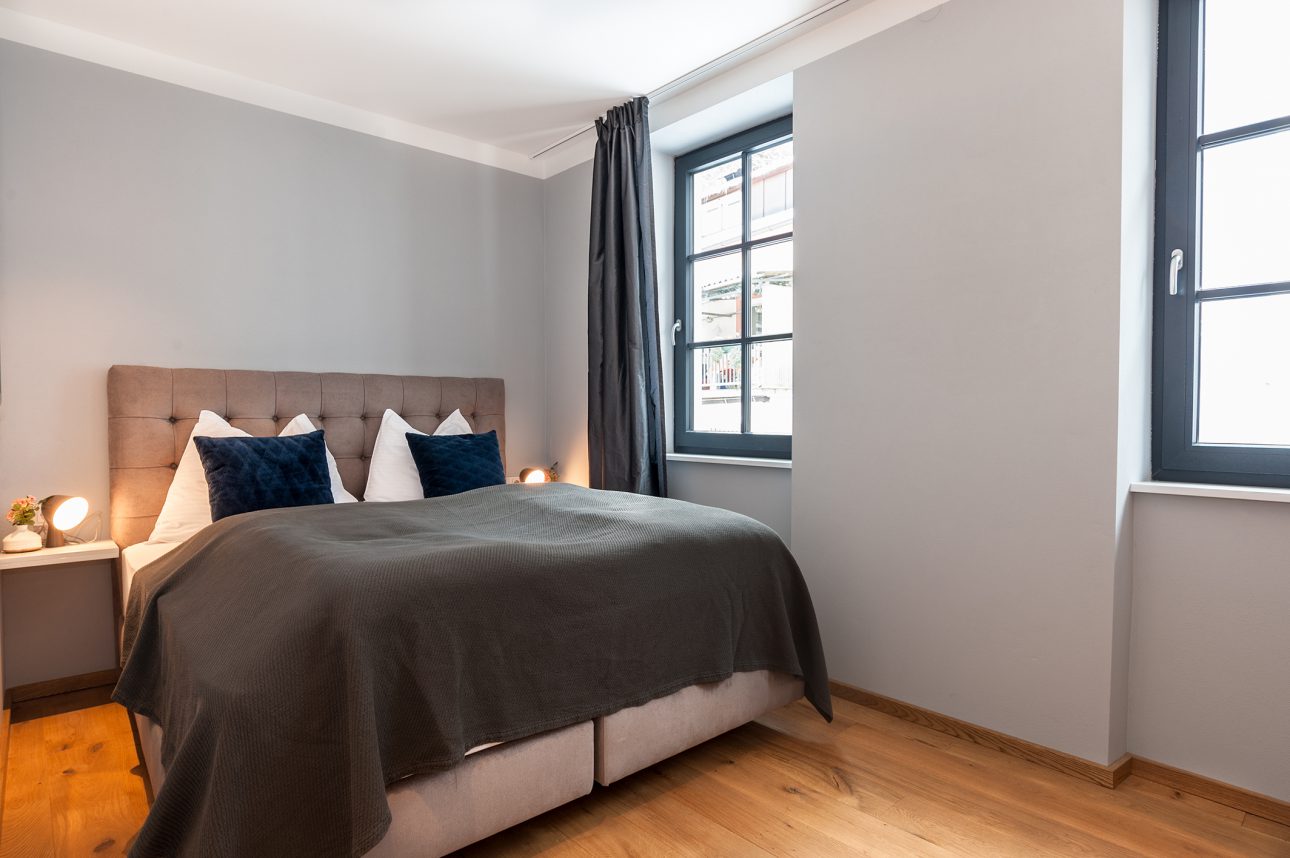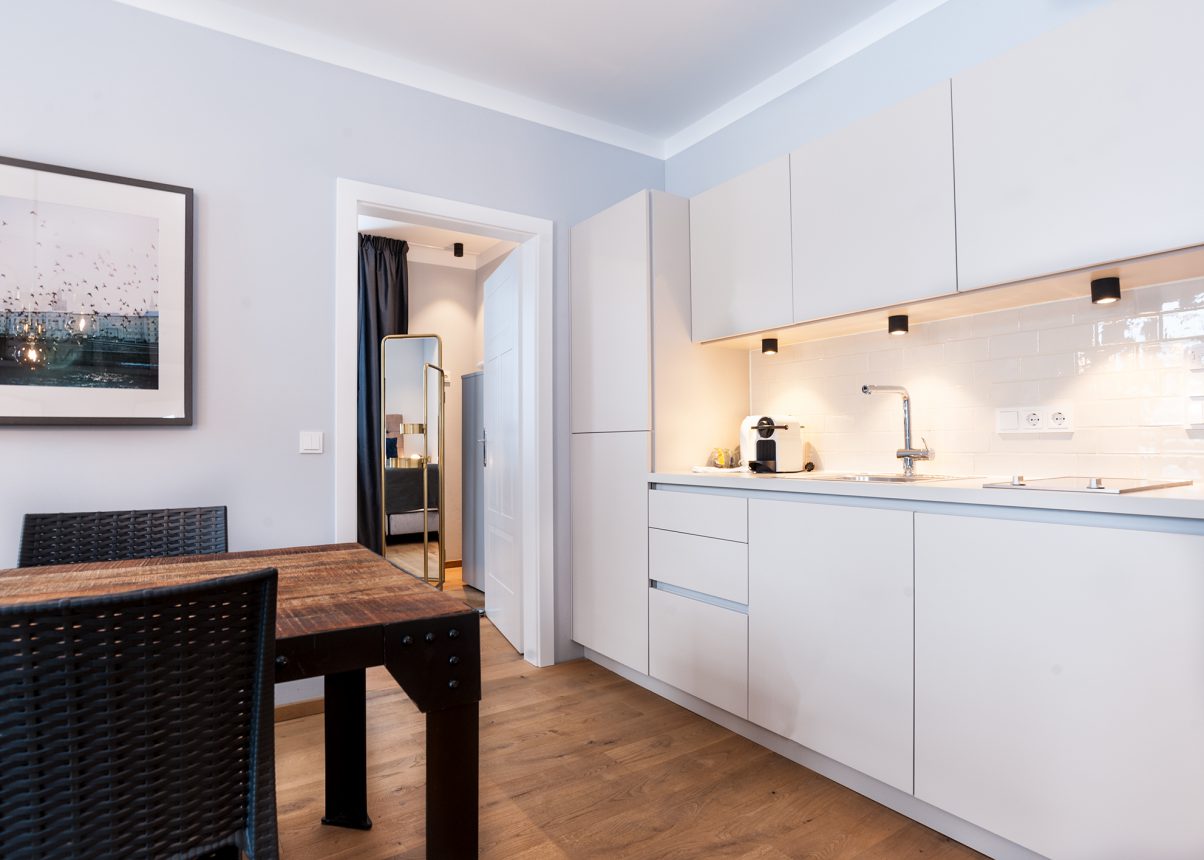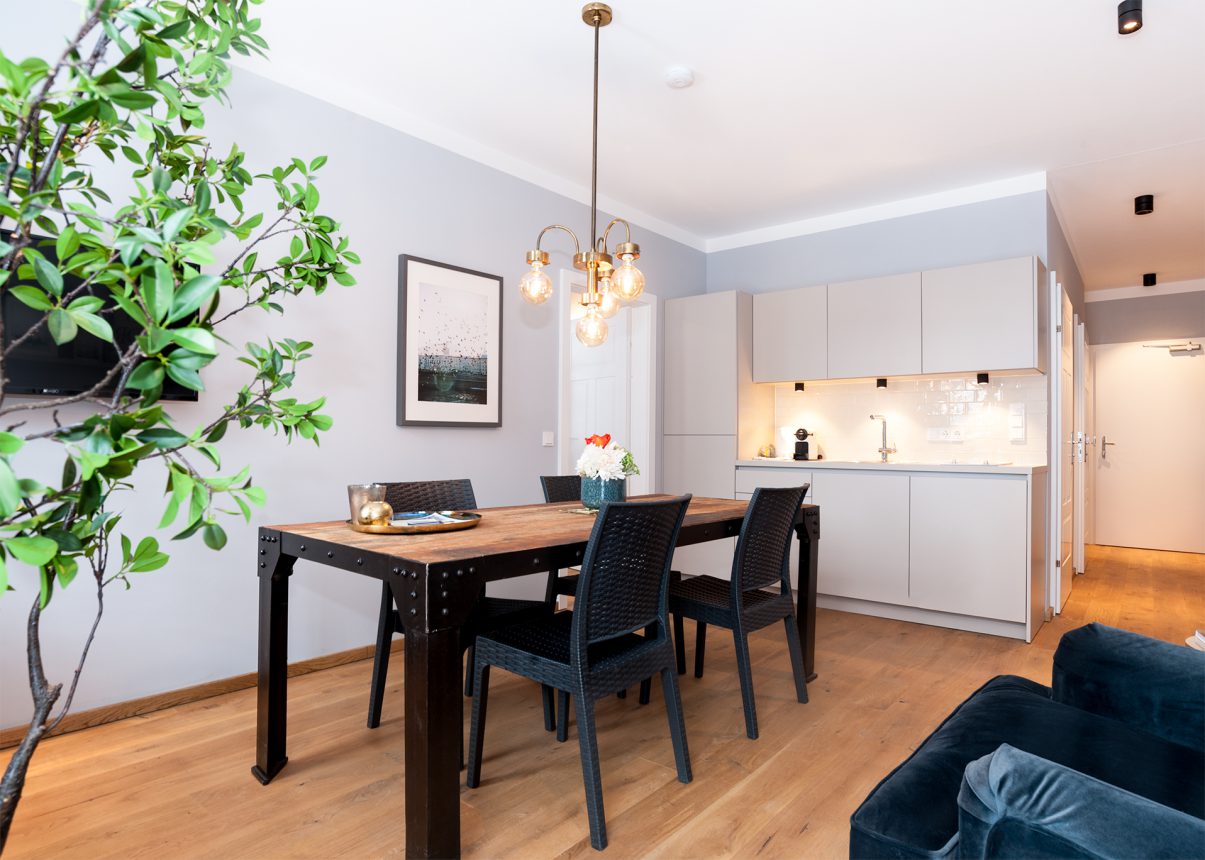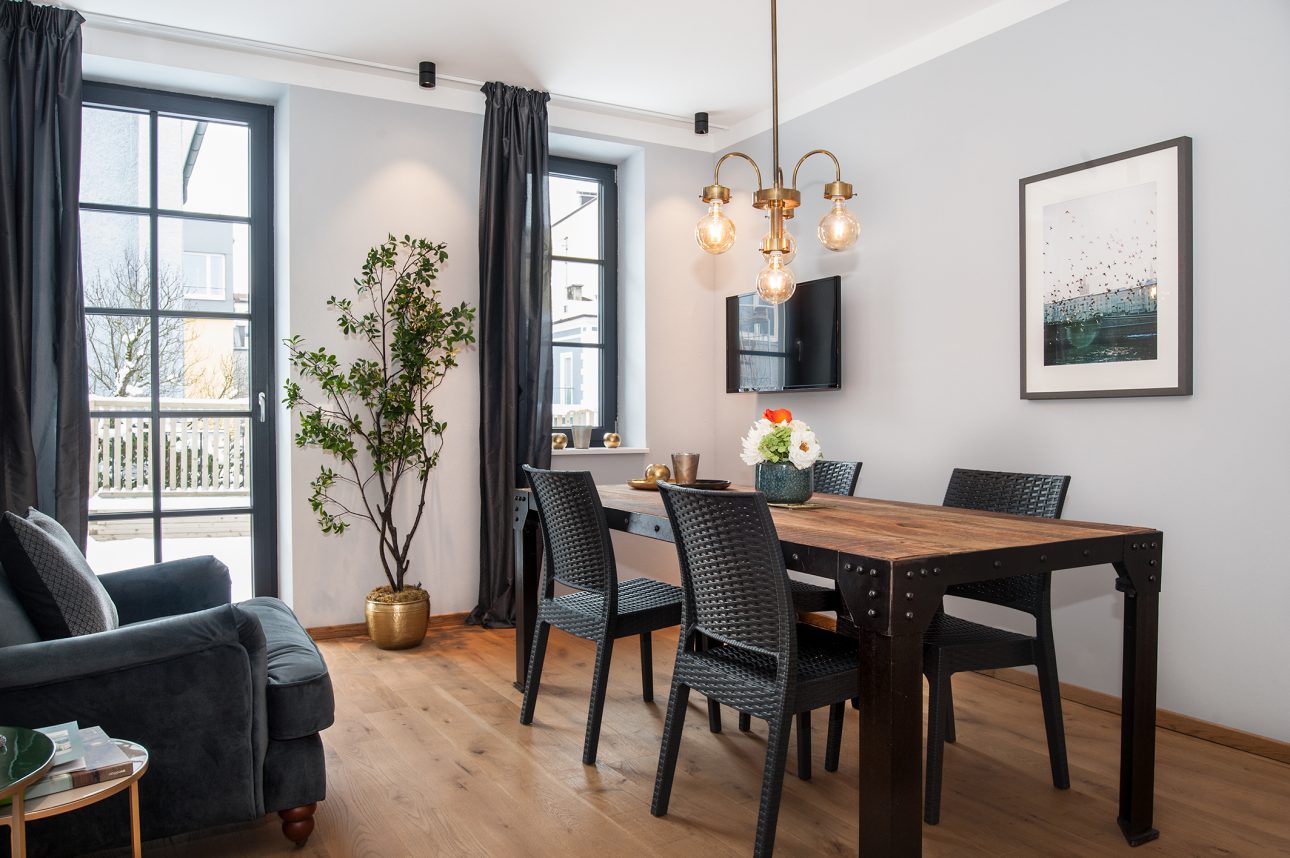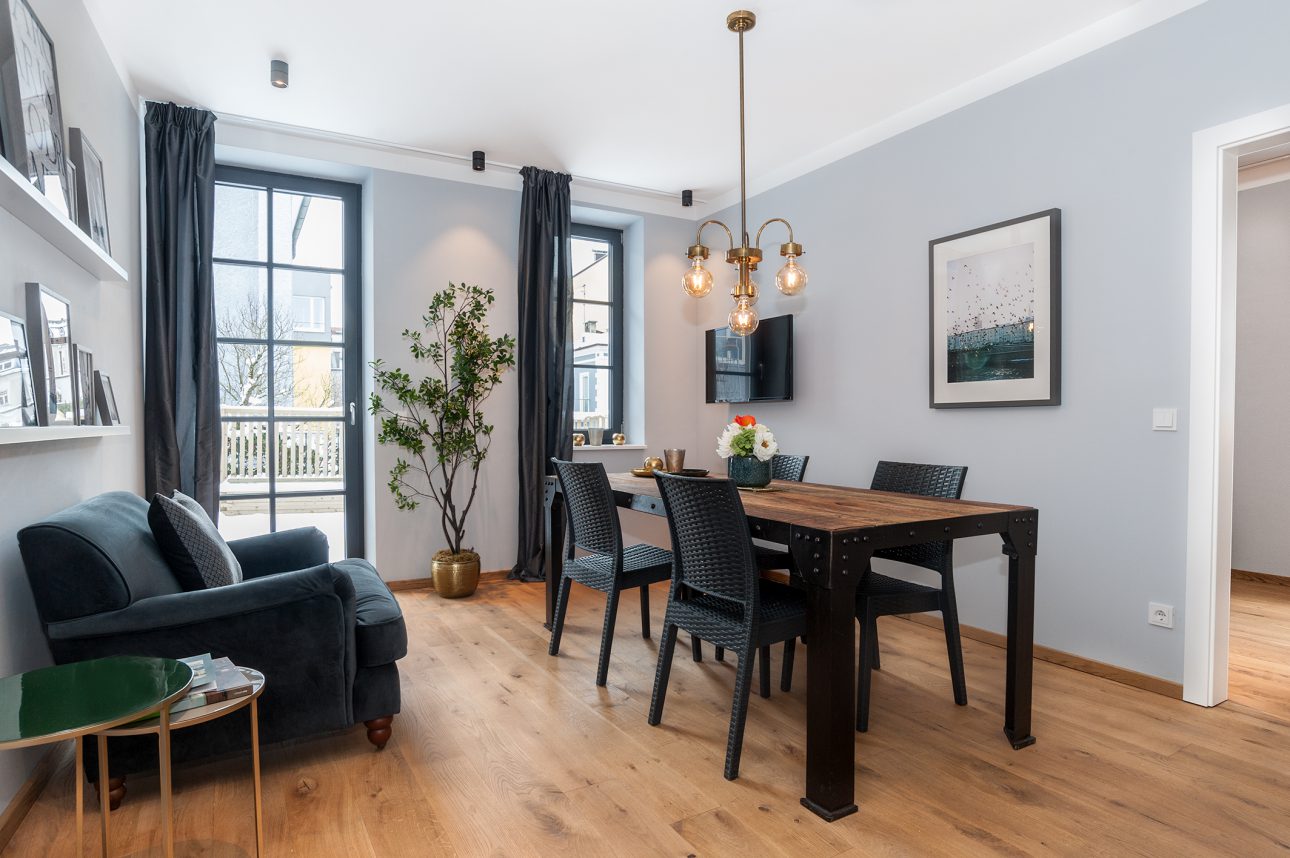 4 people
from 160 €
2 Bedrooms
1 Bathroom
1 Terrace
More about Nora 2
About Nora 2 for Four
Two bedrooms and one private bathroom combined for 55m2 are perfect for four Salzburg travelers - this is Nora 2, located on the first floor (US 2nd) of Townhouse Nora. Even more, it includes a 25m2 private terrace with patio furniture and a fantastic view of the Kapuzinerberg, one of Salzburg's hikeable city hills.

Just like all the other apartments, Nora 2 has a kitchen will full amenities as well as a spacious dining table that are needed to feel just like home.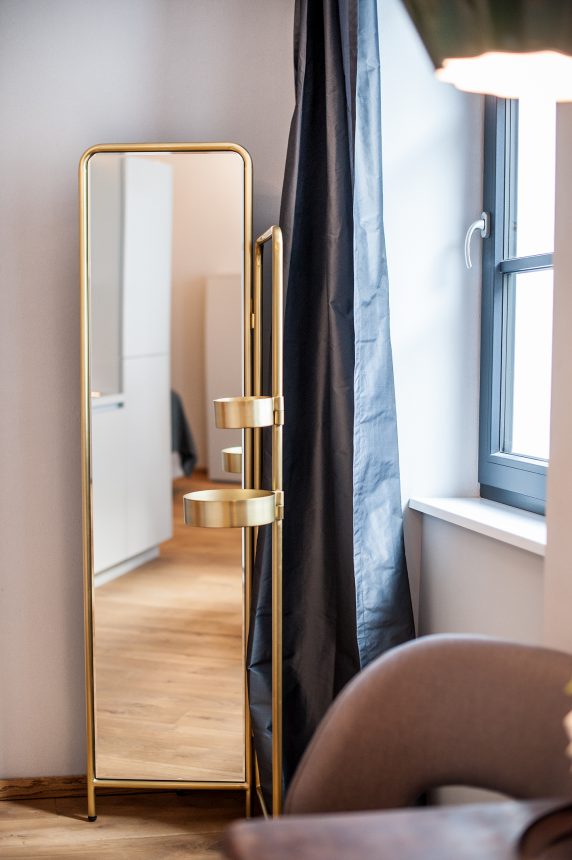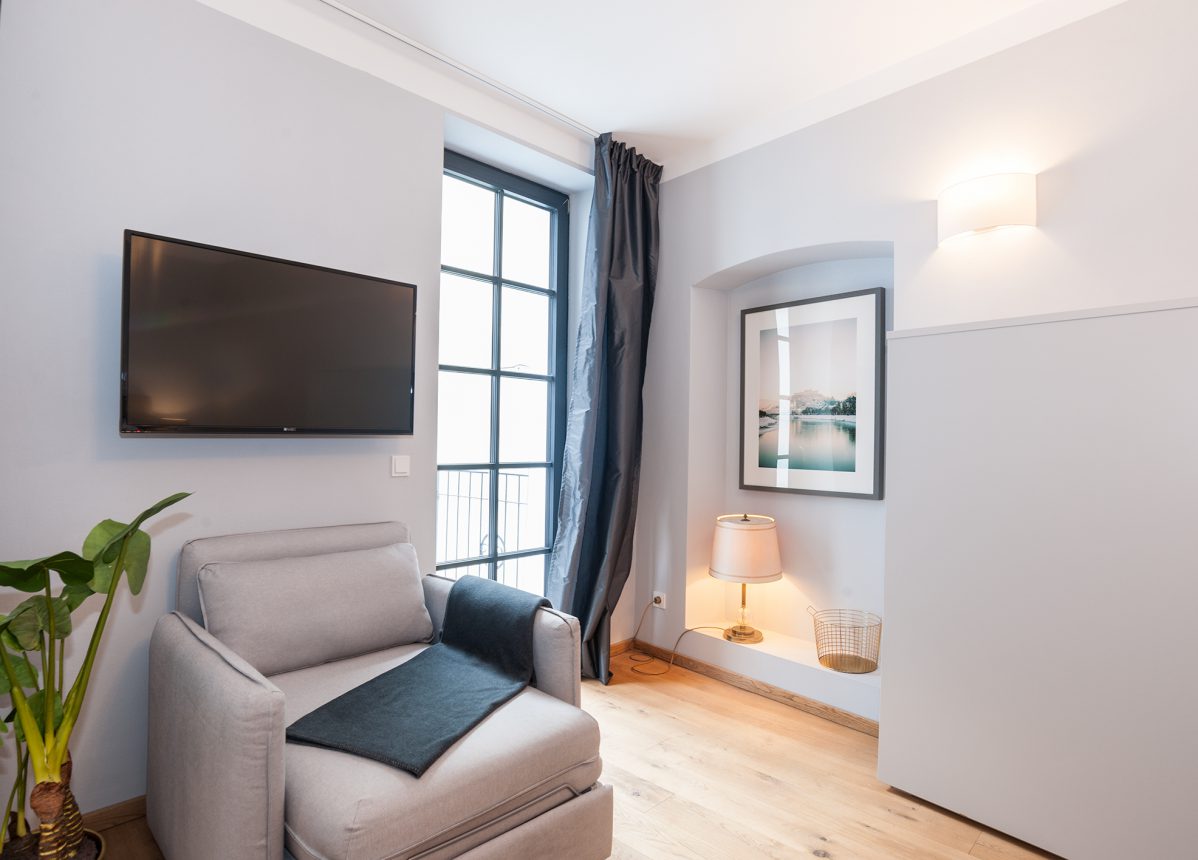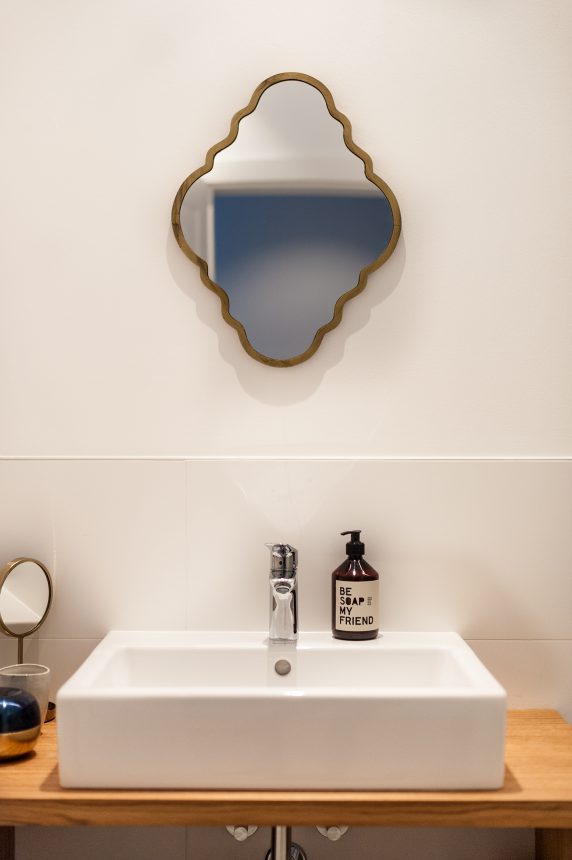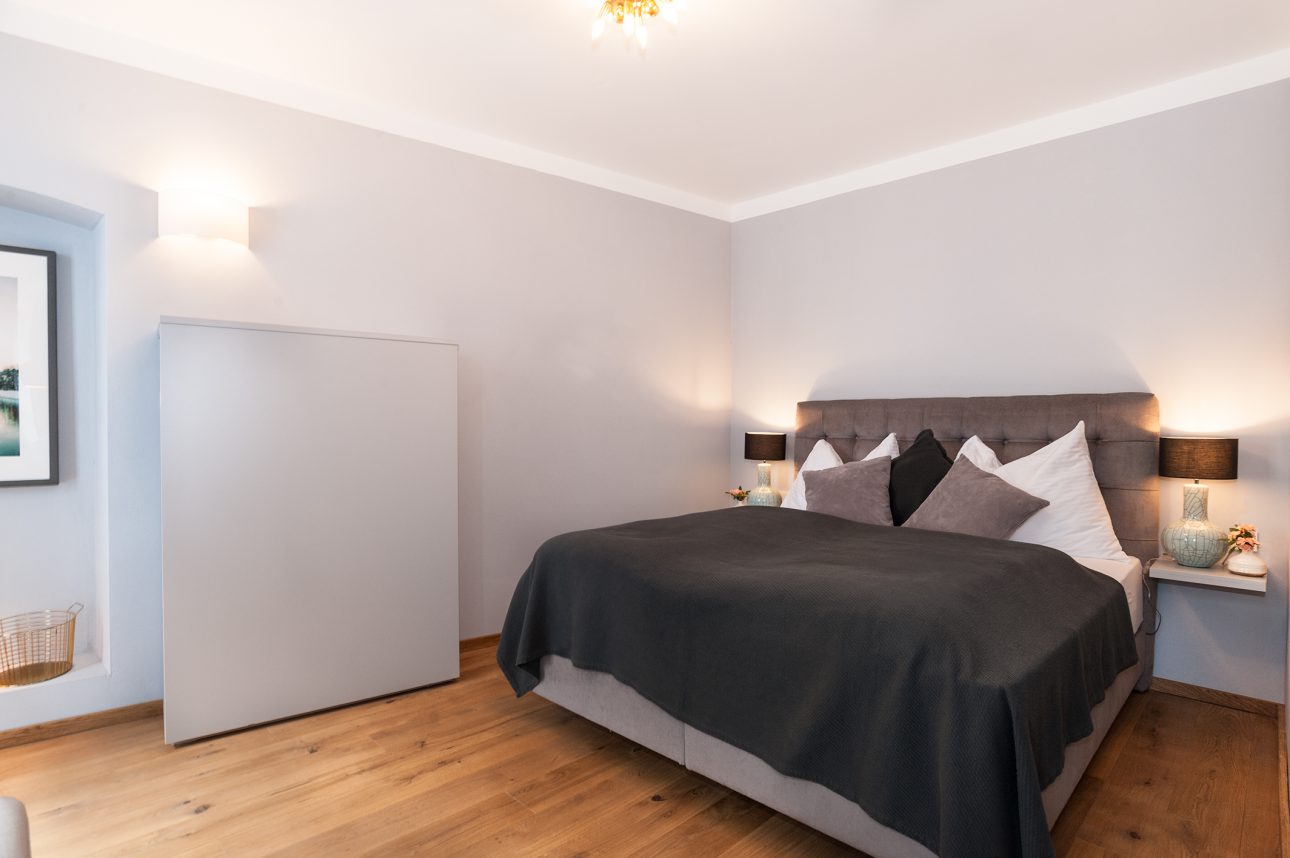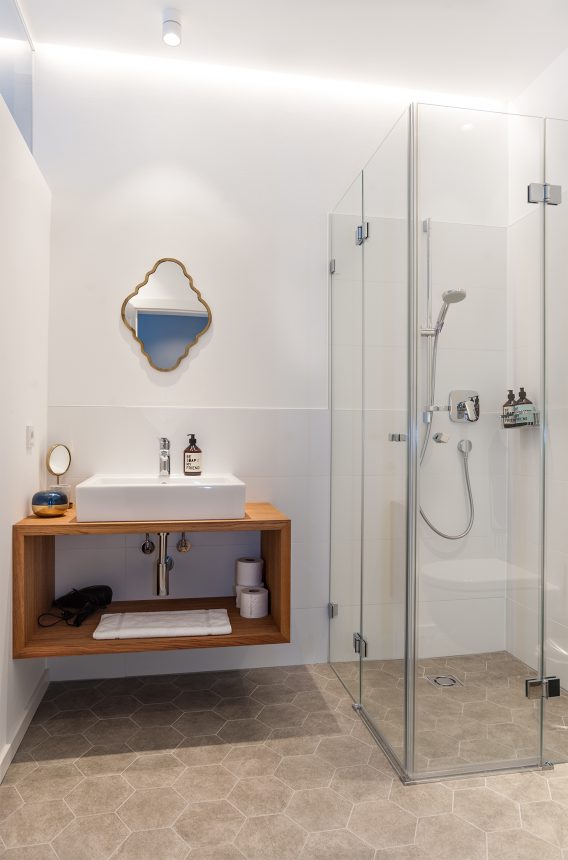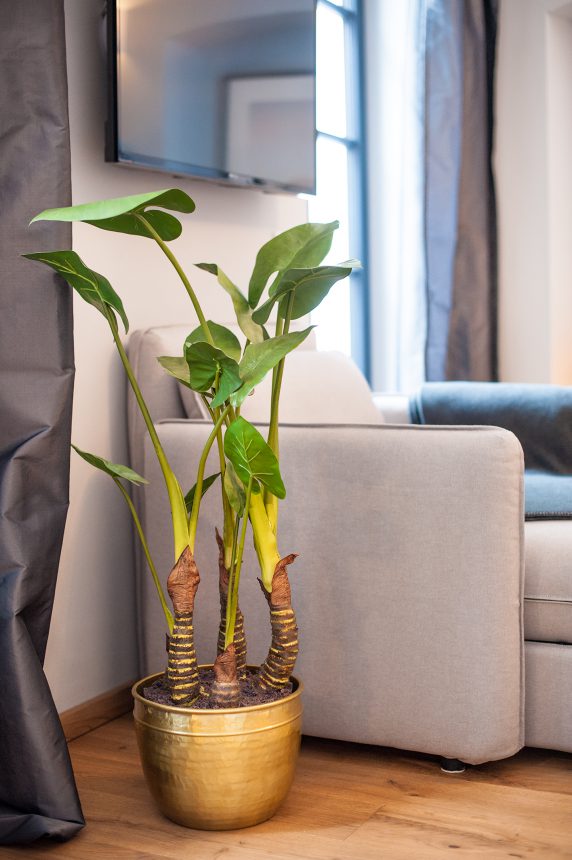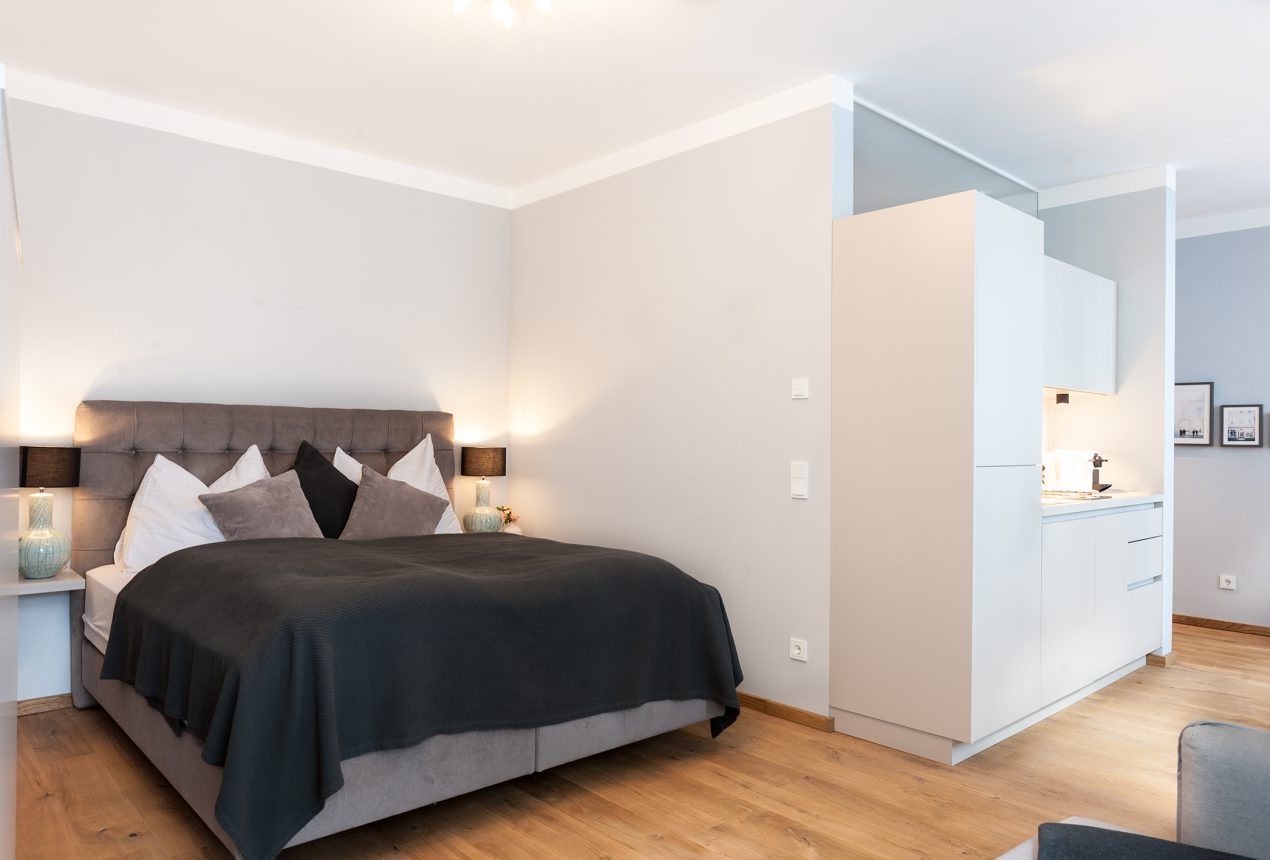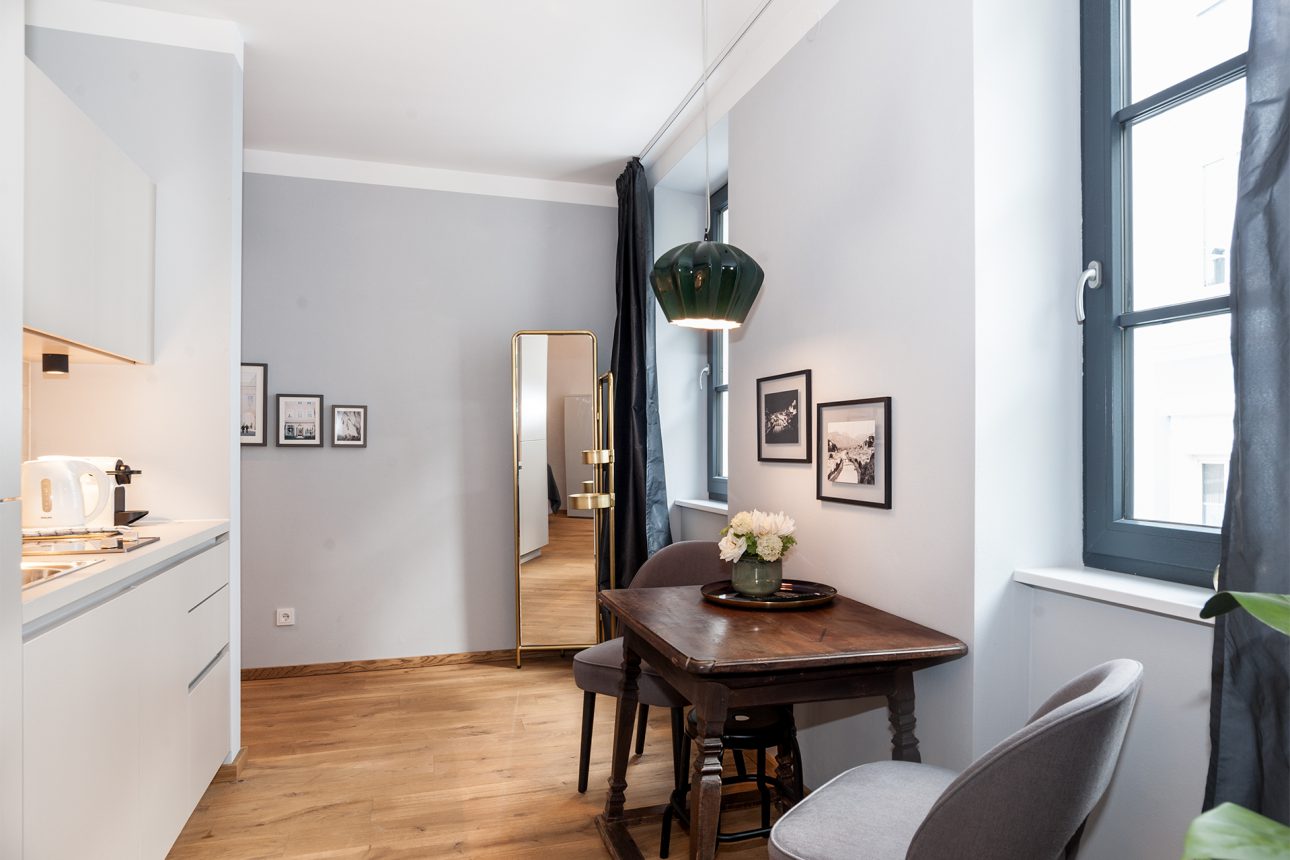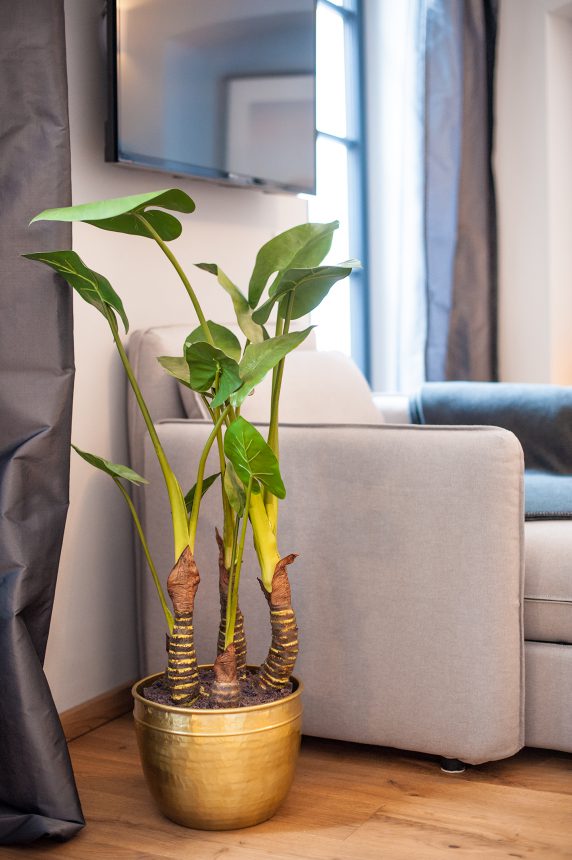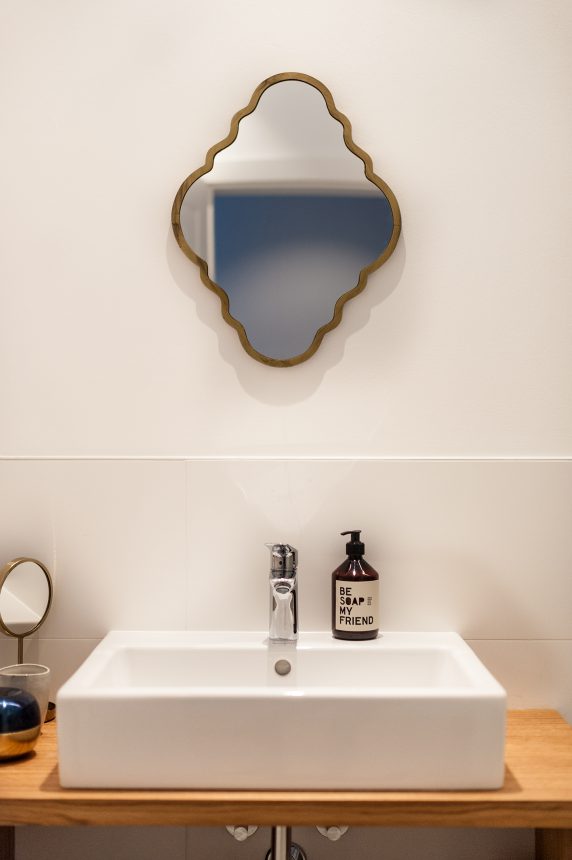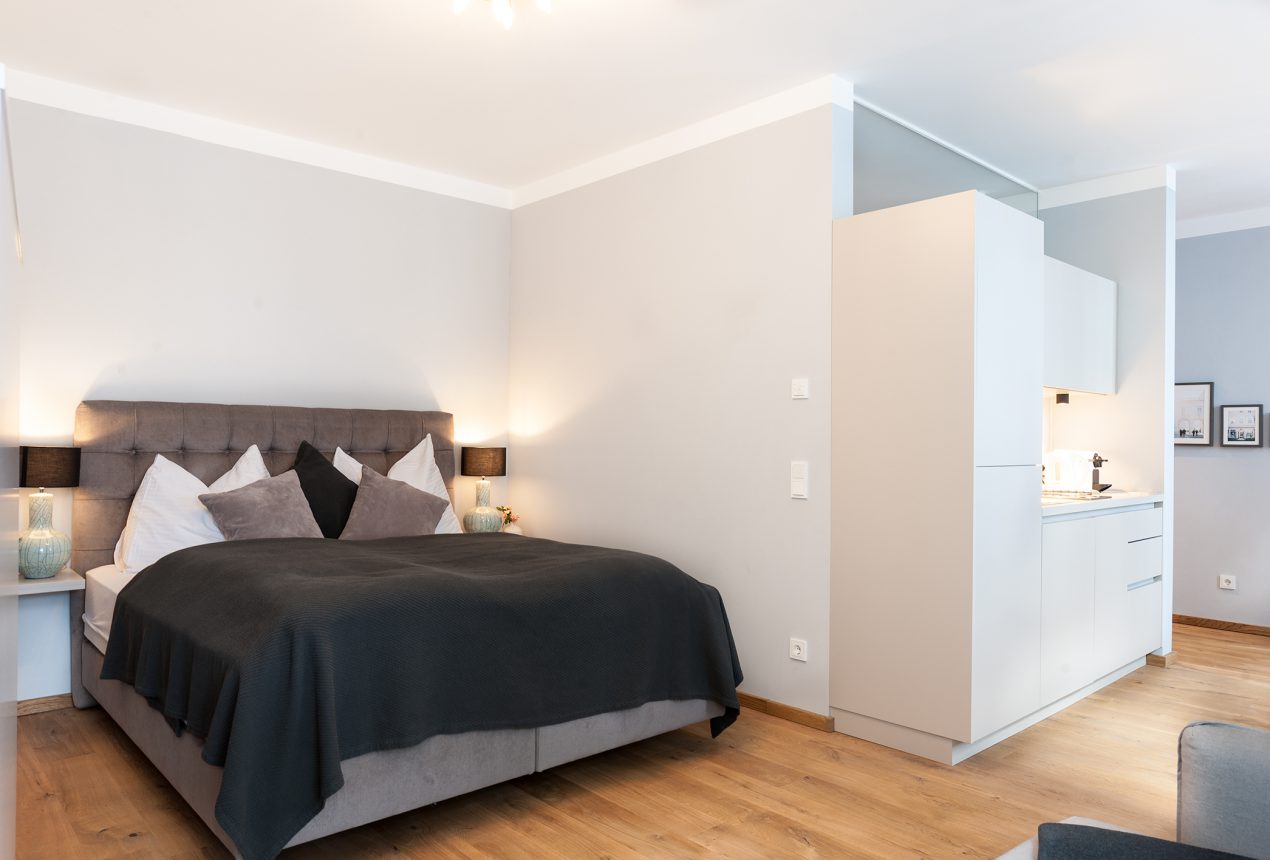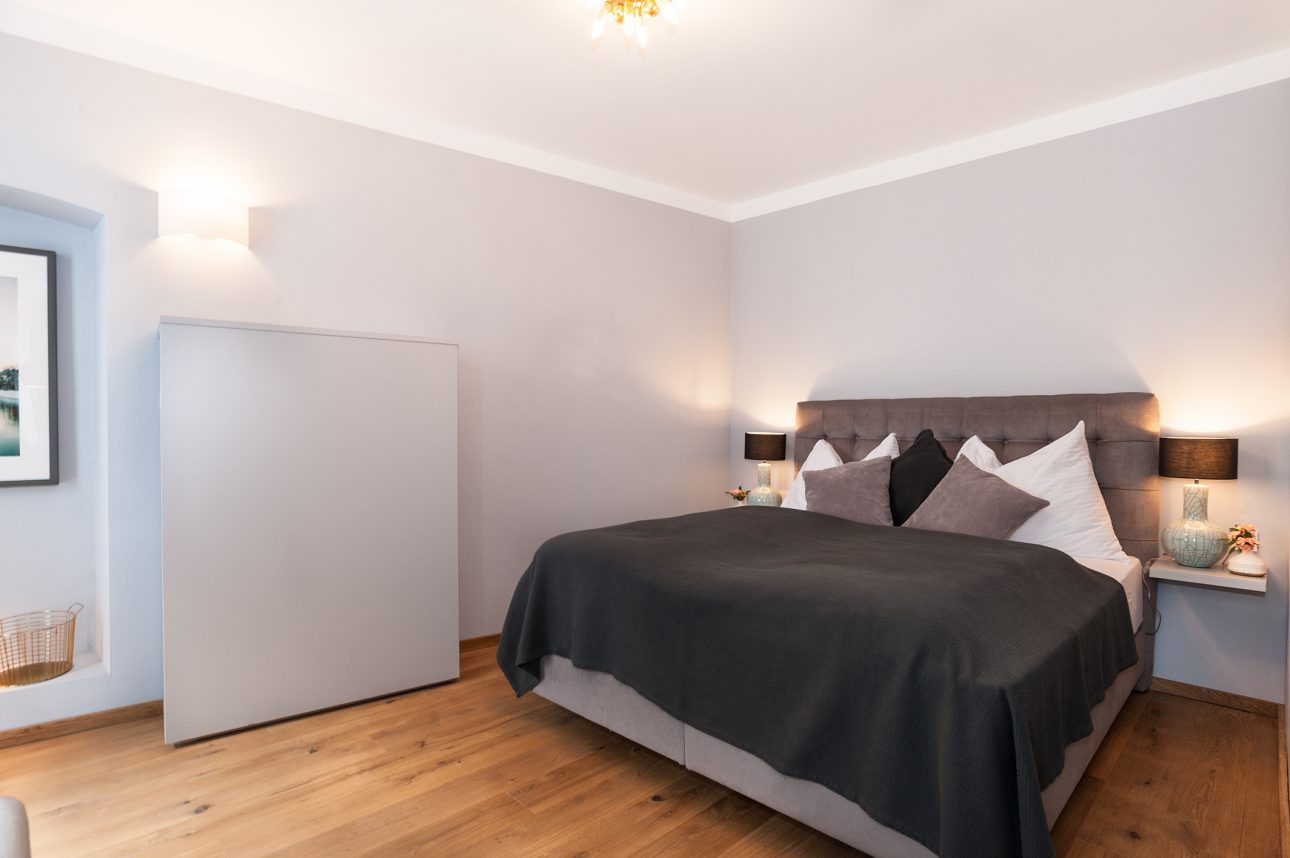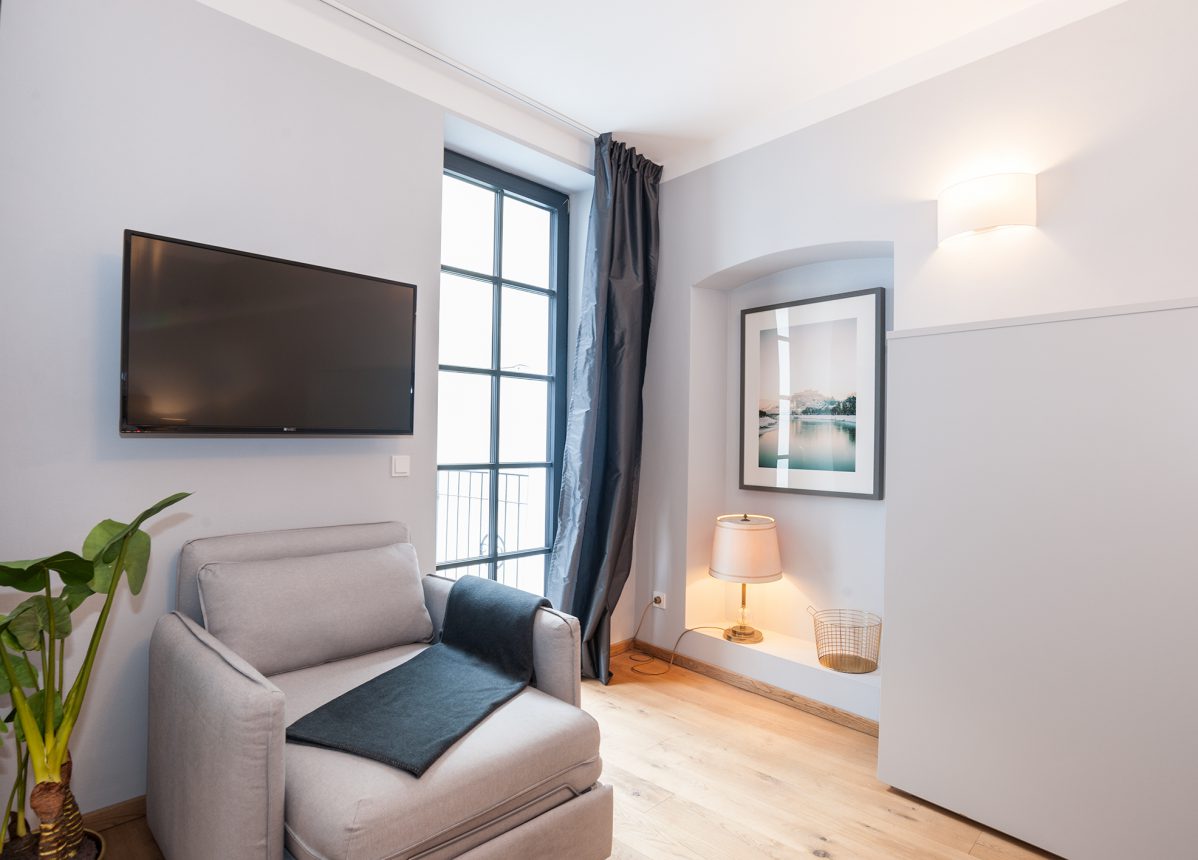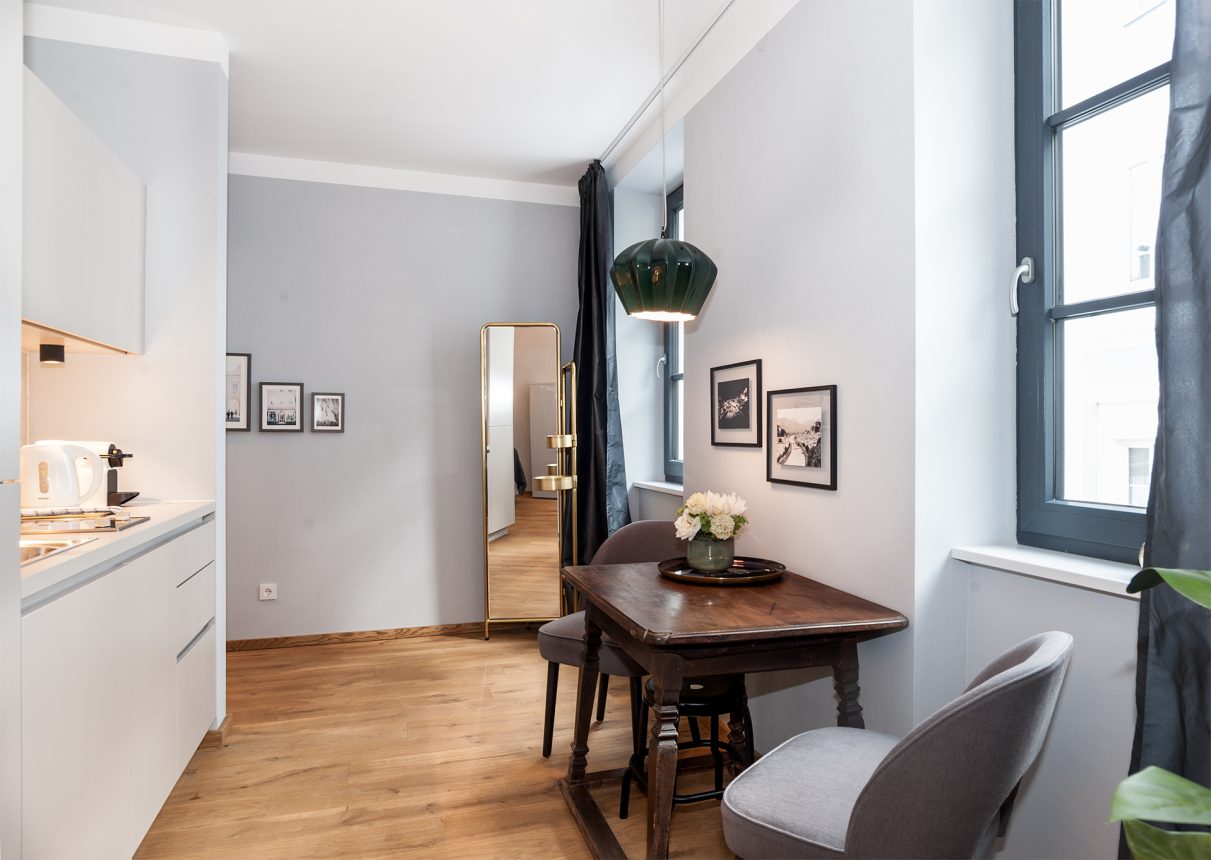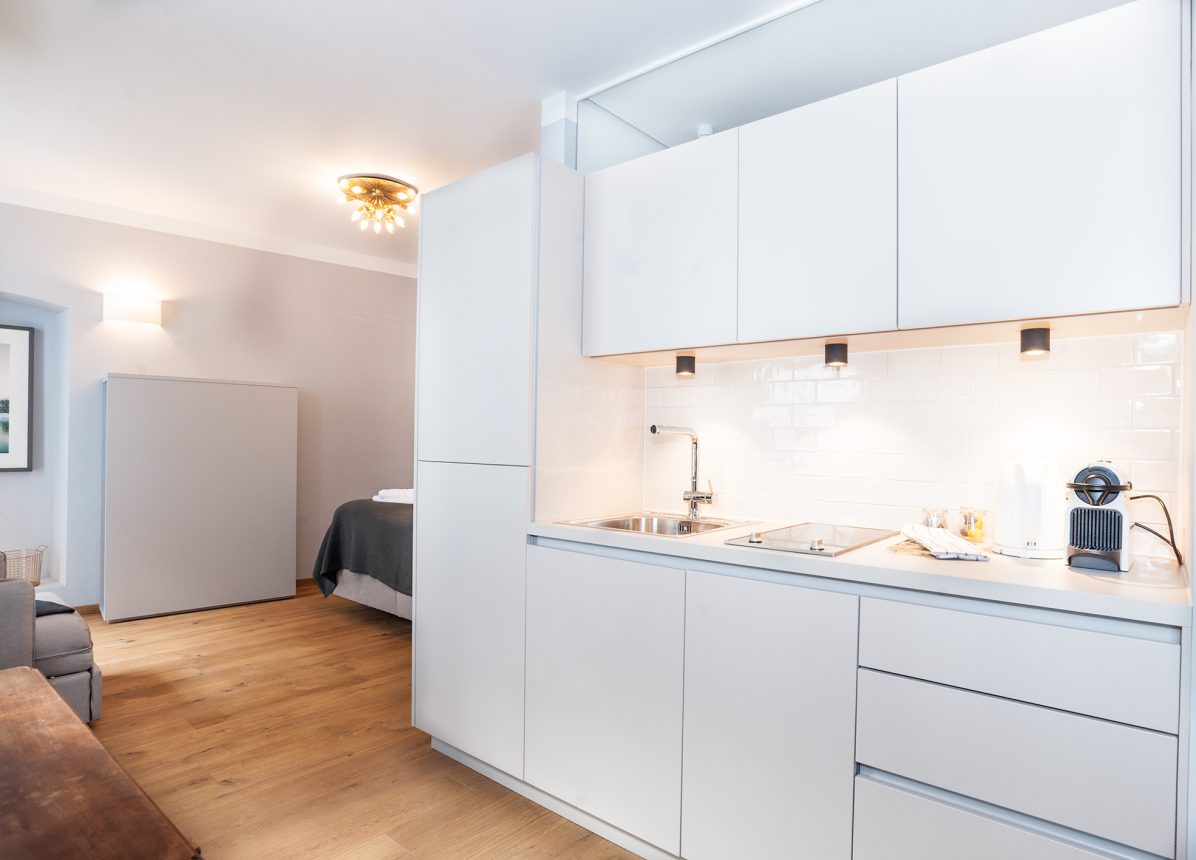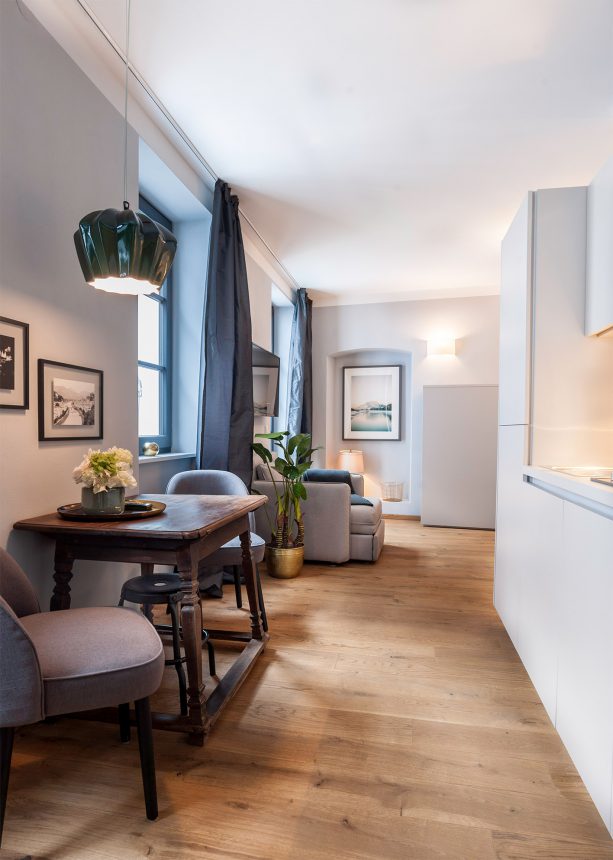 3 people
from 140 €
1 Studio
1 Bathroom
1 Balcony
More about Nora 3
About Nora 3 for Three
Are you traveling as a group of three or less? Then Nora 3 is just the perfect fit. The apartment is on the first floor (US 2nd) of the Townhouse and is a studio flat with over 30m2 area and includes an additional bathroom. Plus, you will enjoy great views of the Kapuzinerberg from the small private balcony that belongs to the studio.

The refined kitchen-living room combination with its dining table invites for a lovely get-together.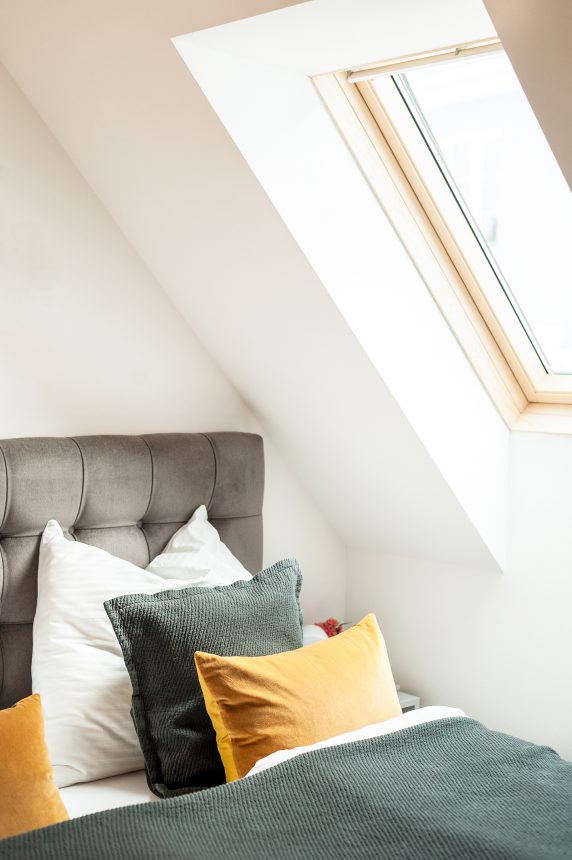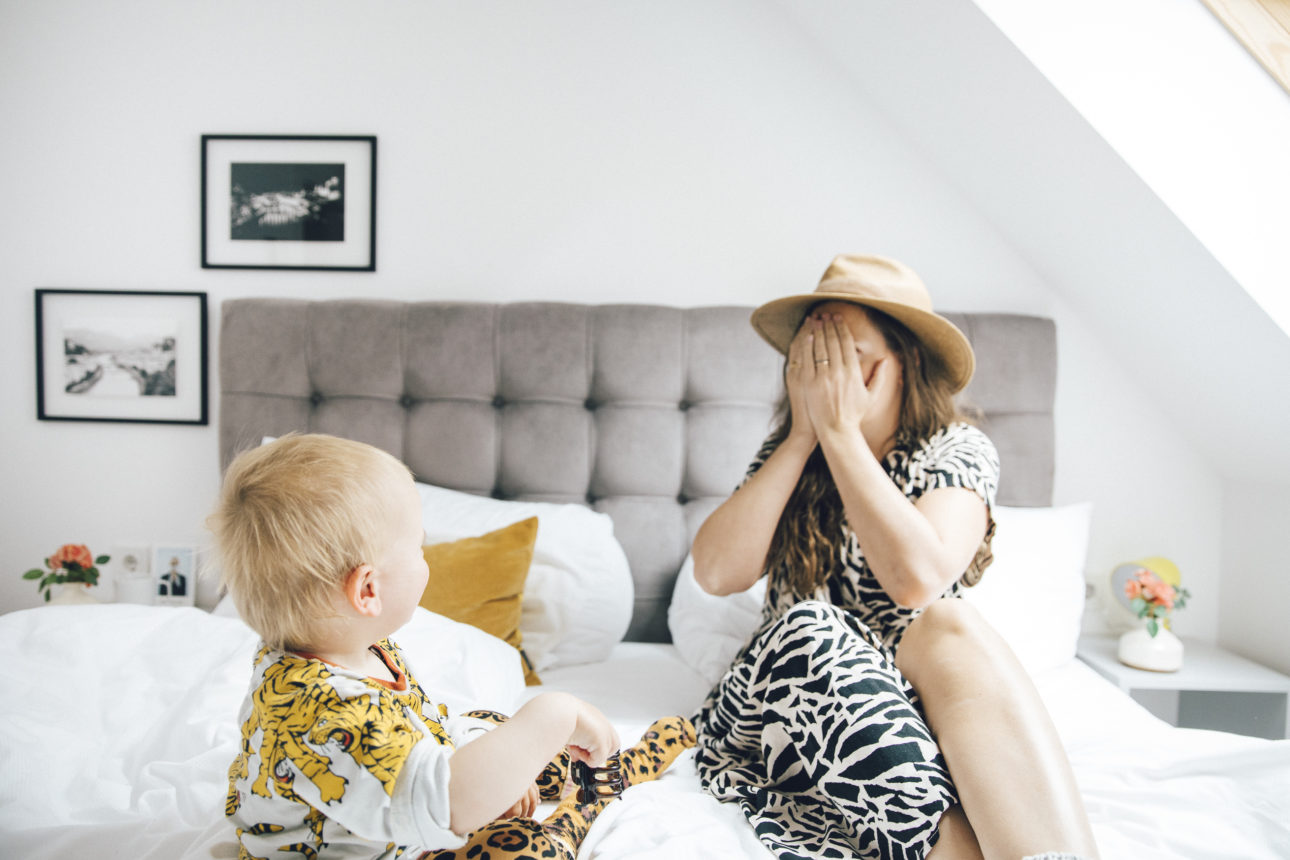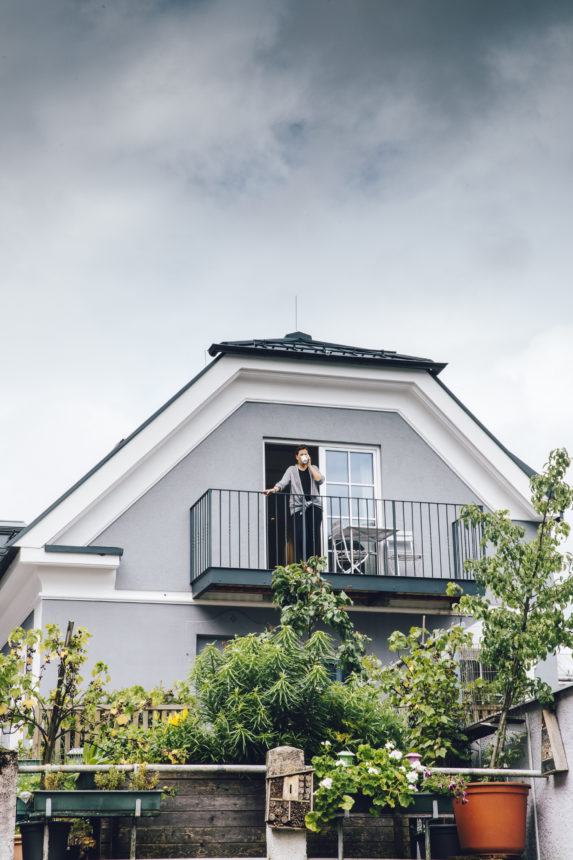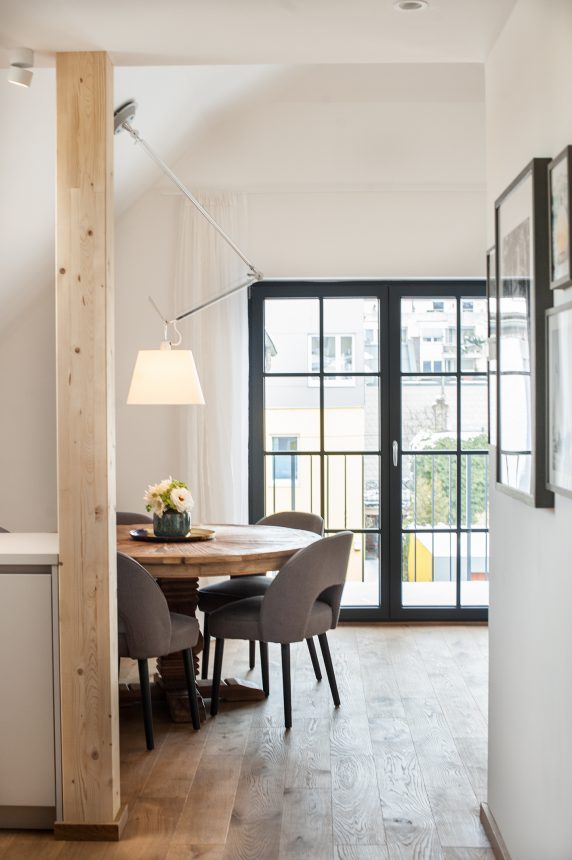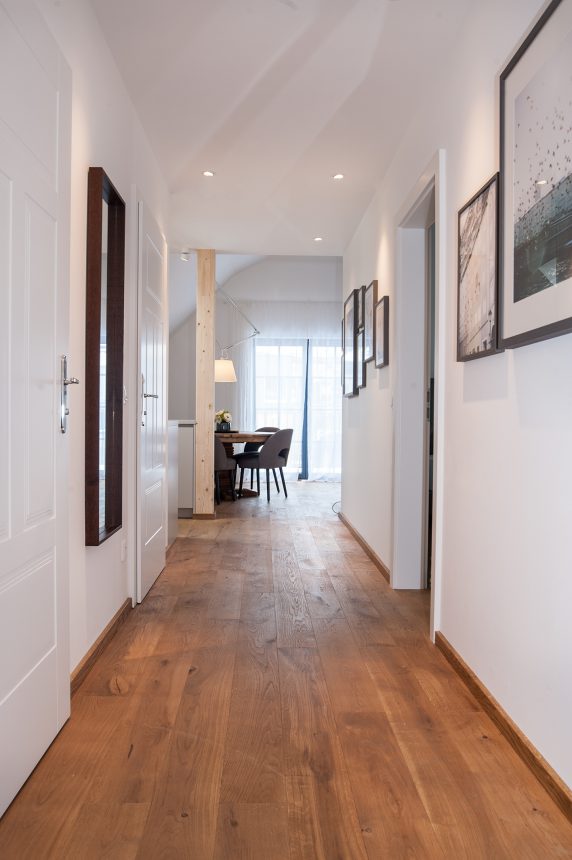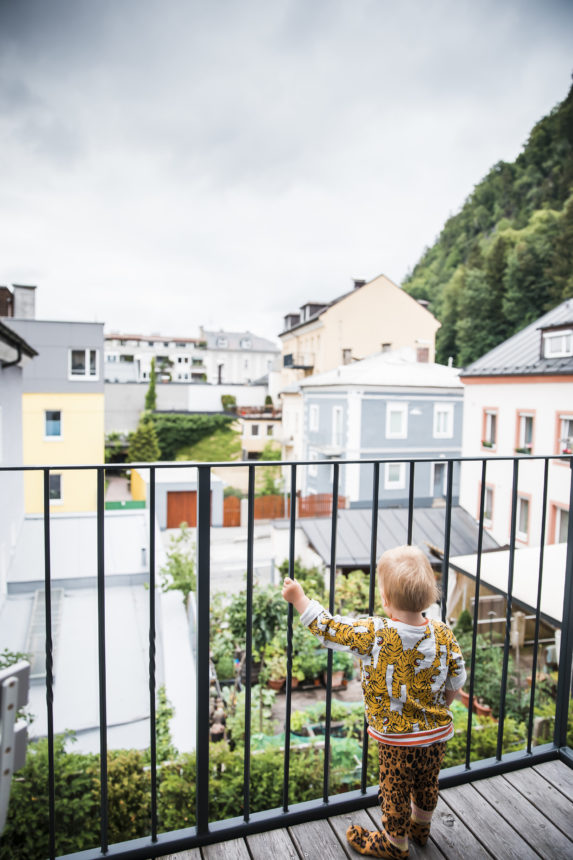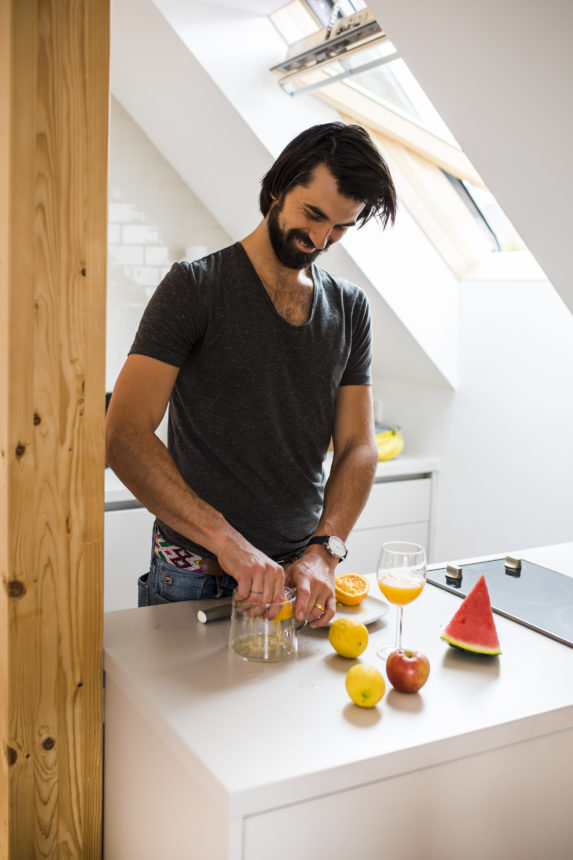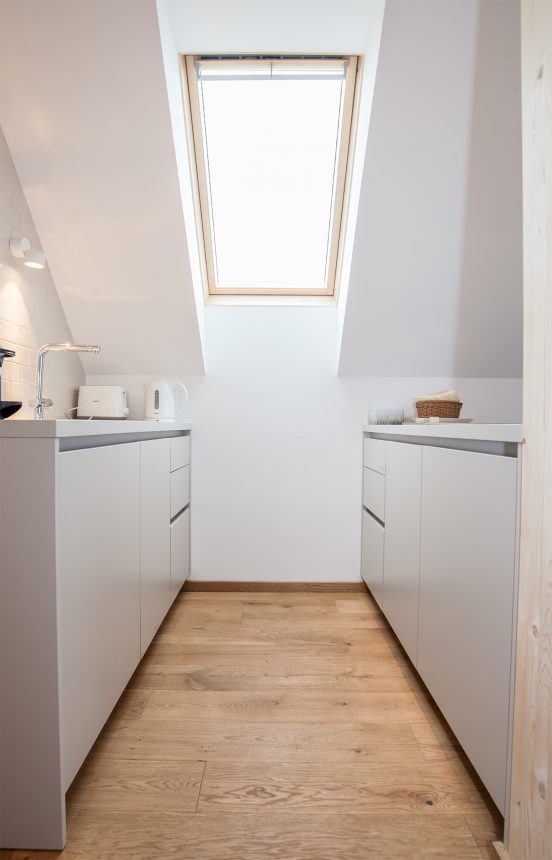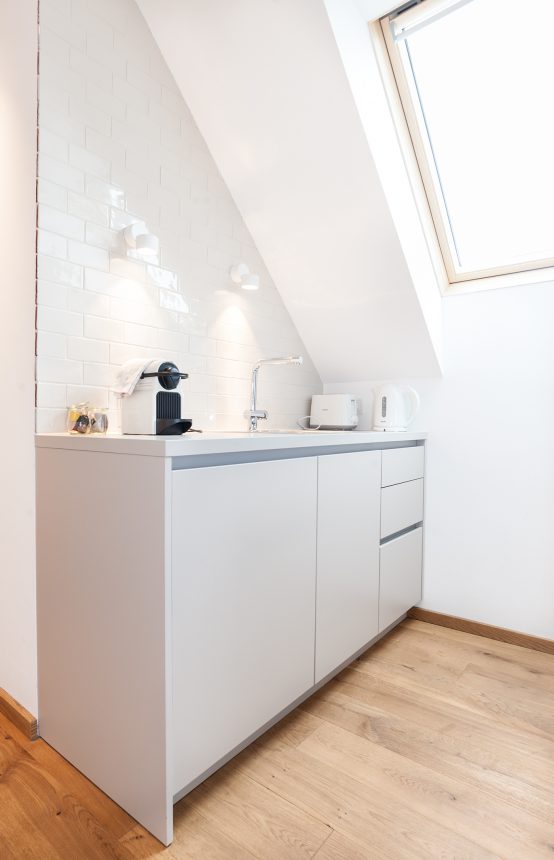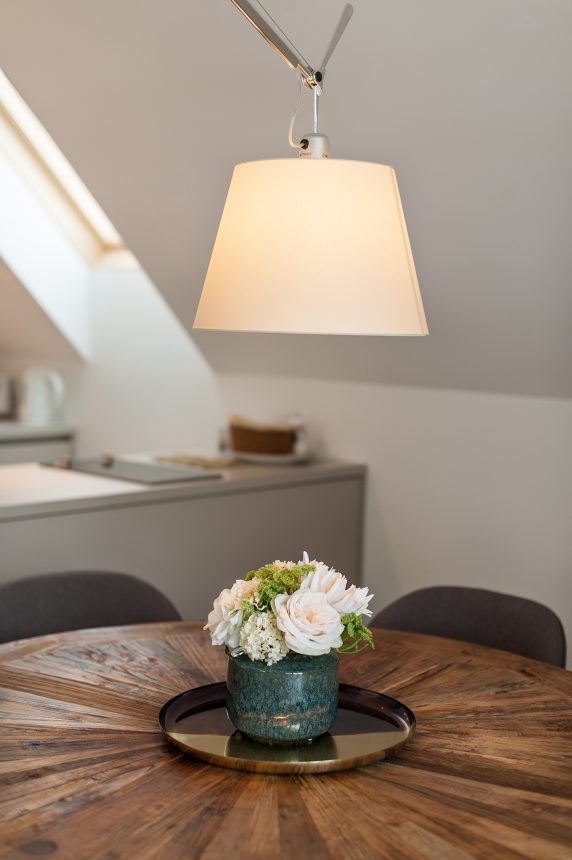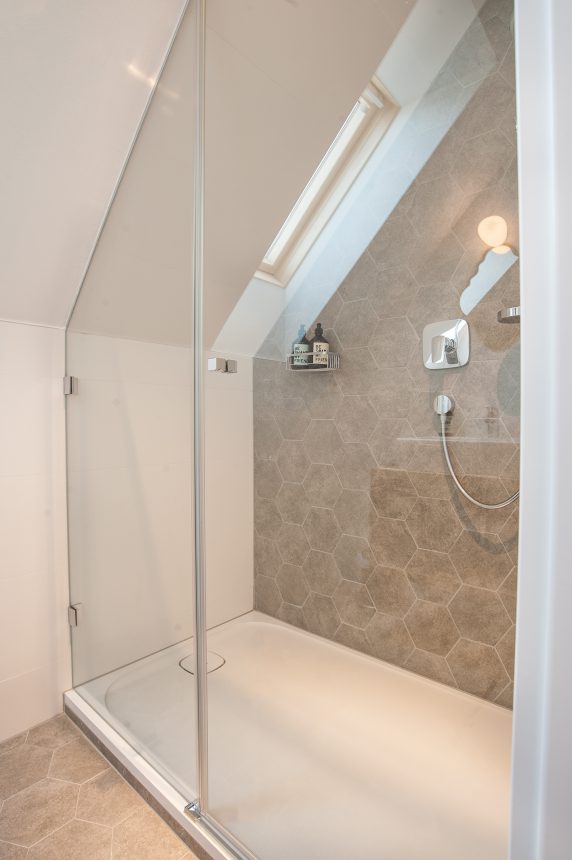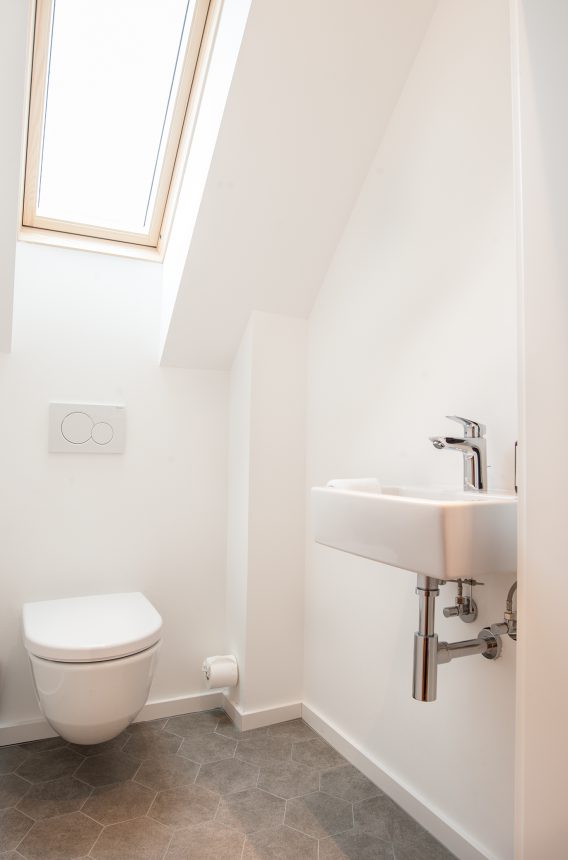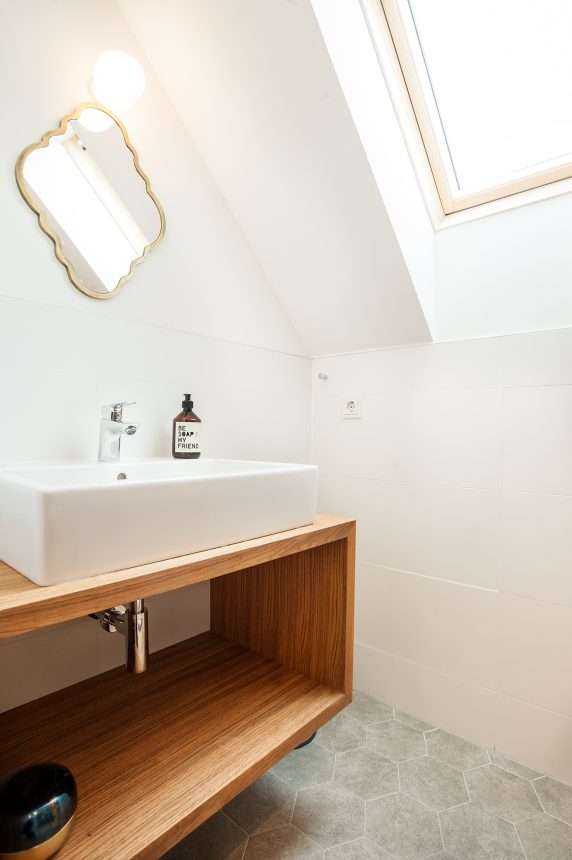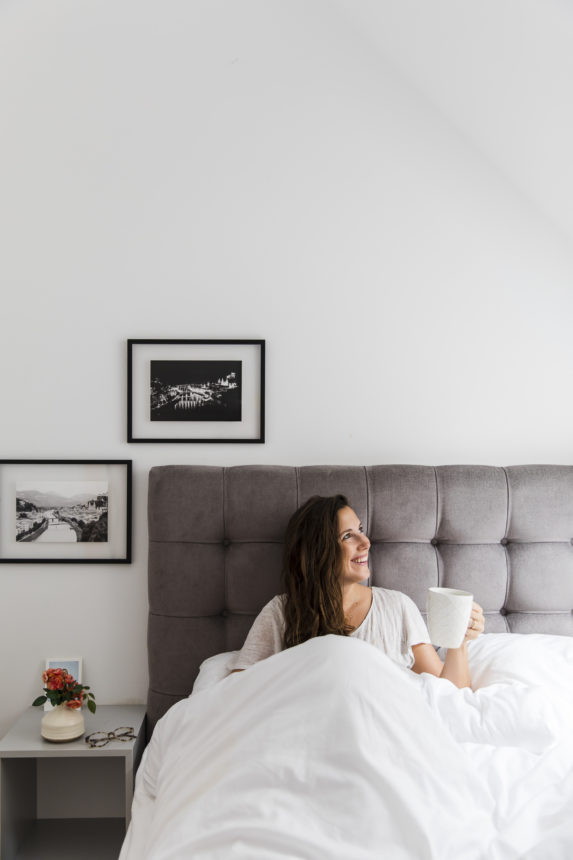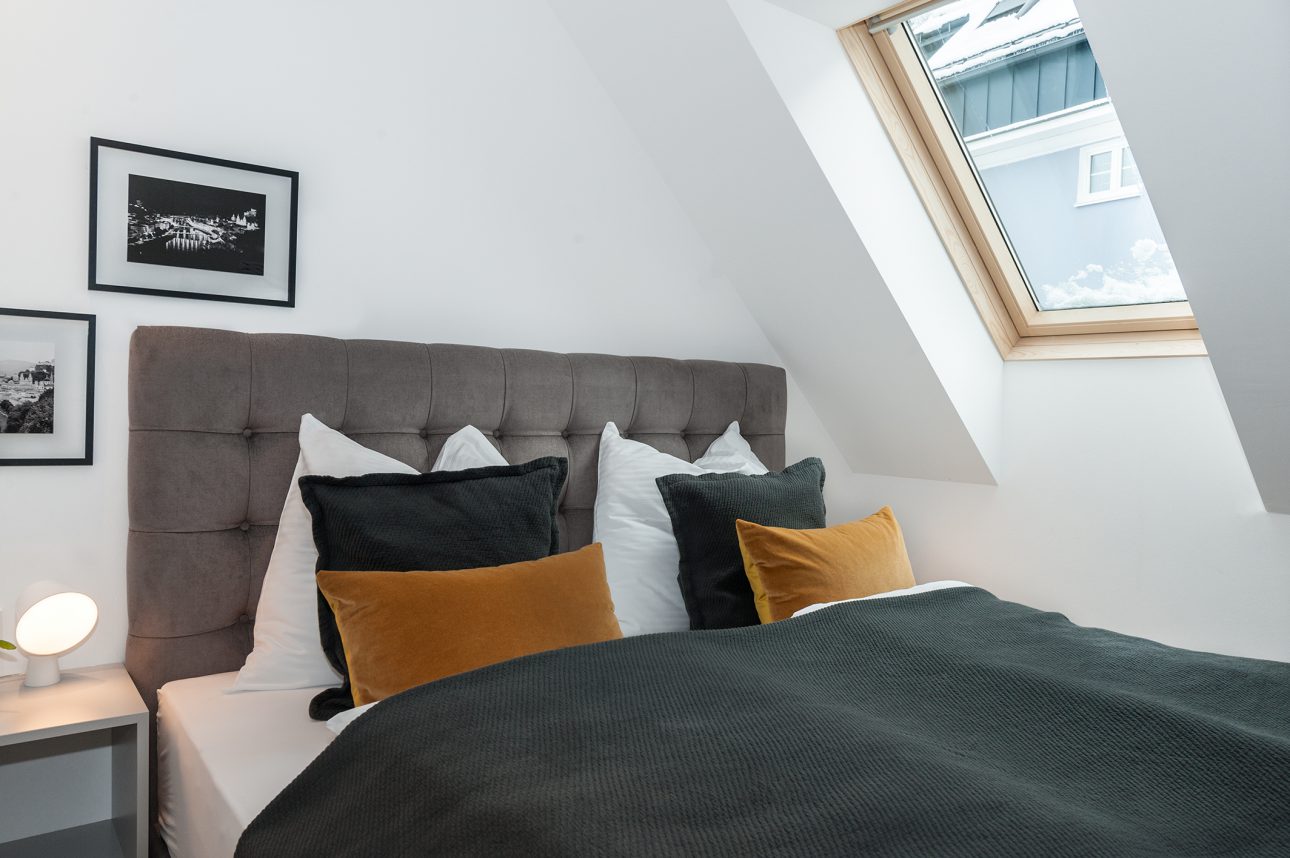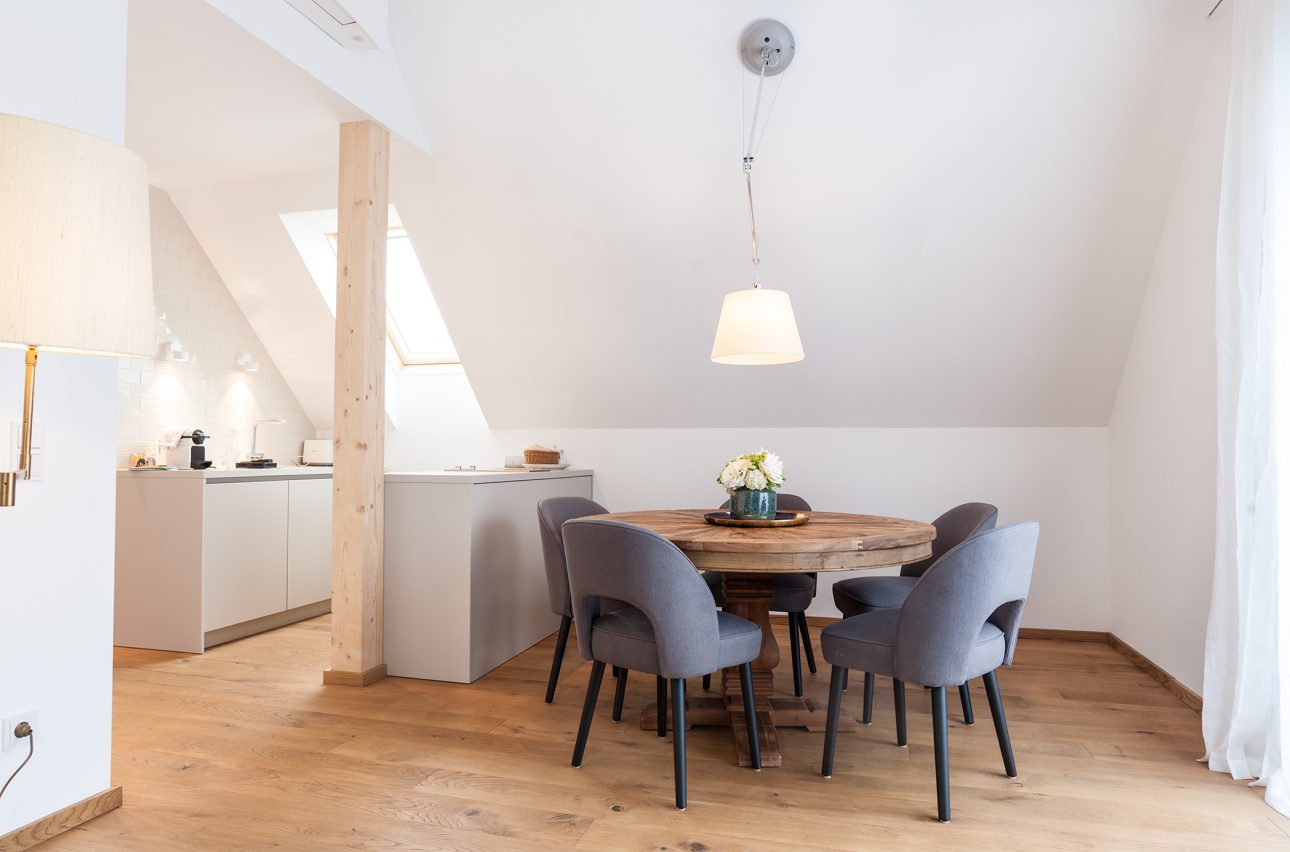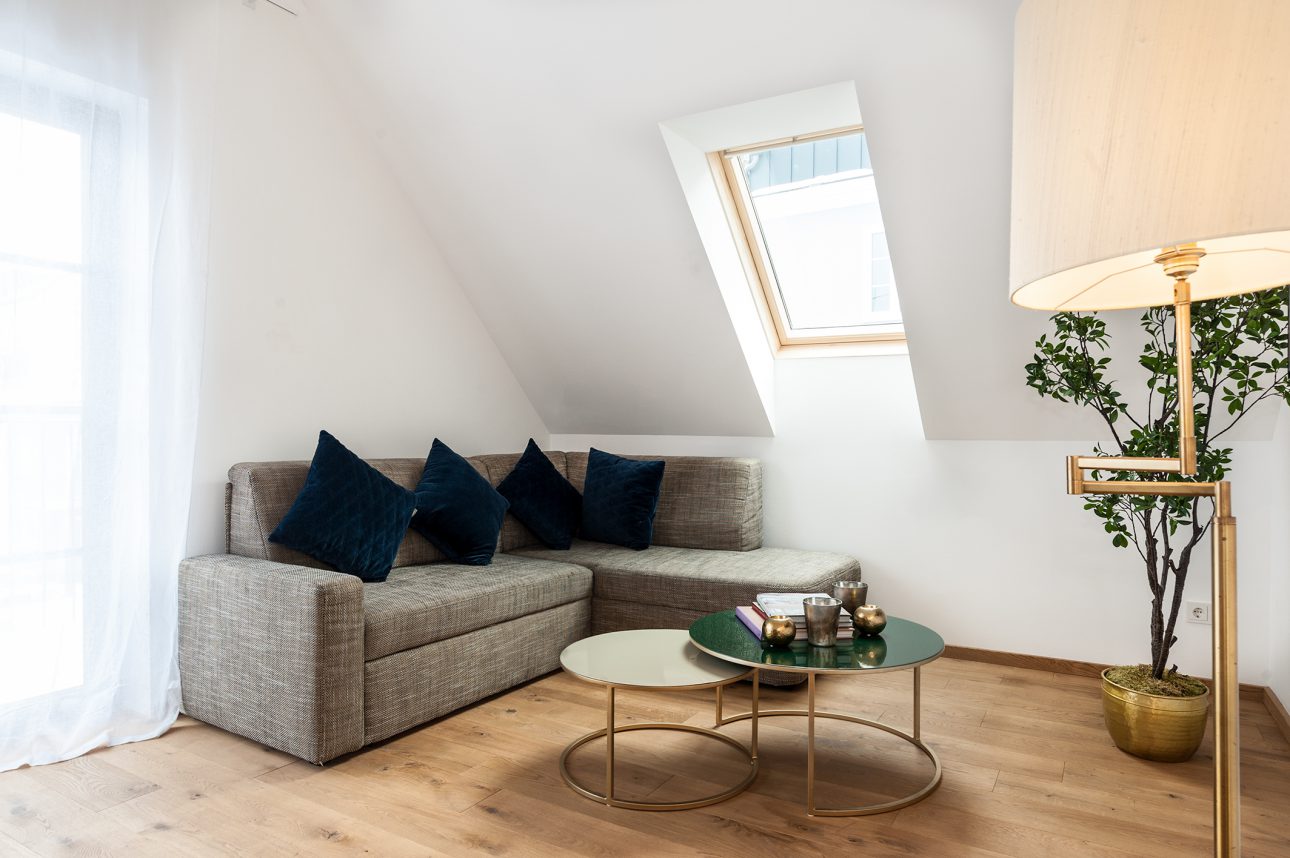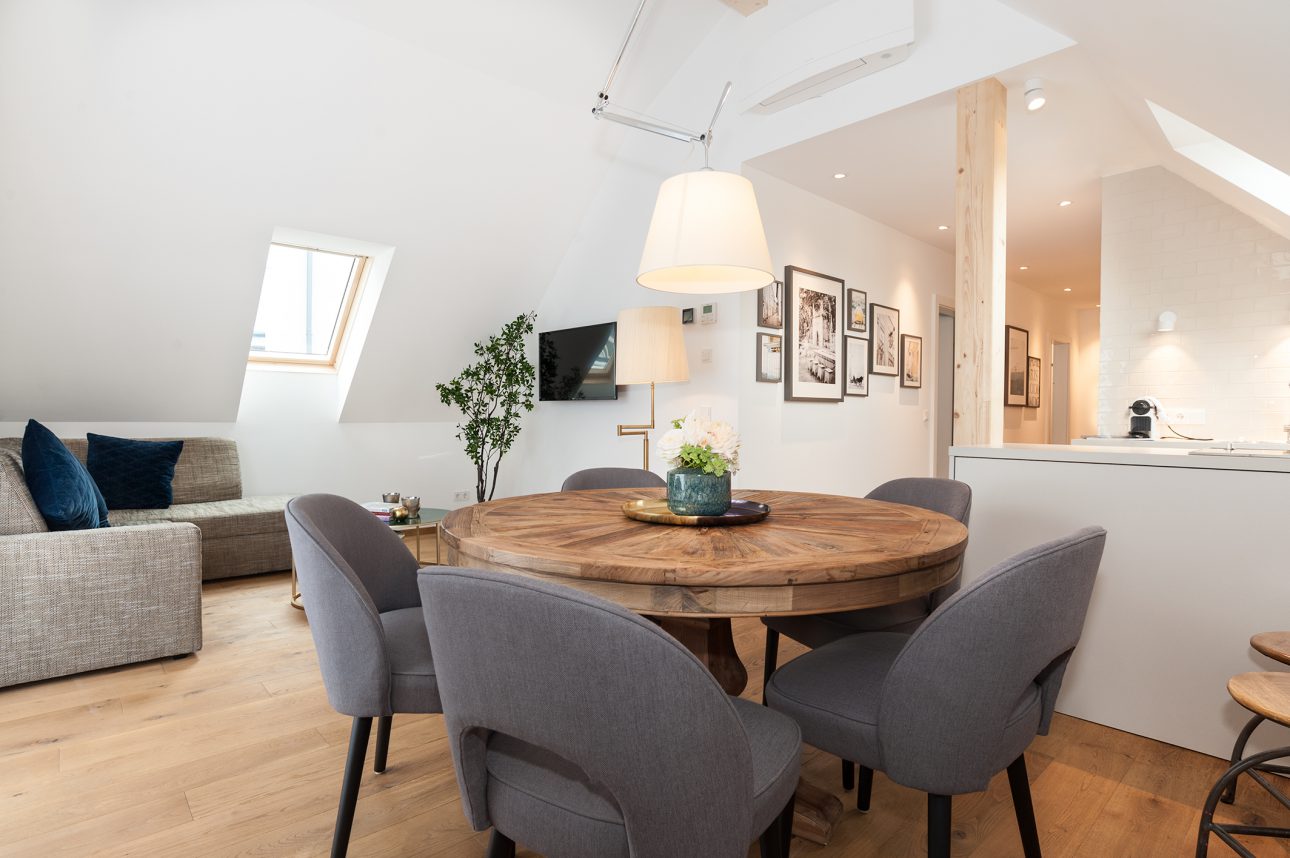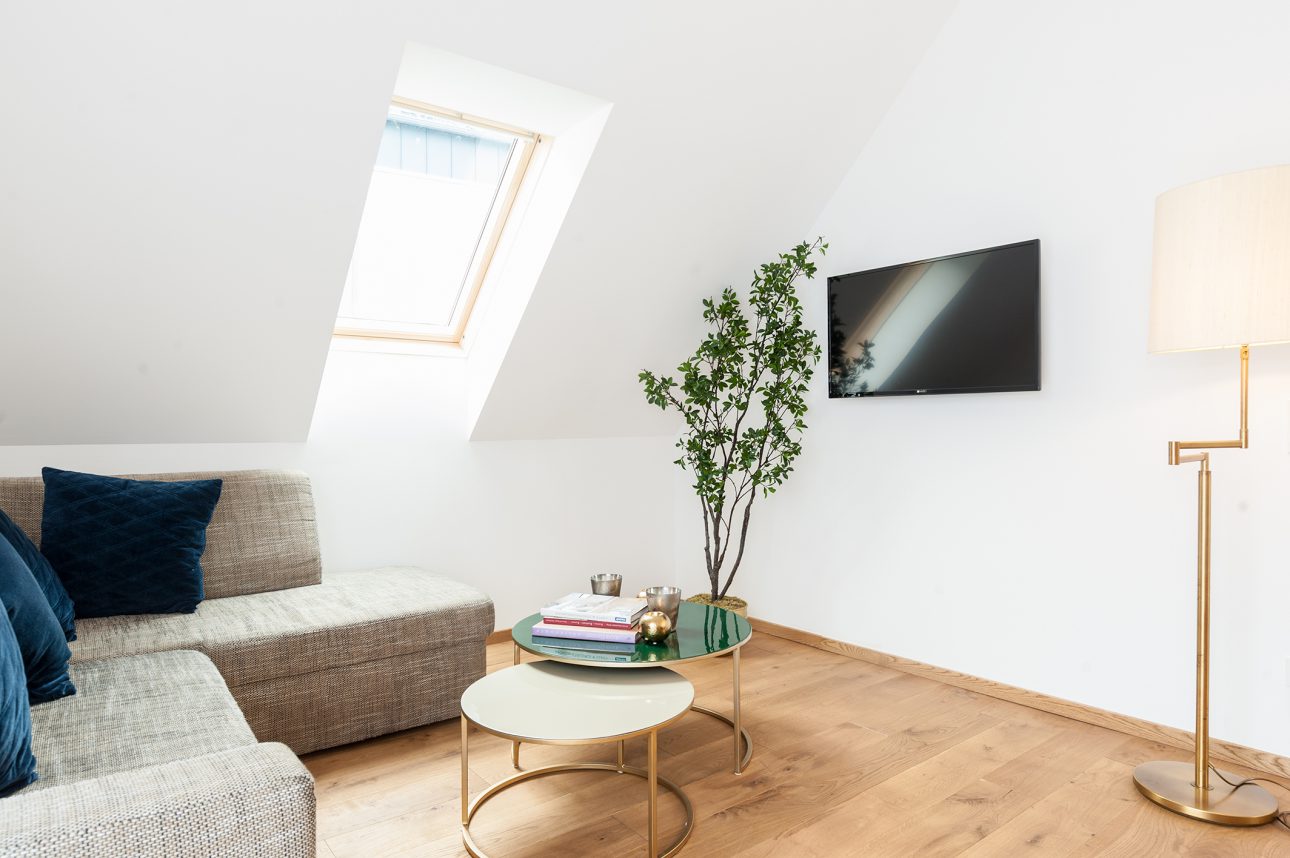 6 people
from 160 €
2 Bedrooms
1 Bathroom
1 Balcony
More about Nora 4
About Nora 4 for Six
On the second floor (US 3rd) of the Townhouse, you find Nora 4. This spacious 65m2 apartment for up to six people combines refined designs with everything that is needed for a perfect apartment-stay with your family and friends: two bedrooms and one big living room with a sleeping couch. Nora 4 also has a private balcony with a marvelous view of the Kapuzinerberg.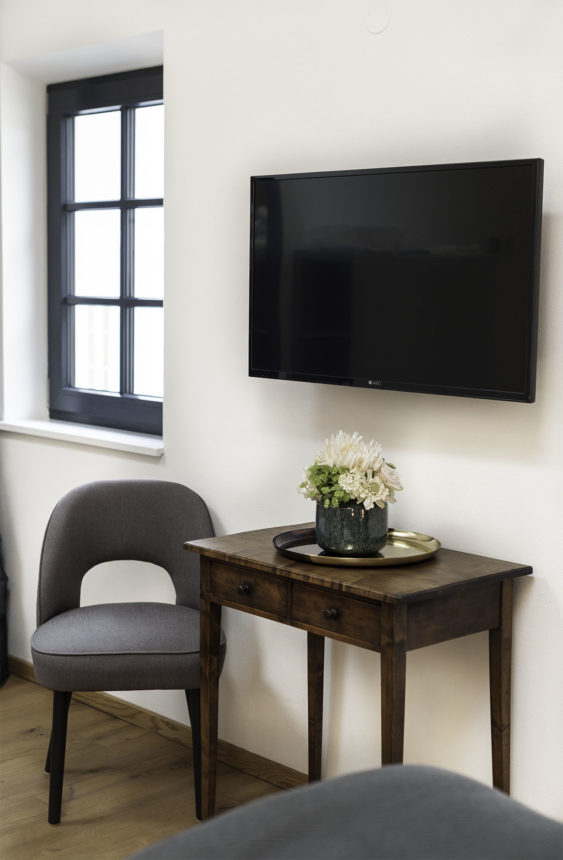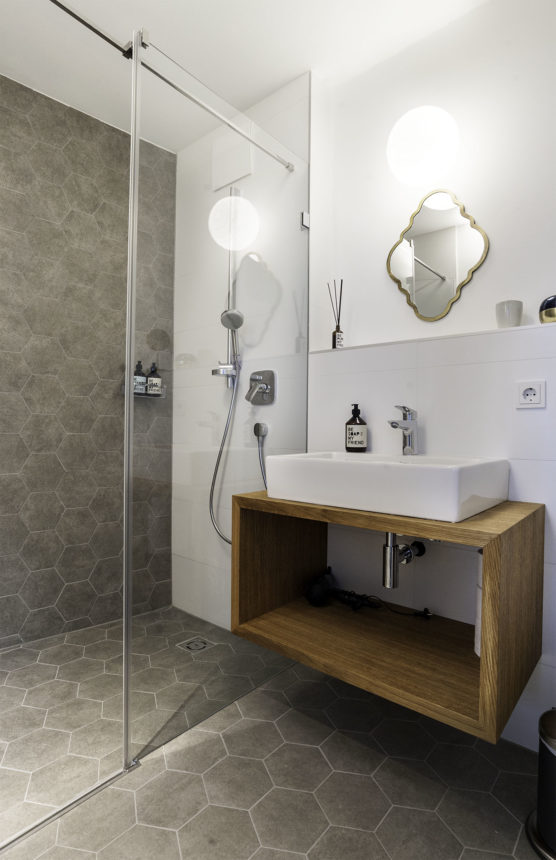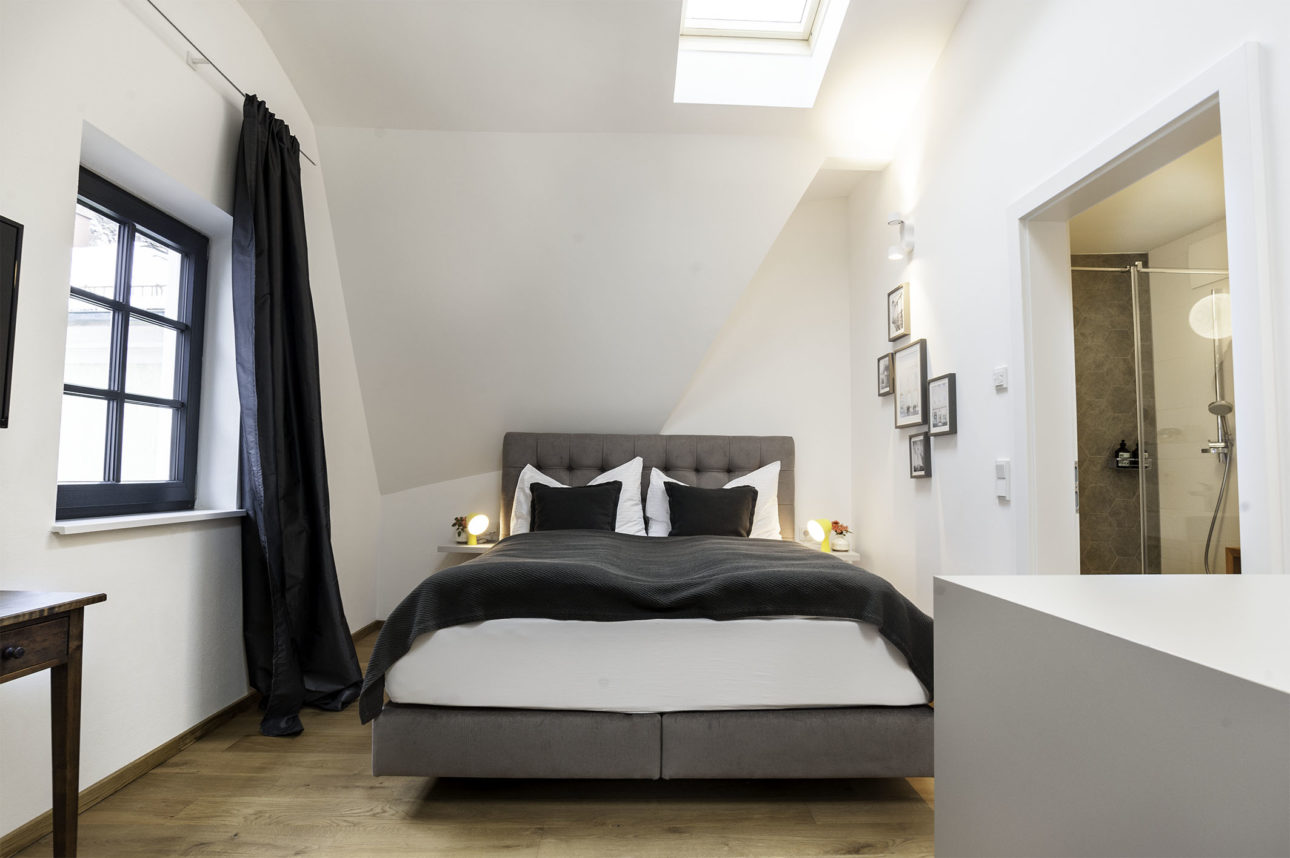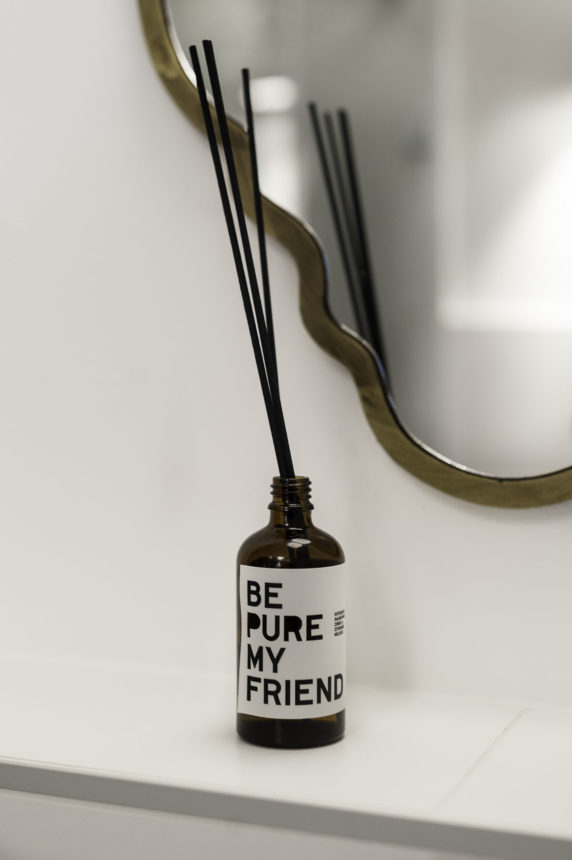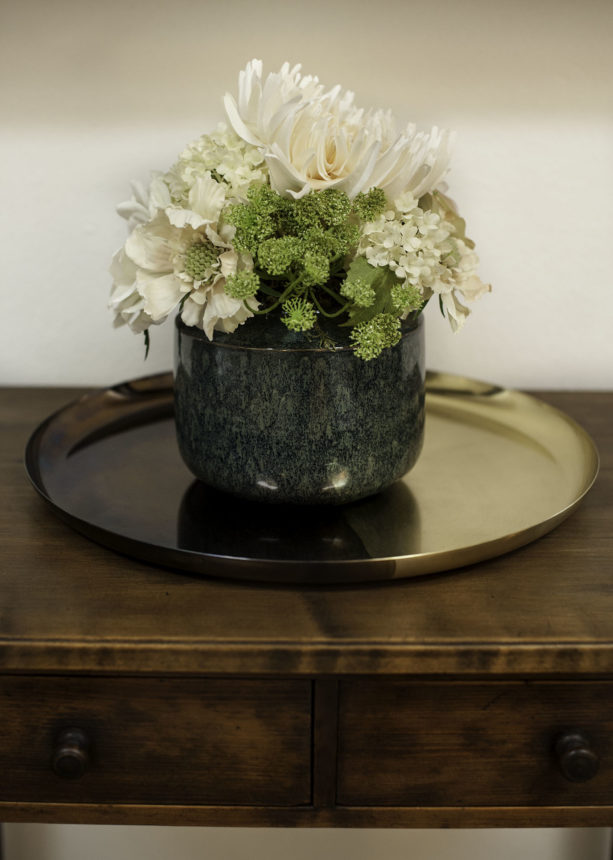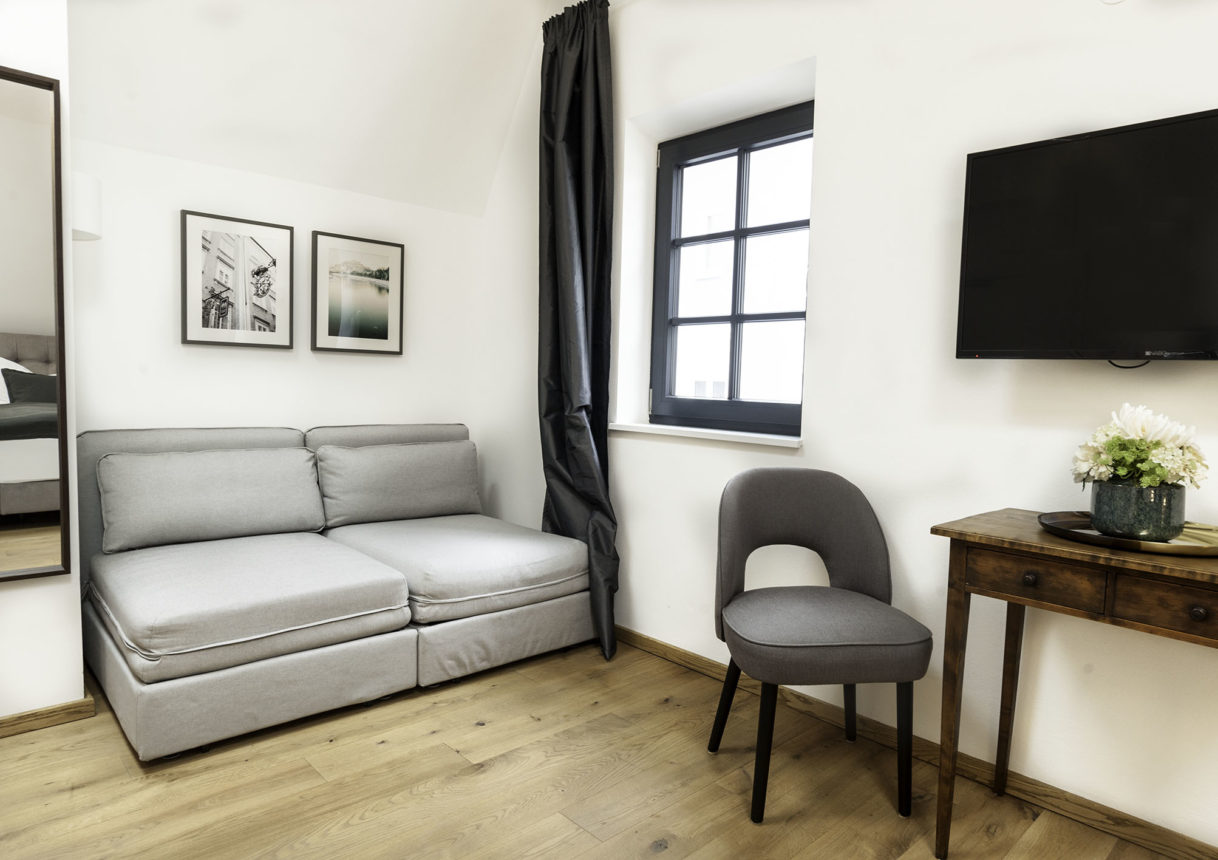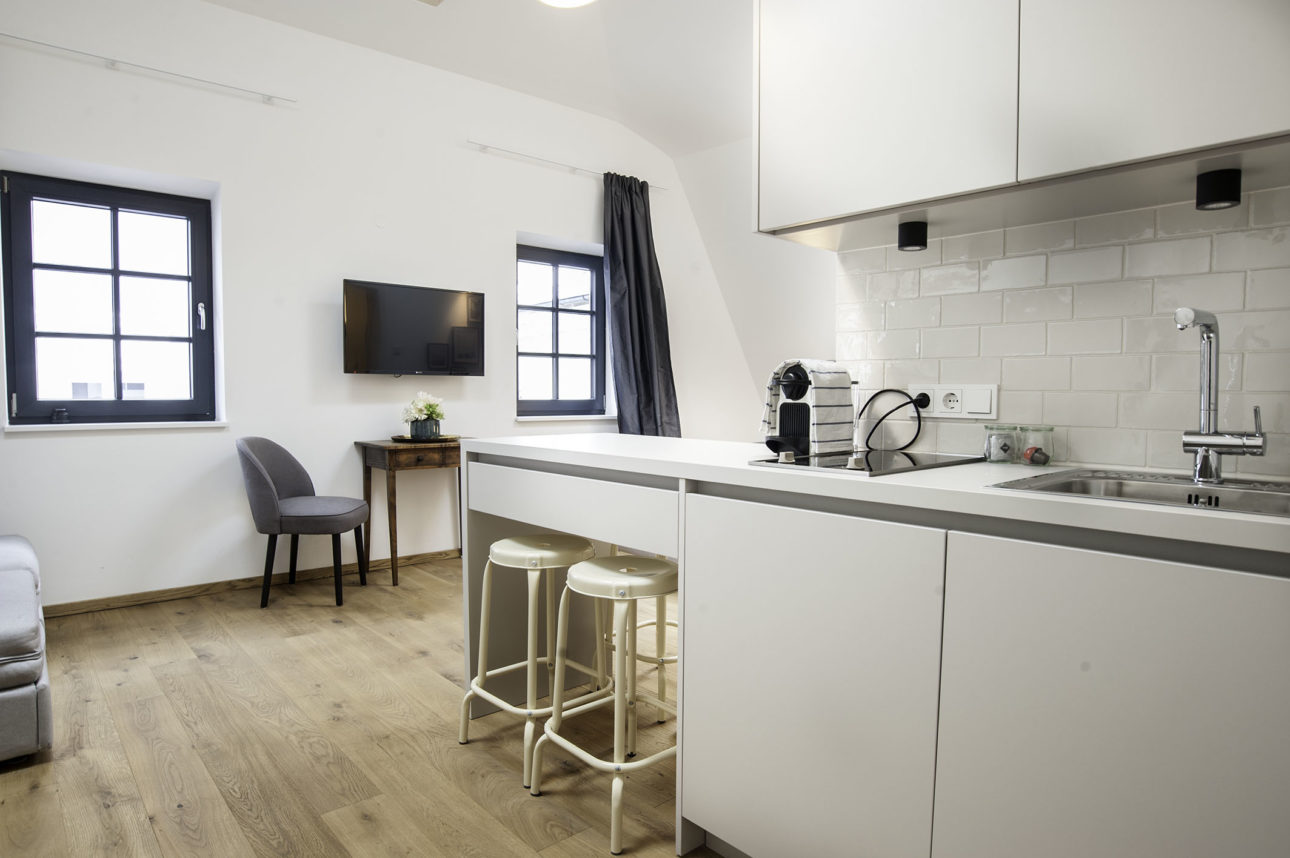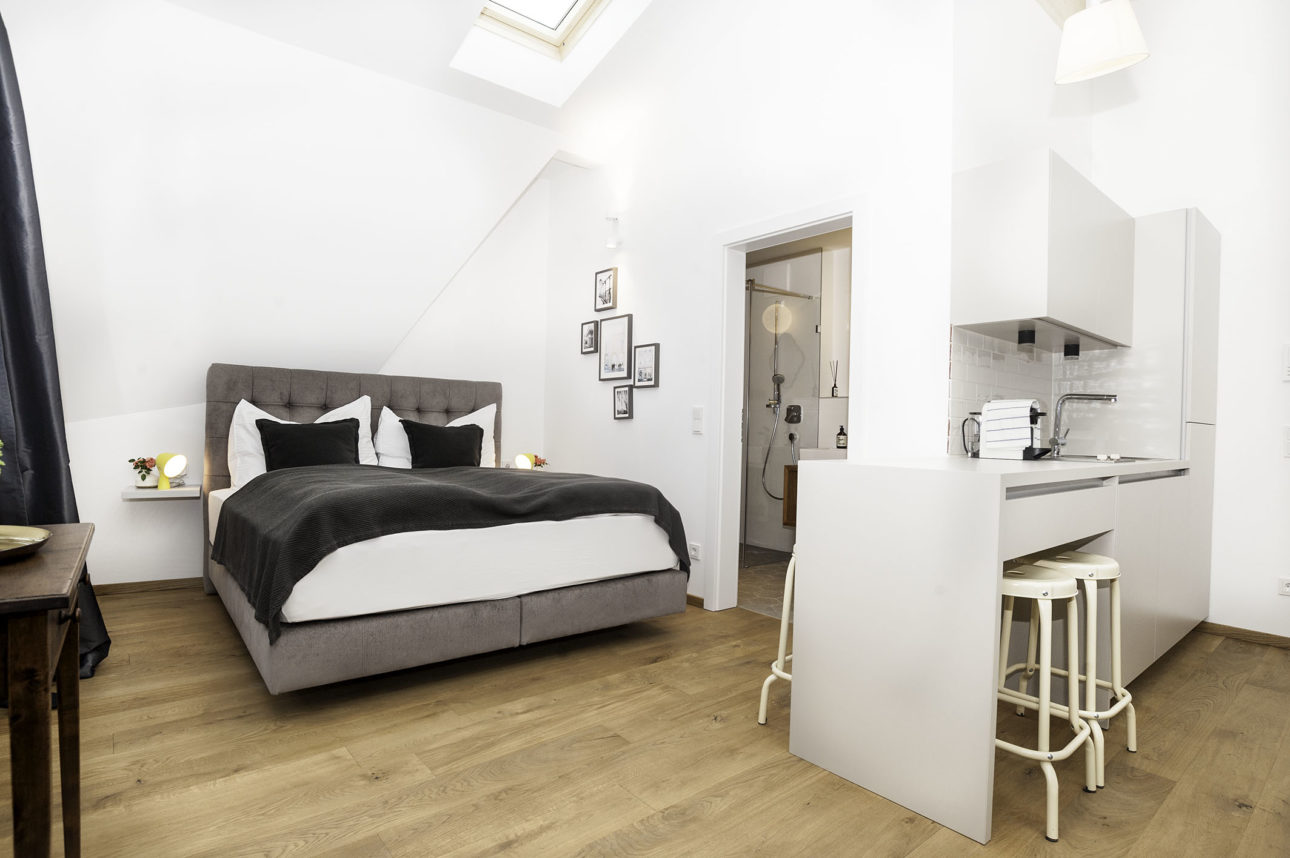 4 people
from 140 €
1 Studio
1 Bathroom
More about Nora 5
About Nora 5 for Four
Nora 5 is a studio with an additional bathroom designed for four guests, right on the second floor of Townhouse Nora. Tasteful details create an atmosphere of desire to feel like home away from home.
While experiencing Salzburg, consider spending the evening at home? No problem, the well-equipped kitchen offers full amenities to do so.
Location
Schallmooser Hauptstrasse 17A
Salzburg